Although we are only 3 we have grown into being one of the main sources of seed funding in the Netherlands. We've closed more than 100 funding rounds with an average value of over E100k. The capital through our system has been growing by more than 65% per year for three years consecutively. We are already the leading Angel investor network in the Netherlands, but we are determined to take on bigger challenges and help even more startups to raise funding. Here are some of the things we're most proud of: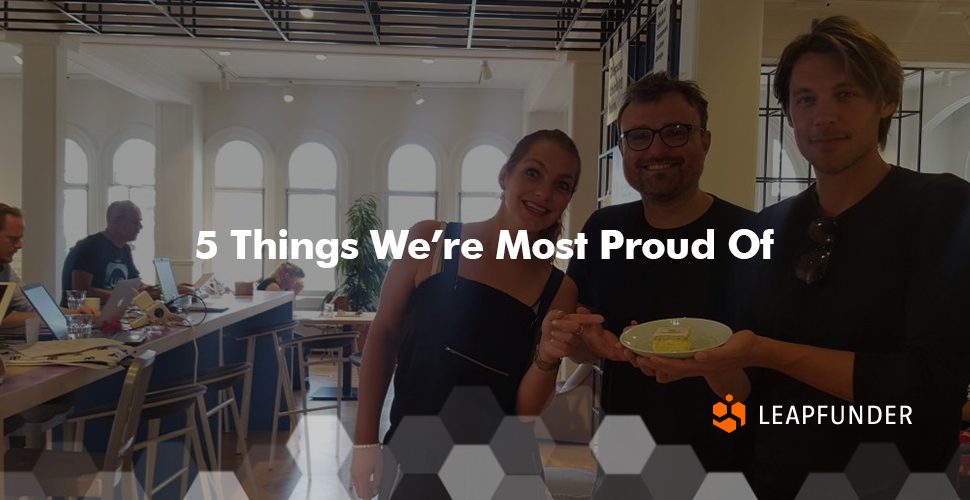 Things we're most proud of
1. The Investor Round Table Sessions in Amsterdam
Our monthly Investor Round Table Sessions have become a cornerstone event in Amsterdam's startup life. The sessions give investors the opportunity to meet startups, but also to meet each other. The interaction with other investors helps them get more information on the latest trends in investment, straight from where the action is. Amsterdam Capital Week is a yearly event. It's the most important annual meeting for startup investors in Amsterdam. Last year we were asked to participate with our signature Investor Round Table event. We decided to 'go big' and we managed to get 40 active investors and 40 startups together. This year we want to double that and get 80 investors and 80 startups. It's going to be a very big challenge but we're definitely up for it.
2. Leapfunder's growth
It's our third year and whenever you start a company you make predictions about what you think the market can be. That's a difficult prediction for every startup. But we are on the right path with our growth numbers. The market is growing and we are growing – we've had over 100 successful rounds, of over E100k each. Total capital has grown by over 65% per year for over 3 years. We are the leading Angel platform in the Netherlands, but we are still looking for more. Hopefully, we will have big news on that soon.
3. Becoming a pillar in the ecosystem
Leapfunder is taking on a role in the startup ecosystem. Recently we gathered all the Amsterdam startup scene leaders at the mayor's office. We spent the evening brainstorming improvements for the ecosystem and we will be playing a role in their implementation. We are in active dialogues with policy makers, investors, across the Netherlands. Our focus is to make sure that any entrepreneur with a good idea can find his way to good advice and smart capital, in order to optimize their chances of success. Events like the dinner at the mayors' residence are a pivotal component to enable growth of the ecosystem. In the startup world value is created in networks and by connecting people with highly specialized expertise in ways that had not been imagined before. The Startup Commons dinner, hosted by the loco-burgemeester, went very well and people are already asking when the next one is. It looks like a new tradition in Amsterdam is born. Of course, we are already taking steps to have the same kind of event in other cities around the country, and abroad.
4. The Investor Round Table Sessions outside Amsterdam
A year and a half ago we started with the Investor Round Table Sessions in Amsterdam as an experiment. Both startups and investors really liked it. This year we have made a firm push to expand to other cities, in particular, Eindhoven, Delft, and Rotterdam. Members of the ecosystem there have invited us to come and host the sessions. Startup investment tends to be local for local, and so we want to strengthen the relationships between startups and investors in each of these locations. The events need to be handled considering the strengths and interests of the startup scene there.
5. The largest funding round – Bolt Mobility
With the growth of Leapfunder the average size of startup funding rounds is growing too. The largest funding round last year was Bolt Mobility with an impressive €1,135 million. This year we helped them get their next funding round of €1,9 million. This was our largest round so far, and it proves that a startup in the Netherlands can even skip the classical venture capital A round, using our system. That is a potentially significant change in the rules of the startup game.
Join our network of startups and investors!