We chatted with Alexandra Belicova, the ​​Comms, Partnerships & Events Lead at StartupAmsterdam, a program run by the City of Amsterdam that brings the public and private sectors together to support startups, scaleups, entrepreneurs, and other players in the ecosystem. Find out how she first got hooked on the startup world, how StartupAmsterdam contributes to the scene, and why it is important for founders to be on the Amsterdam Startup Map.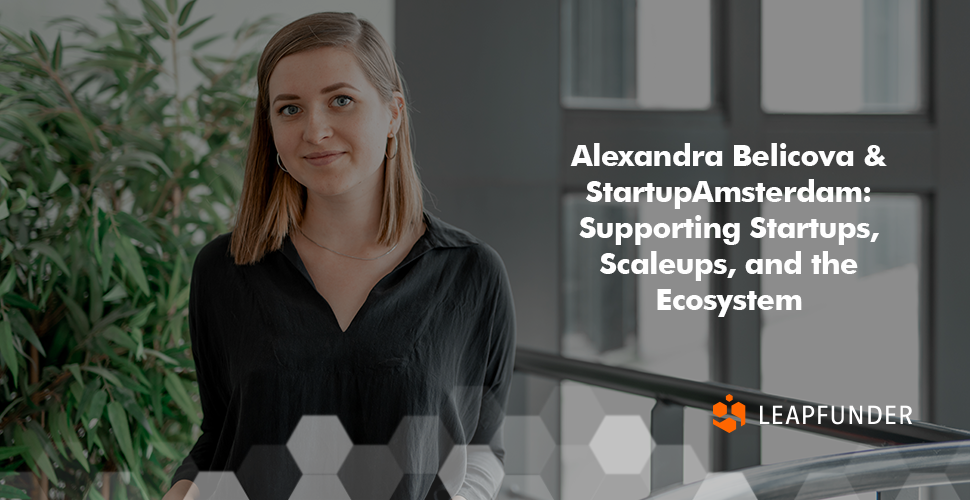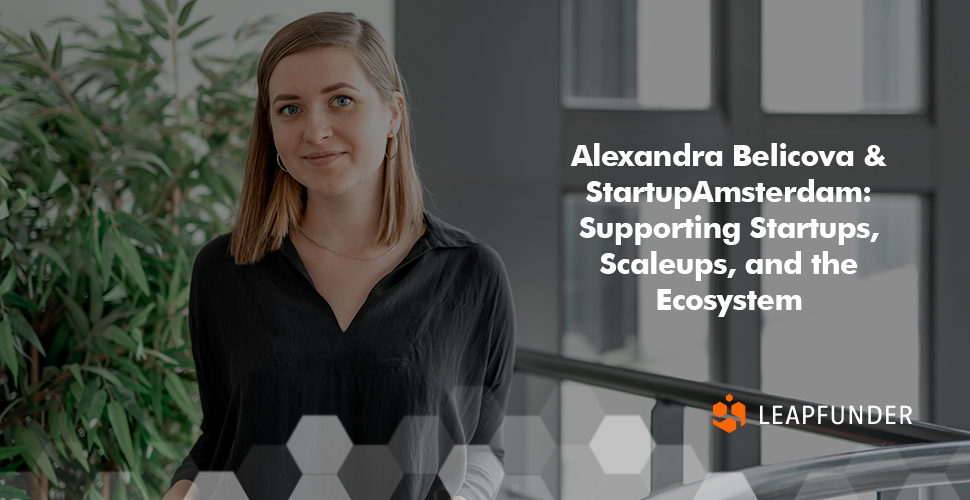 1. Hi Alexandra. Thank you for agreeing to do the interview. Could you tell us about your background and connection to the startup world?
In 2011, I left Moldova to come to Groningen and study International Business and Management. I majored in marketing, and my graduation thesis was about the usability of websites. Once I graduated, I got offered a content marketing internship at Growth Tribe. That six-month internship completely changed my outlook on marketing and introduced me to lean startup methodologies, rapid experimentation, constant optimization of processes, and lifelong learning. This job introduced me to the startup world – I was hooked.
I'm forever grateful to Growth Tribe for giving me my first leg up. They gave me a solid knowledge and skills foundation that convinced StartupAmsterdam to hire me as their Content Lead. This role allowed me to meet Amsterdam's startup ecosystem: companies, coworking spaces, accelerators, investors, media outlets, and service providers. Working for StartupAmsterdam also meant wearing multiple hats: so on one day, I would be writing an interview for the site; on the second, giving a presentation to students about work opportunities at startups; and on the third, hosting a delegation of startups from abroad. 
2. StartupAmsterdam is a program run by the City of Amsterdam that brings the public and private sectors together to support startups, scaleups, entrepreneurs, and other players in the ecosystem. Tell us about your mission there.
Our mission goes back to 2015 when the municipality gathered key stakeholders around the table to ask them, "What can the local government do to help Amsterdam's startups, scaleups, and the ecosystem as a whole?" That's how the StartupAmsterdam action plan was born. With our various programs, campaigns, and initiatives, we work to make sure startups, innovative SMEs, and impact entrepreneurs have easier access to capital, clients, content, talent, and foreign markets while highlighting the importance of DEI and the impact they make on the city they're based in. 
Above all, we've always strived to be the "spider in the web" and facilitate valuable connections for the various stakeholders of our ecosystem. My personal mission at StartupAmsterdam doesn't diverge too much – I enjoy being the linking pin between the municipality and the startup community, identifying potential collaborations for the benefit of all parties involved, and telling Amsterdam's story, of course, to anyone who would listen. My absolute favorite is to give people who wish to be connected to the local scene an "aha moment," a realization that there's a whole ecosystem out here, that everybody's "a coffee away," and that the government is there to support you.
Right before Xmas 2022, we announced that the 2nd phase of StartupAmsterdam has come to an end and that we're going to scale down our activities. That said, we're working on the next phase (the next program, if you will), and we'll always be there for those who want to contribute to the startup ecosystem with a creative project, event, or initiative. So our door is always open.
3. What's going well in the startup ecosystem in Amsterdam at the moment? What's the ecosystem lacking? How do you feel you're contributing to the scene?
The first good news is that, according to our latest employment report, in collaboration with Dealroom, Amsterdam's tech scene is still growing. There are more people employed by local startups and scaleups than ever before. What's even more remarkable is that not only have impact-driven tech startups in the Amsterdam region been on a rapid upward trajectory when it comes to funding, but have also shown a double increase in the number of jobs created since 2017. 
I also enjoy seeing grassroots initiatives in the ecosystem, such as Fashion Potluck's Founder Mesh pitching events or Techmakers' community events. It's cool to see founders sharing their learnings with their peers and giving back to the ecosystem.
When it comes to what's lacking… Pre-traction startups struggle with fundraising as the local investors are much more risk-averse and would rather invest in profitable businesses than great ideas. Growing scaleups looking to raise Series B and C still struggle to find investors locally (in Europe), so they are forced to look elsewhere. We realized that special attention should be paid to impact-driven companies and their access to capital. We joined forces with AMS Institute and Rockstart to launch Amsterdam Circular – to connect circular ventures with co-financing opportunities.

Aside from capital, the war on talent has reached new heights. Companies are much more prone to looking for senior talent than investing time and resources in junior talent. We're trying to combat this with our TOMAS initiative – a platform that connects tech companies with educational initiatives that train, upskill, and re-skill people into tech. Our goal with TOMAS is to stress the importance of companies investing in the local younger talent pool – as that will create talent pipelines in the future.
Another issue we're trying to tackle is the lack of support for failing entrepreneurs. We always hear about startup successes and mega-funding rounds, but if a founder is struggling or even approaching bankruptcy, there is little to no help. While 94% of failing entrepreneurs intend to start again, only 25% do so. The RestartUp Netherlands tool aims to help founders navigate insolvency and potential bankruptcy. I'm impressed with my colleague Sarah's research into this and the Amsterdam Law Hub team for making this tool a reality.
4. Why should founders in Amsterdam reach out to StartupAmsterdam? Why is it important to be on the Amsterdam Startup Map? Which events should founders attend?
Impact-driven founders should contact us if they're looking for additional media exposure, clients within the government, connections to capital, international markets, or talent providers – or to better understand our ecosystem and its players. 
The Amsterdam Startup Map, created by Dealroom.co, is a very handy tool for founders – not only do you put your company on the radar of potential clients, media, and support organizations, but you also get access to a big database of investors. Creating a profile is completely free, by the way! 
In terms of events, there are the usual suspects, such as TNW and World Summit AI. That said, I recommend founders explore smaller-scale events. You have online founder-investor speed dating, Startup Roulette. You have Investor Readiness Sessions, Pitch Deck Clinics and Finance Academies by Leapfunder, 21st-century skills mastering webinars and courses from Growth Tribe, DEI trainings offered by equals.amsterdam and their partners… Honestly, the list goes on.
5. What do you predict for the ecosystem in Amsterdam in the near future?
Naturally, the world's state's volatility right now makes any prediction difficult. What I can do is express hope. I hope to see more impact startups raising big rounds, more underrepresented communities getting access to Amsterdam's flagship tech events and programs, more women-led and POC-led companies in the news, more of a spotlight on bootstrapped sustainable businesses, and more grassroots initiatives taking off.
Thank you very much for sharing your insights with us. We wish you the best of luck in your future endeavors.
Join our network of startups & investors!