Ever since Tesla came out, the world has been preparing for an electrical scooter that could rise up to the challenge. Will Bolt Mobility accomplish just that with their AppScooter? In addition to being faster, lighter and safer than anything else on the market, it's also the first scooter that runs apps directly from the cockpit! Find out more about this amazing invention!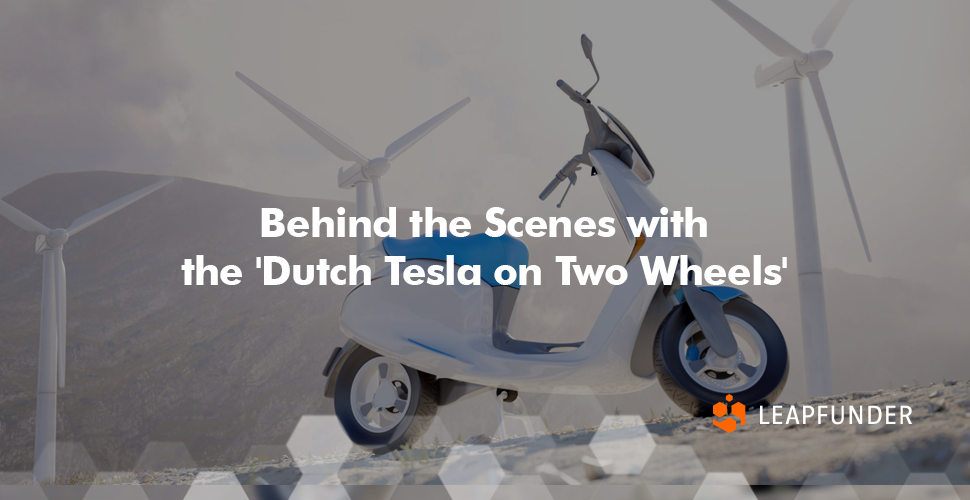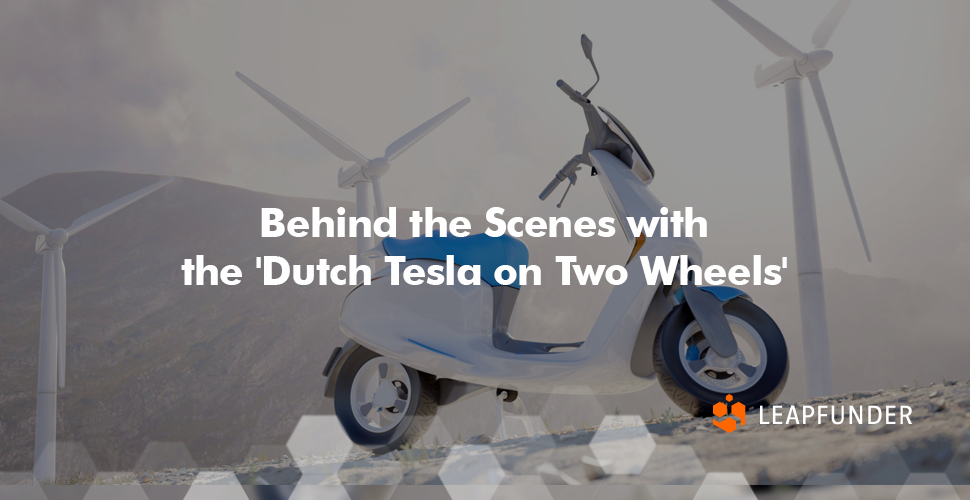 Interview with Bolt Mobility on their 'Dutch Tesla on two wheels'
1. Amazing times for Bolt Mobility, preparing your funding round and your first prototype. Please tell us more about Bolt Mobility and what you're hoping to accomplish in the cleantech industry with your 'Dutch Tesla on two wheels'?
With AppScooter, we are building a scooter that is better in every way. AppScooter is faster, lighter, more affordable than a Vespa and it's the first scooter to run apps directly from your cockpit… How cool is that? It is a lot safer since the apps are designed exclusively for automotive purposes. That means that all the buttons are large and easy to tap on, there are no distracting ads and the majority of the interaction will be via speech. The reason why AppScooter is so fast and efficient, among others, is because it's made from composites. This makes the scooter more than 40% lighter than a similar scooter. The frame is made out of one piece, which gives the scooter a seamless surface, never seen in the automotive industry before. Our ultimate goal is to replace every extremely polluting petrol scooter with a clean, efficient and  electric scooter that is better in every way. A two-stroke engine scooter is one of the most polluting vehicles in the world. It emits 2700x as much particulate matter as does a modern van. This particulate matter is extremely harmful to our heart and lungs, and it is all emitted where we want it the least: in our cities.
2. How does your service model work? What makes your business approach differ from your competitors?
The fundamental reason why our customers buy a scooter is to get from A to B. This means our mission is to ensure this at all times. That's why we crafted a service model that makes sure that in the case of a defect or regular maintenance, the customer is back on the road within a day. We'll do this at home, work or wherever you are. The idea is that you don't have to worry about maintenance and service, we'll do it for you without you even noticing it. This is way different from the obsolete scooter repair shops. First you have to figure out how to get there (with a broken scooter), wait within an uninspiring surrounding until your scooter is fixed or arrange a replacement vehicle and pick up your scooter within a couple of days.
3. Tell us more about your funding campaign strategy. Startups normally have a cap in their terms and conditions, why did you decided not to use one?
We found out that having a cap would potentially be a risk for Bolt. We are a hardware startup, and not just a normal hardware startup, but one that is making a mass-market vehicle. The thing with hardware is, as we have experienced ourselves multiple times and have been told by experienced advisors, is that things will take longer and cost more than expected. Raising serious funds is a way of dramatically reducing this risk. We don't want to bound the amount that we can raise by using a cap since this can complicate raising our next round.
4. You chose Leapfunder as your funding platform. How are you preparing for it and what are your expectations?
Leapfunder is a great platform to attract serious angel investors. Their legal structure is solid and seems to become more popular in Europe. We've prepared for the round by joining every pitch event known to us and making it possible to convert our website visitors into investors by implementing a contact form for people who were interested in investing in Bolt. This gave us a list of people which we called when we opened up our campaign.
5. What's next for Bolt Mobility? Tell us about your Go-To-Market strategy; what is your plan to acquire more customers? What will be your next milestone?
We've planned to deliver the first 25 scooters in spring 2016, after that, we expect to deliver the second batch of 75 scooters in the summer of 2016. Recently we've opened up the pre-orders in the 6 biggest scooter cities of Europe. These will be delivered after the batches in The Netherlands. When we close our Leapfunder round, we will professionalize our marketing and PR campaigns to attract more customers. Also, early 2016 we will schedule multiple test ride events to let customers actual try and feel AppScooter. Our next milestones will be successfully closing the Leapfunder campaign and reaching 500 pre-orders.
Sound interesting? You can get introduced to their team here: