Startup accelerators are an amazing invention that gives young entrepreneurs that initial push in starting their own business. The only problem is, they ask you to stop everything, take a leap of faith and go all in. What if there was an accelerator which not only makes it possible to stay at your current job but also reduces the risk to a minimum? We've had the opportunity to talk to Christoph,  CEO of Berlin Startup Academy, and find out all about the idea behind their Part-Time Accelerator.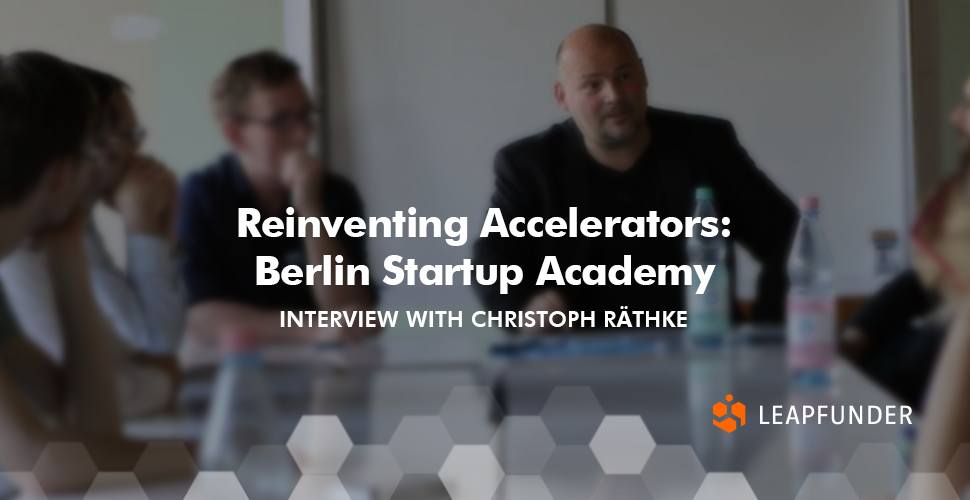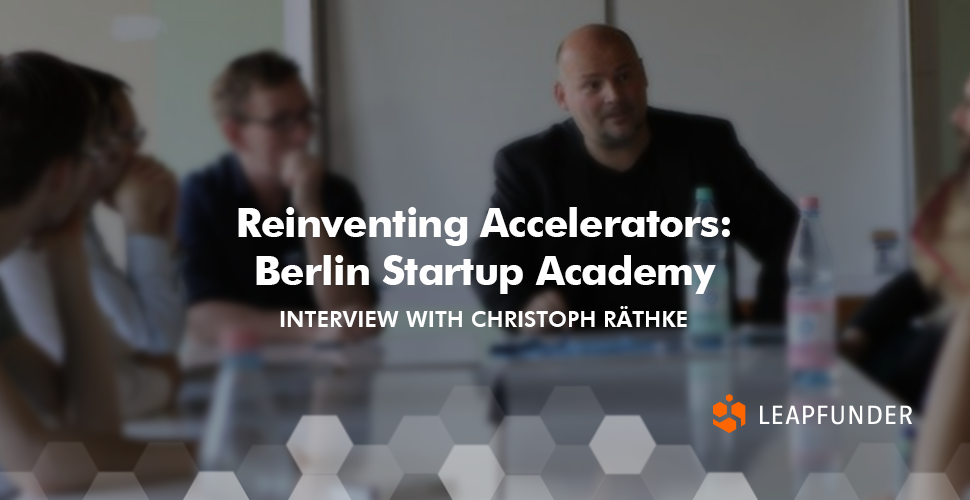 Interview with CEO of Berlin Startup Academy: Christoph Räthke
1. Hi Christoph, thank you for agreeing to do this interview! Tell us a bit about your background, the motivation to become an entrepreneur and found Berlin Startup Academy.
I joined my first startup team in 1999, and despite us not getting funded back then, it was a defining time for me. This was when many people understood that with web technology, anyone could build something meaningful and potentially lucrative. In the years after, I joined and founded more teams, lost money, started to host regular tech events, and from 2010 on began running accelerator programs. Thus, when I founded Berlin Startup Academy in 2012, it was on the basis of many years in the industry and a network of serial entrepreneurs and investors some of whom I'd known since the late 90s. In 2015, we teamed up with German Tech Entrepreneurship Center (GTEC), which is the new entrepreneurship campus in Berlin.
It's funny, but at the moment, BSA seems to be the only program in Germany that is not run as a corporate accelerator or a corporate-funded one, but as a proper startup itself, led and funded by its original founder.
2. Being a part-time accelerator, makes Berlin Startup Academy unique. What does this mean for the founder and what are the benefits of this type of program?
It means that it is designed also for founders who are in the process of transitioning from their previous work but can not yet commit to the 24/7 involvement that accelerators normally demand. In the past, this has been freelancers, or even employees who wanted to test if their idea can sustain a future for them before they cut all ties with the past. Also, this way it's possible for corporate entrepreneurs to join. At GTEC campus in Berlin, we work with German utility RWE, among others, whose headquarters are in Essen. So for RWE intrapreneurs, it's a perfect opportunity to spend their time partly in Berlin, partly in Essen in order to not detach themselves completely from the organisation that supports them. Of course, we're also open for full-time founders; we do offer 24/7 co-wo. But only Thursdays and Fridays are mandatory.
3. Tell us about your investor network that seems to be quite involved in the program. Apart from discovering startups, what would you say are best reasons for investors to join?
Well – on a conceptual level, you could say that the original layout of an accelerator, as pioneered by Y-Combinator and others in the U.S. ten years ago, was precisely to be an opportunity for mentors and angels to invest at an early stage. It's just that the more accelerators are funded by or run on the behalf of corporations, the less this symbiotic relationship is needed. In Europe, what feels like a large majority of accelerators doesn't need and doesn't even strive for angel investment anymore because their success doesn't depend on it. They make their salaries from European funds, corporate sponsorships, or the monthly payroll of a corporation.
As opposed to that, BSA can only be successful if its participants get follow-on funding by mentors, angels, and investors we involve. And luckily, more and more of our mentors who we've been working with for so many years have turned into angels in recent years. Very recently, we've seen a few of the startup success stories that everybody's looking for but which happen so rarely, like a mentor investing early on and then selling his shares at tenfold the price within less than 12 months. So it seems to work for both sides. And that's the way we want to continue – as an independent program that works on creating investment opportunities that both founders and angels profit from.
4. Last year, Berlin outranked London in startup investment. Next to the tech unicorns, Berlin's investor community is to blame. What would you say are the best events in Berlin for investors to network?
I'm not a particular fan of the London vs Berlin comparison; in fact, I think it's propaganda. With Rocket Internet, there is a single player that hugely inflates the Berlin numbers but is, it cannot be said often enough, not a part of the startup ecosystem. Most "real" investors I know do the commonsensical thing and attend accelerator demo days plus the conferences established to meet investment opportunities, like Tech Open Air, Heureka, and the plethora of one-off pitching events you'll learn about in Berlin Startup Digest and social media.  But it's an open secret that most investments are made behind the scenes – through warm introductions, friends, dinners, meetings in small rounds. The good news is that it's quite easy to become part of that circuit. Like everywhere in the world, there are a number of gravitational centers in Berlin, such as GTEC and Berlin Startup Academy, Rainmaking Loft, Telekom's Hubraum, The Factory, but also university founder centres like Technical or Humboldt University. If you are looking to obtain or invest money, hanging around one or several of these centres will get you on board in no time.
5. What do you think about Leapfunder as a way of angel funding the early stage startups of Berlin Startup Academy?
It is, quite simply said, a no-brainer – a natural match. At BSA and GTEC, it is our purpose to draw in the best talent from all over Europe, many of whom are also excellent investment opportunities. Since they often work on powerful industry solutions, they are especially interesting to angels that have a matching industry background. Leapfunder is a godsend for them, because you need a bit of a critical mass of investors to make the match happen. On the other hand, since the startups we invite to join our programs are thoroughly vetted by industry experts and mentors, they are very attractive to angel investors.
I couldn't think of a better combination.
Discover promising startups & learn about investing in startups via convertible notes: