Berlin startup scene is thriving. Berlin tech startups raised a combined $1.1 billion in 2014, a 140% increase compared with 2013. We had a chance to talk to Luisa Maier, Director of Lab & Venture at GTEC Berlin and ask her all about the city's startup scene, investors and where to discover unicorns in Berlin!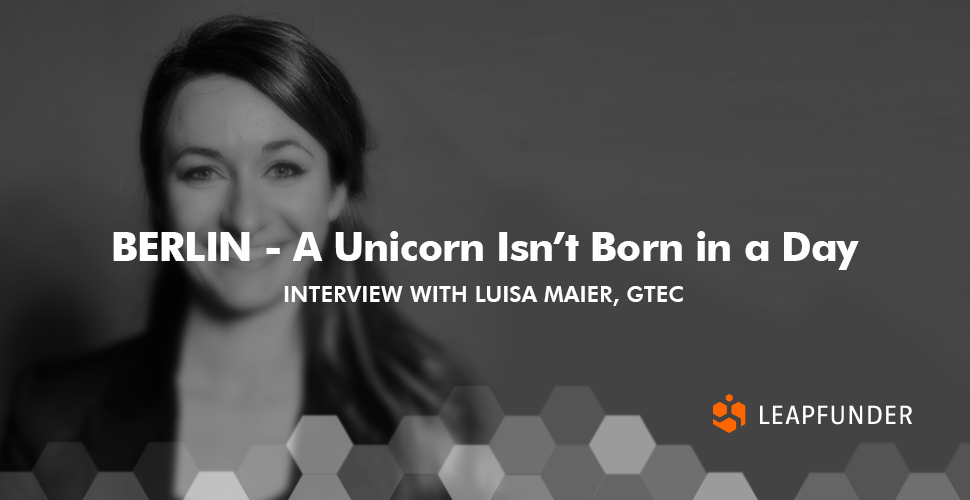 Interview with Luisa Maier
Could you tell us a bit about GTEC and its role in Berlin's Startup Ecosystem?
GTEC is Europe's first open campus for entrepreneurship. From our headquarters at ESMT in the heart of Berlin, our aim is to empower technology-driven, high-growth innovation and transformation across Europe. We do this by connecting entrepreneurs, corporations, investors and students with the entrepreneurship resources and expertise they need.
This includes access to the formats we're developing, such as our Business Development Camps, bi-weekly Open Lectures series (available in full on YouTube), and the Berlin Startup Academy (our boutique accelerator). It includes use of the GTEC space on the palatial ESMT campus. This is where we hold our Open Lectures and workshops and where the Lab is opening up in June. It also includes using the GTEC team's reach and expertise to understand where to start looking for support within the German economy – whether this be linking up startups and founders with our founding partners (Henkel, RWE, Sigmund Kiener Stiftung, Globumbus Foundation, ESMT and Noerr), putting you in touch with potential investors, or telling you which law firm to turn to for advice on employment issues. Any entrepreneur – from student to corporate entrepreneur, from first-time founder to investor – is welcome to get involved.
Europe is slowly becoming startup friendly. Some capitals are faster than others and many think Berlin is leading the race. Would you agree? What does Berlin have that London, Amsterdam, or Barcelona don't?
With early stage funding being more accessible from both the private and public sector, the startup scene has taken a leap over the past decade. But it's more about Berlin uniqueness, than about winning a race for startup hub of Europe.
What makes Berlin so distinctive and exciting right now is how fertile its environment is for bringing new ideas to life. Berlin brings together the reliability and stability you'd expect of the German capital city, with that artistic and disruptive flair for which its is famous. This culture combined with a thriving German economy, access to capital, education, and mentorship, the fact that established industry and SMEs are eagerly looking into innovation outside their own doors, and Berlin's affordability compared to other major European cities, the city has become attractive to entrepreneurial talent from around the world.
TechStars will launch in Berlin in June and it will take place within your walls. Another accelerator is also based in GTEC, Berlin Startup Academy. Impressive. Tell us more about your eco-system partners, and what you offer to startups and investors?
Given the number, strength and variety of our partners – from founding partners (Henkel, RWE, Sigmund Kiener Stiftung, Globumbus Foundation, ESMT and Noerr)  to our ecosystem partners (including Data Science Retreat, FabLab, Berlin Startup Consulting, Powtoon, amongst others) – there are lots of ways for both investors and startups to benefit.
Early-stage and later stage startups are served by the accelerator programs Berlin Startup Academy and Tech Stars. Our GTEC Lab will be home to startups that GTEC and its founding partners want to enable – providing them with 12 months of free office space, services, workshop and consulting from our Lab partners. Partner deals include items such as access to FabLab for easy prototyping, legal consulting by Noerr, application for public funding by Berlin Startup Consulting.
Our Business Development Camps will connect the old and new economy, helping local and international startups link up with industry and SMEs. In our drive to make an understanding of entrepreneurship mainstream, we are actively promoting our Open Lectures to university and school students, and are running a startup summer school for 14 to 16 year olds.
TechStars enters a crowded market as there are more than 10 startup accelerators in Berlin, which means a lot of rocking demo days. What are the best events to discover unicorns in Berlin?
A unicorn isn't born in a day. Berlin offers a lot of events – big demo days & conferences such as NEXT Berlin as well as smaller meetups (e.g. Berlin Tech Meetup), pitch dates, etc – and online & offline publications which offer opportunities for startups to showcase their progress.
We once asked a Dutch angel investor to compare US and NL investors, and in his opinion Dutch investors are more conservative, playing it safe and invest only in what they can understand. Give us some insights on German angel investors, are they as conservative?
Wouter (i know him from Tech All Stars in 2013) seems to speak for German investors too. Germans are a lot more risk averse than Americans and seem to do a lot more research or at least sleeping on it – investments simply take a lot longer to finalize.
With Leapfunder anyone can invest in startups from as little as €1000. That's why we interview experienced investors and get them to share what they've learned over the years with our users. Who would you recommend we interview from Berlin?
Benjamin Rohe of MD of GTEC & Make-a-startup is an experienced angel investor with an abundance of knowledge to share.
Thank you Luisa for your great insider tips! Stay tuned for more news from Berlin: