Startups need all the financial help they can get and as the Netherlands is paving its way to becoming Europe's largest startup ecosystem, it's time to find out more about the best grant possibilities for startups available.
We asked Zinzi, an UGOO consultant, who is an expert in helping startups fully benefit from all grant programmes for which they are eligible, to share her knowledge with us. Get an overview of 5 grant programmes for your startup and make the best of it!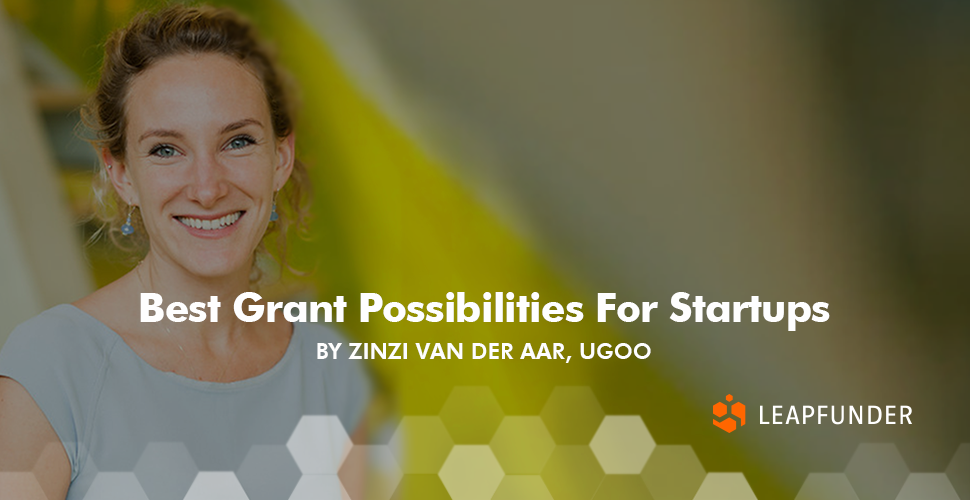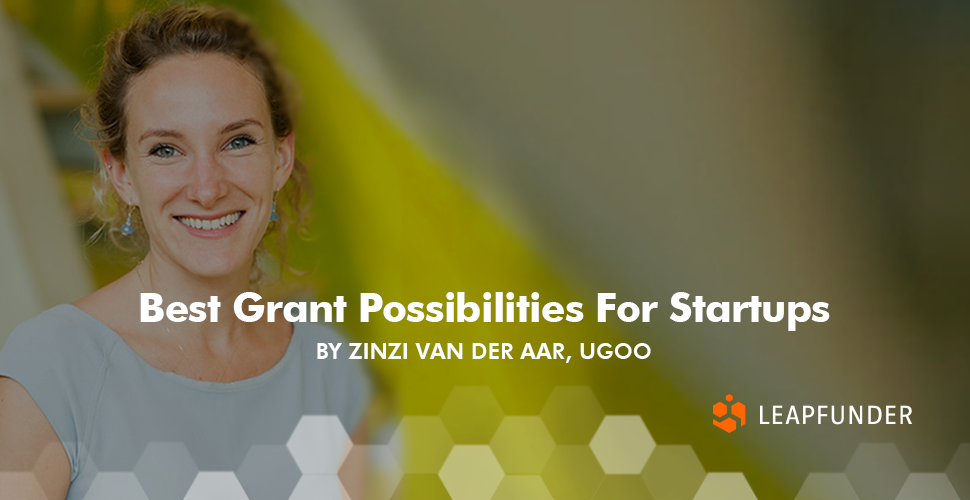 Grant programmes
The most interesting grant programmes for innovative start-ups can be narrowed down to five fairly broad instruments. However, do note that there are many specialized grants, specifically targeted at your region, your industry, or a technology you may develop in your business. Take these scientific start-ups for example. Give me a call at 020-3655531 (ask for Zinzi) and we will explore the grant possibilities for your company. As for those five grant programmes:
Best grant possibilities for startups
1. WBSO – this grant programme is very popular and there is a good chance you've heard of it before. Almost every start-up that innovates itself technically may apply for this grant.
The WBSO provides an annual wage cost reduction up to EUR 26.000,- per fulltime developer. On average, it cuts R&D costs in half by offering a 50% compensation per R&D hour worked, based on a standard hourly pay of EUR 29,-. The benefit can be deducted from your entire company's monthly wage tax. For most start-ups, this means no wage taxes at all!
If you want to make use of the WBSO it is therefore vital that wage is paid from the entity in which the R&D takes place. For start-ups this might be a bottleneck. I can give you advice on the best business structure for maximum profit from this grant.
2. RDA – this grant programme goes hand in hand with the WBSO. The RDA provides a cost reduction for all other R&D costs except wage costs. Eligible costs are exclusively related to R&D. For IT-start-ups this means that RDA might be difficult to apply for, since it is hard to prove that your virtual development environment or software license is dedicated fully to R&D work. For these start-ups the fixed ('forfaitair') RDA is useful. This increases your WBSO benefit with 12-15% (for start-ups or holdings that spend up to 150 hours per month on R&D in a "BV-structure").
For non-IT start-ups, the RDA can be very useful to subsidize part of the costs made for building a prototype, materials, test instruments and machines. With the RDA you can deduct 60% of the total costs from your profit before tax.
The bottleneck here is obviously that most start-ups don't make a profit yet. The good news is that you can use the RDA to further increase current losses, and thus lower taxes in the future ("verrekenbare verliezen").
3. Innovation box – when you start to make a profit the innovation box ("Innovatiebox") becomes very interesting. The innovation box is an important reason why many companies come to the Netherlands and start with the WBSO! Either a WBSO statement or a patent makes your company eligible for the innovation box.
Companies with an innovation box ruling are taxed only 5% on innovative profits (instead of the usual 20% or 25%). To achieve this yourself, you will need an arrangement with the Belastingdienst regarding your profit-out-of-innovation percentage. They will argue that part of your profit comes forth out your great sales skills, an effective marketing campaign, etc. – and not only from your innovative product.
How can they tell? For example, they look at your team. If you have a big marketing team and only one developer it is difficult to deny that marketing plays a huge role in your profit. One of UGOO's fiscal advisors will gladly help you to maximize the percentage of profit-out-of-innovation. To illustrate, we arranged percentages up to 60% for our clients.
4. Horizon 2020: Fast Track to Innovation – in contrast to the Dutch grants above, Horizon 2020 is a European program aimed to strengthen the EU's global position in research, innovation and technology. Unfortunately, most of the grants in this program are rather unsuitable for start-ups, as they demand that your developments fit pre-defined 'calls'.
Thankfully Horizon 2020 started a start-up oriented pilot called "Fast Track to Innovation", providing up to EUR 3 million in funding. It is aimed at increasing the participation of first-time applicants and SMEs. As the only fully bottom-up measure in Horizon 2020, it is open to all types of participants – as long as the partners for your project are from at least 3 EU countries.
5. MIT – the MIT is a good one to keep your eye on! Calls are closed for the moment but open in 2015 again. On "Prinsjesdag" the government announced that they will reserve EUR 55 million for the MIT in 2015. If you send your e-mail address to zinzi@ugoo.nl, I will send you an update as soon as more information regarding the MIT is announced.
To make an appointment with a UGOO consultant to calculate the benefits for your company call  020-3655531. UGOO is a full-service, no cure-no pay and friendly grant advisor.