Hospitality is an industry which has been here for a long time and has dealt with the same staffing problems ever since. clevergig created a fantastic solution which allows bars & restaurants to have an experienced freelancer at their doorstep within an hour whenever they need it. No commitments, no contracts – it's that simple. We've had the pleasure to talk to Michel, their CEO & find out all about their platform. Check it out!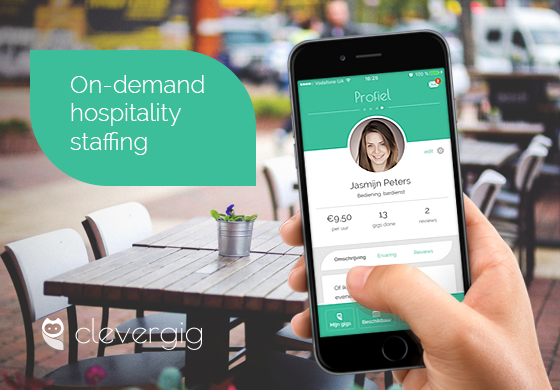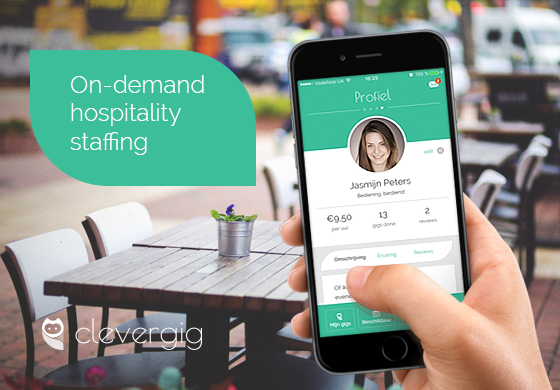 Interview with CEO of clevergig
1. Hi Michel, congratulations on launching your Leapfunder funding round & thank you for agreeing to do the interview! Tell us about clevergig, the idea that got it all started & the amazing team behind it!
Hi, Andrea! The idea for clevergig started when I saw the labor market becoming increasingly flexible. I was surprised to learn that in such a highly unpredictable and seasonal industry like hospitality, flexible-staffing solutions (with tech at its core) had not yet been introduced. The need was clearly there, so clevergig is our response to that and provides an on-demand staffing solution through our awesome website and app.
Over the past 10 years, I have worked in international service marketing with major firms such as Rabobank, Vodafone and Liberty Global. My partner, Mario, is a serial entrepreneur and has more than fifteen years of experience in software development and digital media. Our team of four developers have built and will continue to develop the platform.
2. Hospitality is an industry that has not yet fully been transformed by digitization in Europe & it's in a desperate need for flexibility. What does clevergig bring to the table that makes it stand out?
Hospitality is highly seasonal and traditional hiring practices can leave firms short or overstaffed very quickly. clevergig makes it easier than ever for hospitality firms to find immediate, reliable help during expected and unexpected peaks in demand. Where before bars and restaurants would scramble to get existing employees to cover shifts or were simply left short-staffed for the day, now they are offered an effortless solution through a platform they can trust.
It's a simple proposition that is really resonating with our clients because what they hear is: I no longer need to stress, my employees aren't spread thin & my customer experience is improved by cutting down on wait times. If anything comes up, they know it takes 5 minutes to log into their account, create a shift, browse through a list of our experienced freelancers, and have someone at their doorstep within the hour, if needed. No commitments, no contracts, we simply provide clients with reliable staff quickly- when they need it. It's that simple.
For freelancers, our proposition provides them the choice of what they do, when and where they work,  and how much they want to earn. Pitch that to a millennial (or anyone for that matter) and see if it won't stick!
3. Investors always want to know the unique benefits and potential for return when investing. How much growth potential do you see for clevergig?
In early May, we launched our MVP in Amsterdam. This city makes up 10% of the entire Dutch hospitality market. The scalable nature of our business, allows clevergig to quickly add more cities and even industries such as Retail, Logistics and the Commercial sector over time. Further down the road, international expansion is a logical next step. In my opinion, only a few platforms will survive, and those that manage to create liquidity quickly will win. Others will be acquired or surpassed. That is why our plans are so focused on growing quickly to create the relevant network effects.
4. What made you choose Leapfunder as your online funding platform? What would you say are the benefits of using convertible notes, both for clevergig & potential investors?
Leapfunder makes it quick and painless to start a funding round and makes it accessible for smaller investors to buy in. Almost anyone can become an angel investor. The convertible note is ideal as it postpones the valuation of the company, so both the founders and investors don't  have to worry or negotiate about that for a while.
5. What's next for Clevergig? Please share with us how you're planning to utilize the funding received from your Leapfunder round.
Growth! Marketing and sales will be a large component in this next phase as we continue our launch in Amsterdam with plans to expand to Rotterdam and The Hague before the end of the year. This will require adding members to our team as well, especially in account management. 2016 is really meant to further validate the service and business model, and to come up with a scaling playbook to quickly add more cities and further scale the business on a nationwide level in 2017.
Find this idea interesting & disruptive? You can get introduced to their team here :