We had a chat with David Cerda Salzmann, a former startup founder, former VC, active angel, and an active mentor. All in the hardware tech space. He co-founded Ampelmann, an offshore access provider delivering innovative, safe, and reliable Walk to Work services to the global energy industries. Find out what it is about HardTech companies that particularly attracts him, which advice for founders he shared with us, and what he thinks is going well in the ecosystem.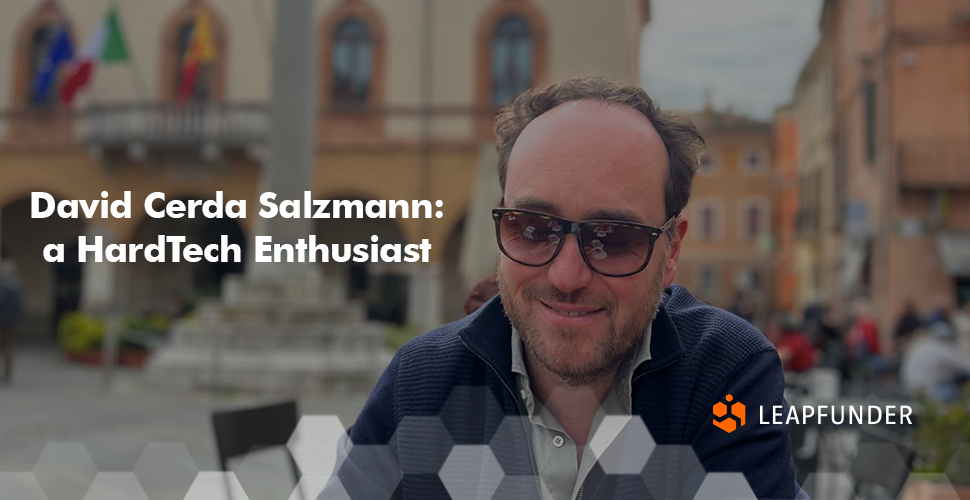 1. Hi David. Thank you for agreeing to do the interview. Could you tell us about your background and connection to the startup world?
I have a background from TU Delft, a Master's, and a Ph.D. in Offshore Engineering. During my Ph.D., I co-founded Ampelmann, a hardware startup that introduced a disruptive innovation to the offshore industry: a full motion compensated gangway for safe access to offshore wind turbines and offshore platforms.
We were one of the first successful TU Delft spin-outs, and especially after our exit in 2013, we were very much treated as the textbook example of "a hardware deep tech startup story." So, after the exit, I got involved in advising many founders of other, newer startups, which evolved into coaching and mentoring many great starting companies. This further evolved into some investments, which automatically turned me into an angel investor.
After four angel investments, together with two of my Ampelmann Co-Founders, I got approached by two former bankers who wanted to start a hardware VC firm. We raised almost €40M in 2019 within the first fund of FORWARD.one, and made 11 investments. One of these portfolio companies made a great exit last year. 
When the VC went on to raise a second fund, I decided to leave the firm and return to angel investing, and now I'm almost closing my sixth deal as an angel. So my connection to the startup world is as a former startup founder, former VC, active angel, and active mentor. All in the hardware tech space.   
2. You mentioned that you co-founded Ampelmann, an offshore access provider delivering innovative, safe, and reliable Walk to Work services to the global energy industries. Tell us more about your company's mission.
Ampelmann was founded to provide safe, fast, and easy access to offshore structures. For example, if someone needs to do maintenance on an offshore wind turbine, this person needs to get there safely. But when we just started this company, the only ways to get to an offshore wind turbine were 1) to use a helicopter and hoist somebody down from it, or 2) to use a ship and wait for mild weather conditions and then push firmly with the bumper against the boat landing to create a fixed point to walk onto the ladder of the wind turbine. Helicopter use has higher costs and higher risks than ship use. However, access through the use of ships used to be very limited due to wind and waves – which tend to get rough on offshore sites.
By using our full motion compensation technology to hold a walking bridge totally steady on board of a ship that moves in the waves, we proved to provide safe ship-based access to offshore structures, even in harsh weather conditions.
3. What is it about HardTech companies that particularly attracts you? How do you feel you're enhancing the HardTech ecosystem in the Netherlands?
Hardware companies attract me. I've noticed that since the existence of the internet and later the introduction of the smartphone, a lot of entrepreneurial attention has shifted toward software solutions, and of course, these solutions have undoubtedly enhanced our way of living. 
But since we remain living in a "material world," there will always be a need for high-tech hardware innovations to enable cleaner, more efficient, cheaper, and safer solutions in the fields of construction, transportation, food production, energy production, and storage, amongst others. And in fact, I believe the real disruptors came and will continue to be hardware innovations: just think of the smartphone. 
As a Co-Founder of a hardware company, I try to contribute by sharing my experiences with the next generation of HardTech entrepreneurs. I give several lectures and do a lot of mentoring and coffee meetings to help hardware startup founders become more aware of what it takes to succeed in growing a company. Because I believe "great hard tech should make great businesses."
4. As a startup founder and an advisor, which advice would you give to a hard-tech founder looking to grow and scale internationally?
Be bold and extremely ambitious.
It starts with a validated business proposition and a working MVP (minimum viable product). Build a solid foundation by defining your vision and mission statement and writing down the company's core values. Surround yourself with excellent people who believe in these values and ensure the group becomes a real team. From there, work towards your ambitious goals. 
5. What's going well in the startup ecosystem in the Netherlands at the moment?
The ecosystem was still very small when we started our prototype and later business with Ampelmann (2006-2008). However, it gave us enough network, support system, and encouragement to accomplish our growth: from a course on how to write a business plan to several startup competitions and incubation. 
I think one of the biggest differences now is that the ecosystem is much bigger. More networking events, courses, startup facilities, and financing possibilities exist. And there are more experienced founders to reach out to for advice. But I think what really matters in the ecosystem is the overall mindset. When I graduated, engineers wanted to work for multinationals, and founding a company was weird. Now it's considered a respectable choice and a unique adventure to start a venture or work for a startup, allowing a wider range of innovations to flourish.
I hope that with more and more experience accumulated in this ecosystem over the years, the road from idea to success becomes shorter, and the chances of succeeding become larger.
Thank you for sharing your story and insights with us, David. We wish you the best of luck in your future endeavors.
Join our network of startups & investors!