Deko Eko is an upcycling platform which is completely changing the way people think about waste. They cooperate with the best designers, startups and small manufacturers from all over the world to convert global companies' waste into well-designed consumer products. They create brand value by transforming carefully selected used materials into high-end products that consumers love. Find out why they are a product-market fit, why they chose Leapfunder as their online funding platform and what kind of investors are they looking to attract.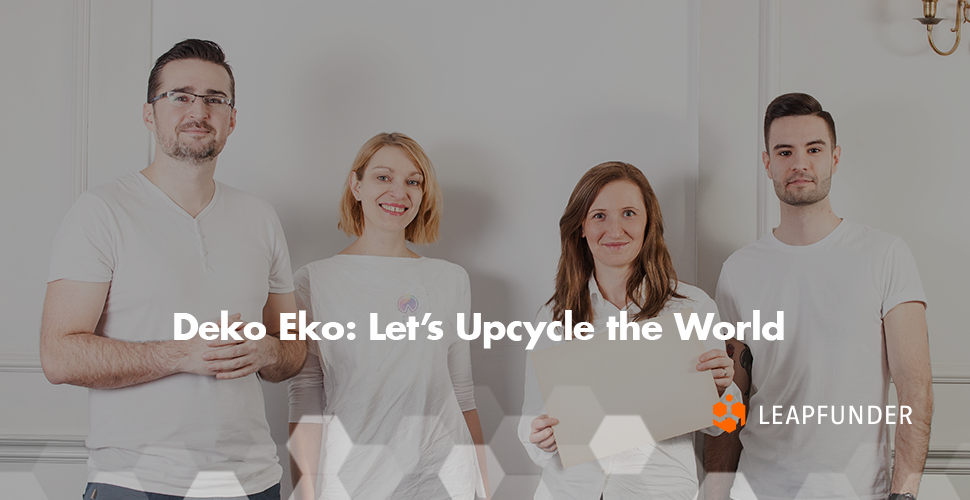 An Interview with Deko Eko
1. Hi Agata, thank you for agreeing to do the interview. Tell us about Deko Eko, the idea that got it all started and the amazing team behind it.
The idea appeared several years ago when I was traveling through Asia looking for inspirations. I was thrilled how the inhabitants of Cambodia create amazing bags and backpacks from cement sacks scattered all over the street. They earned money for living like this. That was when I asked myself: "Why don't we do such things in Europe when we strive to be 100% circular very soon?" And just a few months later, I have started my big adventure with Deko Eko. We created the 1st e-commerce with upcycling products and began to cooperate with amazing and creative designers and manufacturers from all over the world to create warm consumer products out of carefully selected waste materials.
Our team is a complete mix of different competencies and experiences that all together build a perfect match for our unique upcycling offer (we combine marketing and storytelling skills with a passion for design, and technology with circular economy knowledge). What I can say for sure is that each of us is a professional who wants to be successful. It drives us very much and lets us achieve our goals quickly. We're just a good team.
2. What problems are you trying to solve? What are the benefits of your product and why is it a product-market fit?
As we know, many global brands are having lots of problems with transparency nowadays. Companies are looking for sustainable products and circular economy solutions. Deko Eko is able to provide it to customers. Moreover, we influence the improvement of customer relations, brand credibility, employees' engagement and, above all, we educate and show innovative ways to solve the waste problem and how to make a positive impact on the environment. We create brand value out of zero value materials. Why the Netherlands? It's simple, it's the largest circular hot spot in the world. The most innovative ideas and the most welcoming approach are here on daily basis. We already found around 120 designers who could be our possible partners. Also, the biggest corporations are open to introducing new upcycling product lines and they are very interested in our products.
3. How much growth potential do you see for Deko Eko and what type of investors are you looking to attract?
We see huge potential for our products, as being a part of the circular economy is not anymore a differentiator but a qualifier for global leaders. Almost every company is looking for ways to reach consumers with their sustainability story. Warm consumer products made out of carefully selected recycling materials are the best and easiest way to do that. Currently, we are growing over 20% per month, and this is just the beginning of the acceleration of our business.
We are looking for investors who can help us enter the Dutch market this year. It is important to us that they want to share their knowledge and support us in the fields of business development, growth and scaling up, marketing and introductions to possible clients.
4. You chose Leapfunder as your online funding platform. What makes it the right tool for your startup and what do you expect from the round? What is the advantage of having a live Leapfunder round during demo day of your accelerator?
As we are entering a new market it is extremely important for us to create a powerful network of mentors, investors and possible clients. Leapfunder, together with the Startupcootcamp family, gives us the possibility to create a community of trusted people who can support us in developing our business in the Dutch market. Moreover, we just made a successful pivot during our 3 months acceleration programme. We are still working on the new valuation of our company – Leapfunder gives us the opportunity to act quickly in terms of fundraising so we can move our operations to the Dutch market as soon as possible.
5. What are your plans for the upcoming months? Tell us about your go-to-market strategy and the plan to acquire customers.
We are setting up our business operations in Amsterdam as we just incorporated DEKO EKO B.V. We are in the process of signing the first contracts in the Dutch market with fashion companies, a telecommunication company and a marketplace which is dealing with returns.

However, our main goal for this year is to launch a new online platform targeted at B2B customers with unique smart matching solutions and a 3D model prototyping tool. This 1st B2B upcycling marketplace will automate our sales processes and the process of creating upcycling products made from companies waste.

In addition, we want to expand our team both in Poland and in the Netherlands to be able to efficiently and quickly achieve the set goals and to organize appropriate marketing and sales channels.

In terms of go-to-market strategy, we want to firstly focus on the proven best sellers from the Polish market (products that are currently produced with our trusted manufacturers e.g. all sorts of bags and cases from advertising banners, unique consumer goods from marketing materials or electronic parts). We named our offer Brand Upcycling because we first want to concentrate on gifts for employee engagement, brand loyalty giveaways that build brand value. Then we would like to sign up more serious contracts with companies who really want to be circular and introduce new upcycling product lines to the Dutch market via our marketplace.
Thank you very much, Agata, we wish Deko Eko the best of luck.