DemaTrading's mission is to make crypto accessible for anyone willing to participate in the crypto market. They help crypto providers to maximize the trading volume of their customers by offering crypto indexes/portfolios. Through an index, the trading volume on a yearly basis is multiplied by a factor x40-x60, the risk profile of customers improves and the average profit is higher. Find out more about the problems they're trying to solve, their plans for the upcoming months and their live round on Leapfunder.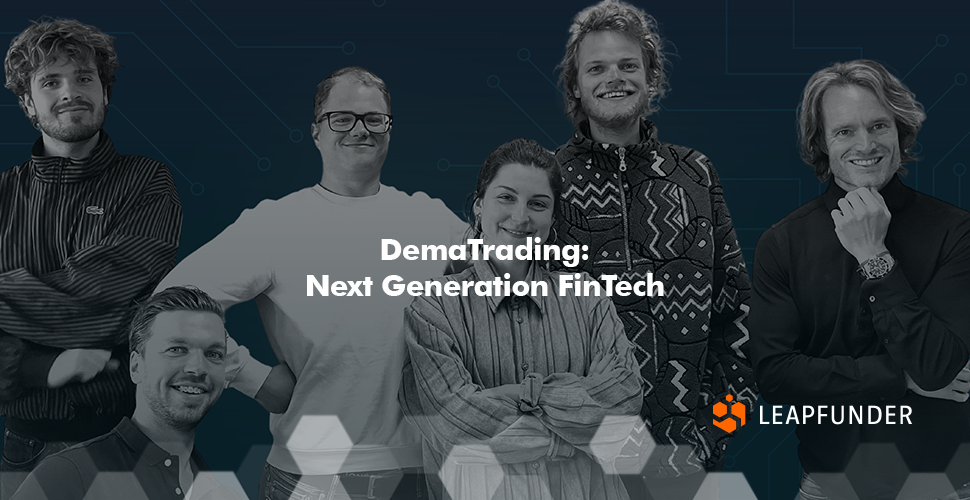 1. Hi Demian, thank you for agreeing to do the interview. Tell us about DemaTrading, the idea that got it all started, and the amazing team behind it.
We are a B2B2C FinTech startup with a mission to make crypto accessible for anyone. There is a lot of potential in the crypto world and we believe that everyone willing to participate in the crypto market should be able to do so.
My Co-Founder and I share the idea that crypto can become more accessible, so we decided to turn our idea into a concept. The first thing we built was an index bot that people can invest in. We published it on one platform (BOTS app) and it worked very well. Then we decided to test the concept with other platforms as well. One year later we grew to a team of 7 FTEs.
I'm the commercial guy, while Marijn brings in the technical know-how. And the rest of the team are true legends. Thanks to them, we keep up with the high pace of the startup cycle and rolled out indexes (top 5, top 10, top 20, etc).
2. What problems are you trying to solve? What are the benefits of DemaTrading, and why is your startup a product-market fit?
Investing in crypto can be confusing and overwhelming. People entering the crypto market with little knowledge make decisions leading to a poor risk profile and a negative association with crypto. Furthermore, most customers on a crypto provider are inactive users holding onto the funds in their portfolio. These users are not generating revenue for the crypto providers, while crypto providers ideally want to increase their trading volume and possibly commercialise their users further.
If we look at a more mature market, like the stock exchange, the same problems are solved by offering the S&P500 index to the people that are not interested in actively managing their portfolio.
Similarly, crypto providers can increase their trading volume if they offer crypto indexes, instead of simply offering Bitcoin or Ethereum. However, indexes require infrastructure and complex third-party integrations. Indexes are intended to give users a well-spread portfolio in the market of the index. Instead of buying and holding coins for a long period, certain criteria are used to select coins to invest in. These coins are acquired for the user. As you can imagine, as time passes, the bought assets are not worth as much anymore. On a regular basis, the differences between these assets are 'rebalanced', making sure the users are always invested in the newest assets.
For the people who want to get into crypto, indexes give a well-spread portfolio in the market of the index. They have an improved risk profile, and over a longer period of time, they usually perform better than a buy and hold strategy. This makes indexes a good solution for customers who are looking to invest without needing to be a domain expert. The availability of indexes also means that the choice is much more simple. For the crypto providers, the trading volume within an index is multiplied by a factor x40-x60 on a yearly basis making their average profit higher.
We already pivoted once this year and our goal until the next funding round is to have further validation. However, for some time now there is demand for crypto-linked funds. For example, a Bitcoin ETF debuted on the New York Stock Exchange in April. It quickly grew to 1 billion $ in assets. The quick adoption is a clear signal that there is interest in similar investment products. We also see this from our own numbers. For one year more than 18K people invested over 7 million € in our indexes through crypto providers. This has generated an additional 250 million € of trade volume for our partners.
3. You have a live round on Leapfunder. What makes it the right tool for your startup, and what do you expect from the round?
A part of our current investors are big fans of what we do and want to top up their investment in our company. However, we would like to reach new investors as well, in order to expand our network. We believe a solid network is essential for the long-term success of our company. With Leapfunder we'd like to leverage both the capital of our current investors and attract more capital from new investors that fit our company's core values.
4. How much growth potential do you see for DemaTrading, and what type of investors are you looking to attract in this round?
The potential is global. About 600 crypto providers currently operate in the crypto market. On a second-order level, there are tens of thousands of investment companies to which we could offer these indexes. For now, what we want to do is get more investors that believe this is a good way of solving the problem of crypto accessibility.
5. What are your plans for the upcoming months? Tell us about your go-to-market strategy and the plan to acquire customers.
After gaining traction, we aim to acquire three to five new partners in order to further validate our market fit. We will do that while optimising the product and while searching for channel-product fit.
To get to three to five more partners we plan to hire talent to establish product-channel fit, optimise the product, and translate the value into a marketing strategy. We are further strengthening the trust with the brand by rolling out case studies and complementary resources. Furthermore, we will start preparing for the scale-up phase by getting certifications and ensuring a seamless user experience.
Thank you for sharing your story and insights, Demian. We wish DemaTrading the best of luck.
Join our network of startups & investors!