2015 is here and with it a ton of interesting events you should add to your calendar. New startups will shine and rock demo days, other startup survivors will win innovation awards, in any case there will be much to discover! Check out our list of most important Dutch events no investor should miss in 2015!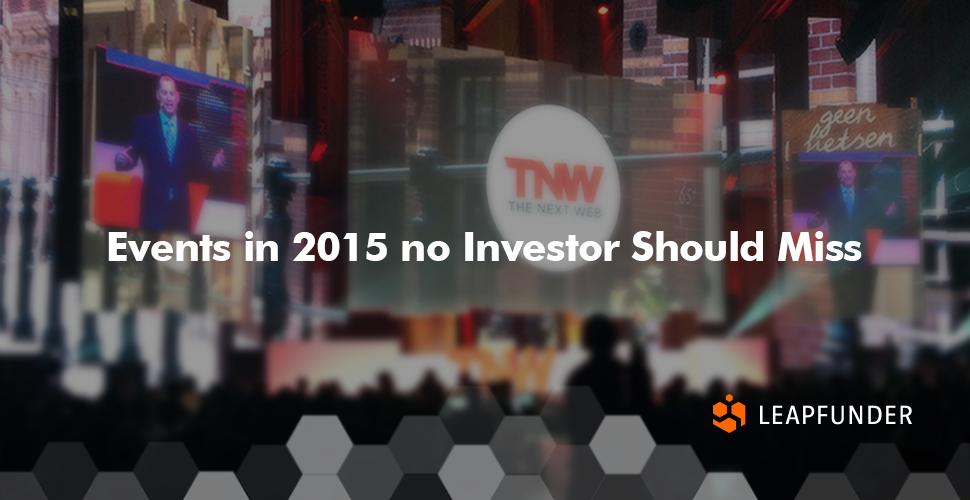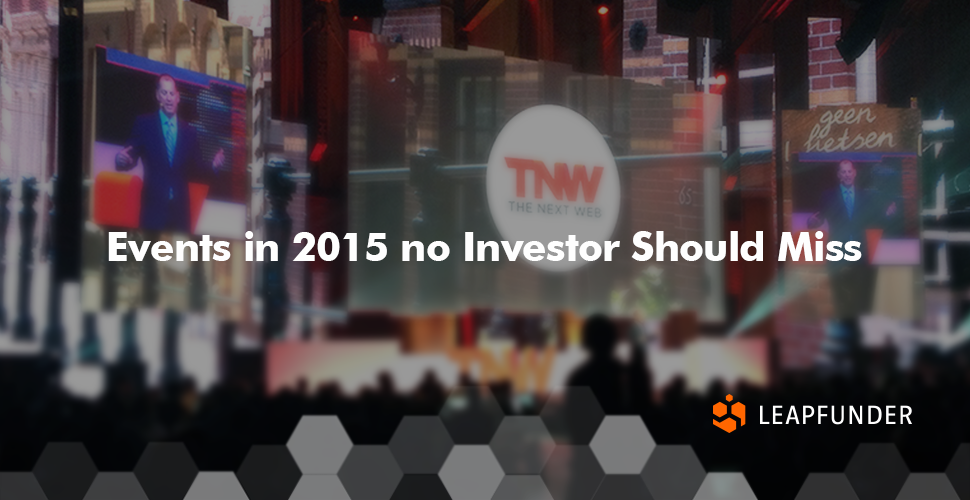 Startupbootcamp E- & Mcommerce DEMO DAY
When: January 23rd, 2015
Where: Rabobank Nederland HQ, Croeselaan 18, 3521 CB Utrecht
Web: www.startupbootcamp.org/events/demo-day-e-mcommerce-14.html
After 3 months of mentorship, workshops, pivoting, hard work and acceleration, amazing startups will be ready to pitch in front of a room full of VCs, Angels and Seed Investors. Make sure you're one of them and save the date! Startupbootcamp E- & Mcommerce Demo Day takes place on the 23rd of January in Utrecht.
Startupbootcamp HighTechXL DEMO DAY
When: February 6th, 2015
Where: Evoluon, Noord Brabantlaan 1A, 5652 LA Eindhoven
Web: www.startupbootcamp.org/events/hightechxl-eindhoven-demo-day-2015.html
On 4th November 2014, SBC HighTechXL opened its doors to 11 outstanding teams. After 3 months of intense mentorship, inspiring workshops, product building, and customer validation, 11 high-tech hardware startups are ready to pitch for an audience of 400+ investors. They are ready to share their stories of acceleration, celebrate their successes, and reveal their strategies to disrupt the tech-industry.
You have the opportunity to meet them personally, to see their product demos and discuss business- while enjoying lunch and drinks. Don't miss it!
The Dutch FinTech Event
When: February 19th, 2015
Where: Rotterdam Science Tower
Web: http://www.fintechcity.com/the-dutch-fintech-event
FinTechCity is pleased to partner with The Dutch FinTech event which will be held at the Rotterdam Science Tower in February 2015. The event, an initiative of The Dutch FinTech event together with SMO, will bring together analysts, game changers, fresh faces and the usual suspects to look at innovations in the Dutch financial sector.
If FinTech is the domain you invest in, make sure to attend the Dutch FinTech event!
Dutch FinTech Awards & Conference
When: April 20th, 2015
Where: ABN AMRO Gustav Mahlerlaan 10, Amsterdam
Web: www.fintech.nl/fintech-awards-and-conference-2015.html
You are more than welcome to join the first edition of the FinTech Awards and Conference where innovative and disruptive FinTech companies are awarded. Meet 300 hand-picked entrepreneurs, bankers, investors and advisors, demonstrate thought leadership, extend your network and develop business.
Join the festive award ceremony on 20 April at ABN AMRO Amsterdam. Sign up for Dutch FinTech Conference featuring international keynote speakers, 50 thought-provoking master classes and round tables and 50 one minute pitches by the FinTech 50.
TNW Europe Conference 2015
When: April 23rd & 24th, 2015
Where: Amsterdam
Web: http://thenextweb.com/conference/europe
The 10th-anniversary edition of TNW Conference is happening this year in Amsterdam. Join 3,500 attendees from around the world to discuss the latest web trends, learn about best business practices and meet the world's influencers of technology & innovation. The Next Web Conference is the breath of fresh air bringing together the world's leading thinkers, promising global startups and most inspiring brands to do business and share their ideas with the world.
Don't wait, visit their website now and grab a 2 for 1 discount: http://thenextweb.com/conference/europe/voucher_2015
Rockstart Smart Energy DEMO DAY
When: April 30th, 2015
Where: Amsterdam
Web: www.rockstart.com/events/smart-energy-demo-day
Rockstart Smart Energy Accelerator is a 180-days intensive startup accelerator program designed to help early stage smart energy companies go to market faster. Make sure to visit their demo day to discover the most promising smart energy early stage startups! Add April 30th to your calendar!
Philips Innovation Award
When: May 21st,  2015
Where: Rotterdam
Web: www.phia.nl
The Philips Innovation Award is the largest student-entrepreneur award in The Netherlands and their final event is your chance to discover a rocking student startup. The winner wins more than €50.000. But not only the winner wins; all participants benefit from the coaching, events and networking possibilities that our platform offers.
The final event of the 10th PHIA edition takes place on Thursday 21 May 2015 in Rotterdam.  The 5 finalists will get their last chance to convince the audience and jury of their potential. At the end of the night, the winner will be chosen by the jury. Add PHIA Finals to your calendar!
New Venture Grand Finale Awards
When: June 25th, 2015
Where: ABN AMRO Headquarters, Gustav Mahler Avenue 10 in Amsterdam
Web: www.newventure.nl
New Venture makes the Netherlands more innovative by providing startups with the best possible support. Their program consists of three rounds of intensive guidance offered to startups to help them write a business plan and make their idea happen.
On 25th of June, the grand finale of their program takes place when the best idea gets awarded with up to €20.000. It's a great event to discover the upcoming startups, so make sure to check it out!
Startupbootcamp Smart City & Living DEMO DAY
When: July 3rd, 2015
Where: To be announced
Web: www.startupbootcamp.org/accelerator/smart-city-living.html
New program by Startupbootcamp taking place for the first time in Amsterdam this year. SBC is currently in the process of searching for the best startups around the world in the fields of Smart City & Living segments such as smart home, smart city appliances, smart mobility, internet of things, etc. The program begins on April 7th and we recommend you try to attend one of the investor events SBC organizes during the programme so you get to know the startups even before the demo day. The demo day is on July 3rd and it´s always exceptional!
Startupbootcamp Smart Materials DEMO DAY
When: July 10th, 2015
Where: To be announced
Web: www.startupbootcamp.org/accelerator/smart-materials.html
Startupbootcamp's team Eindhoven unites efforts with Brightlands Chemelot Campus to foster the ultimate ecosystem where science and business together will engineer a bold & brave future for sustainable materials high potential companies. Startupbootcamp Smart Materials is Europe's first business accelerator for materials and will accelerate the best startups which disrupt the following: Smart Packaging, Building and Construction, Light Weight Vehicles, Electronic Equipment, Energy Storage, 3D-Printing, Biomedical Materials, or other polymeric materials.
Their demo day is on July 10th, attend it and fuel the innovation!
Startupbootcamp HighTechXL DEMO DAY
When: November 27th, 2015
Where: Evoluon, Noord Brabantlaan 1A, 5652 LA Eindhoven
Web: www.startupbootcamp.org/accelerator/hightechxl-eindhoven.html
After the amazing Demo day in February that resulted in 5 teams being completely funded, massive customer traction and record-breaking funding, SBC HighTech XL is opening the Third Edition of the biggest high-tech accelerator this November.
Don't miss the opportunity to witness probably the most impressive demo day in the Netherlands!
Accenture Innovation Awards
When: To be announced – November 2015
Where: De Fabrique, Utrecht
Web: https://innovation-awards.nl
Accenture Innovation Awards is an annual innovation contest for the most innovative Dutch products, services, and concepts. Dutch startups younger than three years which deliver exceptional performance in the field of innovation and sustainability, compete for the Blue Tulips, Green Tulip and the Audience Award.
Blue Tulips are awarded to the winners of each of the following category (Communications, Consumer Products & Services, Energy & Chemicals, (e)Retail, Financial Services, Health, High Tech, Media & Entertainment, Public Service, Sustainability, Travel & Transportation) and the Green Tulip is awarded to the most sustainable concept.
Stay tuned for the announcement of the AIA date for 2015!
Apart from all the amazing events mentioned, you should expect more of investor gatherings organized by Leapfunder. Check out how it went on our previous event and why you should visit our next investor gathering here: Leapfunder Investor Gathering: Offline matters!