Driven by a passion for education, innovation and entrepreneurship, Anna C. Mallon has almost 20 years of experience transforming global startup innovation, education and marketing businesses across Europe and Southeast Asia. She is a Senior Startup & Ecosystem Business Developer at Amazon Web Services, where she supports the mission towards helping startup customers succeed. Find out how she entered the startup world, how she's shaping the startup ecosystem in the Netherlands and what lessons for founders she shared with us.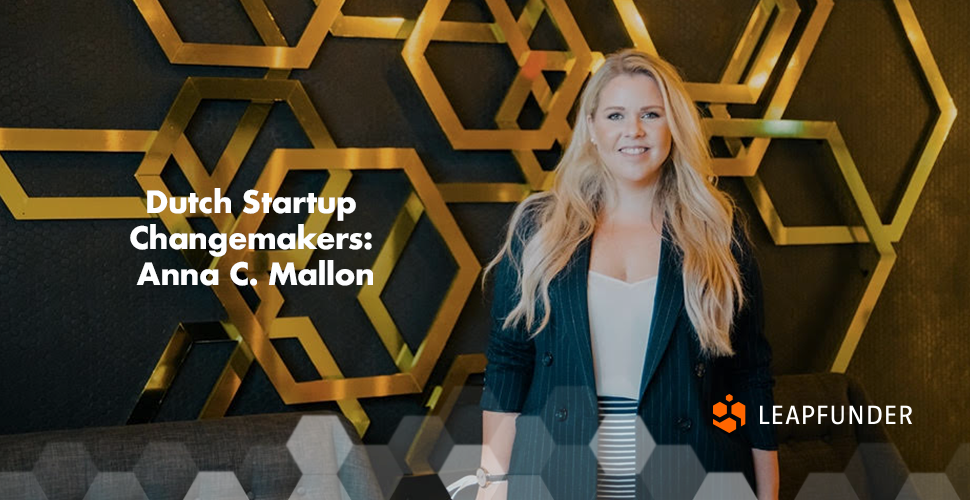 1. Hi Anna, thank you for agreeing to do the interview. Could you tell us a bit about your background and how you entered the startup world?
I was leading a digital education business, as General Manager, in my early 20s for close to seven years – first in Brussels, Belgium and later in Singapore. At that point, I already experimented with starting my own small business, and I was a central part in enabling continuous ideation and creations through the channels of digital media technology (Audio/Digital Film/Games/Animation).
Later, I had a mission/vision to go into business for myself. This led to starting multiple businesses in education, corporate innovation and ultimately, startup acceleration, over the past 20 years. One of my business ideas came to me while I was doing my Executive MBA, where I later met my co-founder. Of course, a lot went wrong, and we had to pivot both the business model as well as the core team. Still, in less than two years, we managed to close high-figure deals with multinational clients including Singapore Airlines, KPMG, Starhub,  MANULIFE, JLL, DB Schenker, SATS and world-class Universities like Singapore Management University (SMU).  
The experience of launching and growing businesses (the successes and the failures) and helping external brands set up new branches in Asia, led to multiple opportunities to help startups and later to join Southeast Asia's first startup accelerator as a Director. There I recruited, coached and accelerated a variety of early-stage ventures while also experimenting with corporate venture building. We worked closely with VCs and contributed towards a  portfolio of over 70 early-stage technology startups worth $60M. This experience later led to engagements with more than 15 global accelerators, innovation labs and venture builders mainly within Southeast Asia but also in  Australia and Europe.
I also got to work with an Angel Investment Club out of Australia as a startup scout and trainer – learning the ins and outs of angel investment, predicting venture success and building founder (and team) chemistry.
All of these experiences have led me to the wonderful opportunity of joining Amazon Web Services as a Senior Startup & Ecosystem Business Developer. While being cautious of working for a large corporation (I am just the startup type), it was the sincerity and real value that I saw the AWS team bring to startups. This led me to join the team and support their mission towards helping our startup customers succeed.
2. You're leading startup growth and partnerships across the Benelux at Amazon Web Services. Tell us about your mission there.
For those who do not know, cloud computing is the on-demand delivery of IT resources over the Internet with pay-as-you-go pricing. Instead of buying, owning, and maintaining physical data centres and servers, you can access technology services, such as computing power, storage, and databases, on an as-needed basis from a cloud provider like Amazon Web Services (AWS). But AWS is much more than just providing IT on demand, AWS is empowering companies in the world to boost their innovation.
My job at AWS is to focus on startups, help them to implement the right technologies and help them to connect with VCs and accelerators to scale their business locally and internationally. We spend our days interfacing with founders of early-stage startups, top accelerator and incubator leadership teams, many early-stage angels and VC  investors, and navigating cross-AWS and Amazon to enable startups to realise outsized success. What I love about this team is that we all have different backgrounds and worked as founders, venture investors or accelerator professionals. Many of us have extensive global backgrounds, to drive high-impact initiatives across AWS to build the startup ecosystem and support the next generation of startup entrepreneurs. For the team, I am overlooking the ecosystems across Belgium, the Netherlands and Luxembourg.
3. What is it about the startup world that particularly attracts you, and how are you shaping the ecosystem in Amsterdam?
It's the creativity, people-centricity, collaboration, the startup energy and the incredible learning around innovation and technology – and how all this can impact our future, that attracts me to the startup and innovation world. As a mother of 2 (my eldest being 12), I am excited about being able to contribute and help people build startups that will help solve some of the world's problems.
Being there to support these startup innovators and visionaries right at the beginning and throughout their growth journey, ensuring they have all they need to quickly build meaningful, desirable, feasible and viable solutions for our world is such an honour. Be it with tech enablement for domain experts with little or no technical capacities, helping teams to prioritise, building business models and scaling mechanisms, as well as developing sales enablement and go-to-market strategies. The incredible and continuous learning across verticals like Emerging Tech, Energy, Health, Food & Agritech, Cities &  Communities, Education, Proptech and Security is rejuvenating and my source of energy and inspiration. I  love helping people start, launch and scale businesses.
How do we shape/support the ecosystem? One by enabling faster, quicker and often, lower risk in experimentation/startup innovation. Two, by allowing startups to focus on their core business value. Three, accelerating startup growth by connecting them to the right people (be it investors, accelerators, mentors, co-founders or customers). Four, sharing and connecting to the subject matter as well as teaching best practices.
4. You have almost 20 years of experience transforming global startup innovation, education and marketing businesses across Europe and Southeast Asia. Could you share the top 3 lessons for founders you learned over the years?

The top 3 lessons for founders I have learned would include to: 
Outsource and partner on what is non-core to scale 

Focus on customers and apply empathy; ask why five times and always question your assumptions (validate your hypothesis) no matter at which stage 

When building and growing the team, take the time to dig deep and align on shared personal values and ethics to ensure that fundamental trust is there – to be able to pull each other through even the most challenging times 
5. What's the next big thing in the startup world? What do you predict for the startup ecosystem in the Netherlands in the near future?
Globally and also in the Netherlands, there has been a significant rise and growth around Healthcare and Life Sciences, Artificial Intelligence/Machine Learning, Agri and Food tech startups and programs. In view of the big challenges that our world is facing around the climate, energy, health, sustainability, ageing populations, community living as well as cybercrime, I think we will see a lot more interesting innovations in the Netherlands, which is well placed to be a fertile startup landscape in these areas.
Thank you very much for sharing your story and insights, Anna. We wish you the best of luck in your future endeavours.
Join our network of startups & investors!