Nataly Schammel is working for Techstars, which invests in early-stage companies and has 50 Accelerator Programs across the world with 2600+ portfolio companies. Laurens Hamerlinck is the Innovation Partnerships Lead at ABN AMRO Bank connecting startup ecosystem innovation with the internal organisation in order to drive change and growth. Together, they're running the Future of Finance Accelerator by Techstars & ABN AMBRO & want to partner with entrepreneurs who believe that financial services have a critical role in creating the world's desired future. Find out what you could get from joining their accelerator and how to apply.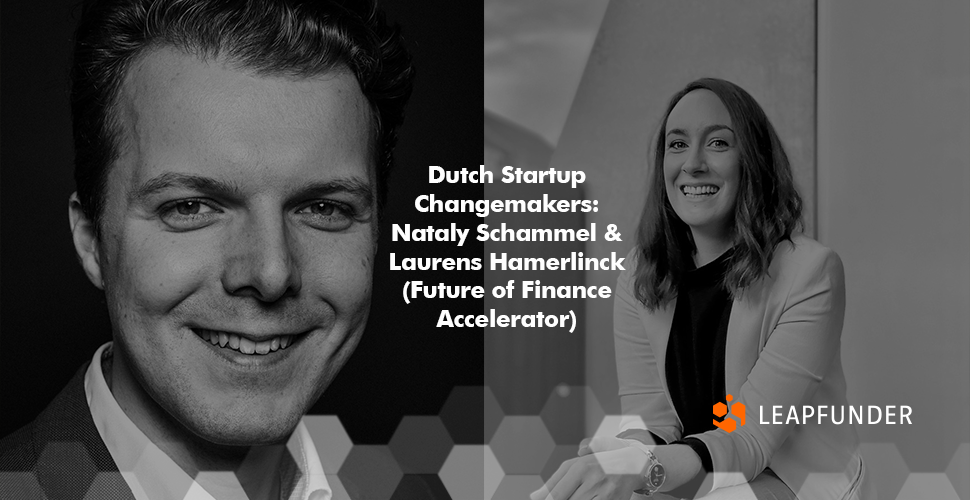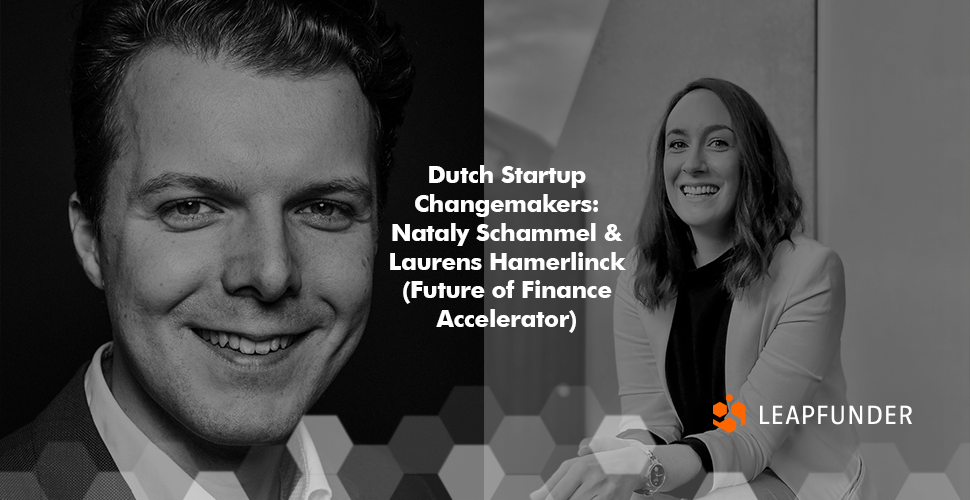 1. Hi Nataly & Laurens, thank you for agreeing to do the interview. Could you tell us a bit about your background and how you entered the startup world?
Nataly:  My background started in events. I worked in Berlin for a few years in a coworking space and connected startups to corporate innovation labs. Driving innovation has been one of my passions for the last 10 years. Having worked in Berlin, London and now Amsterdam, I bring knowledge and networks from three major startup ecosystems. 
At Techstars, I can use the operational and communication skills I learned during the last years to support founders and connect them to the right people in our global network to do more faster. One of the things I love most about my job is working with passionate and ambitious people who truly believe in what they are doing, supporting them and seeing them grow. This also impressed me the most when I first started working at Techstars – how dedicated the organisation and its network, including ABN AMRO, is to support founders, put them first and always do what is best for them.
Laurens:  My background is in change management and after university I decided to start my career at an incubator, quickly learning about innovation and the startup ecosystem. At ABN AMRO I have had many roles in innovation but always focused on connecting innovation happening in the startup ecosystem with the internal organisation to drive change and growth. I think my strength has become to speak both languages and I love to spend time understanding both sides of the business and finding synergy. Coordinating the Techstars partnership for ABN AMRO takes corporate-startup collaboration to a next level which is very exciting.
2. Nataly, you're working for Techstars, which invests in early-stage companies and has 50 Accelerator Programs across the world with 2600+ portfolio companies. Tell us more about your mission. 
Techstars began with three simple ideas: entrepreneurs create a better future for everyone, collaboration drives innovation, and great ideas can come from anywhere. Today, our mission is to enable everyone on the planet to contribute to, and benefit from, entrepreneurs' success. In addition to operating accelerators and venture funds, we connect startups, investors, corporations, and cities to help build thriving startup communities.
Laurens, you're driving innovation through fostering collaborations with ambitious founders, promising tech startups and innovation partners at ABN AMRO. Tell us more about your mission.
I strongly believe collaboration is key in driving successful innovation. Great founders are passionate about solving a big issue with a new solution and cutting-edge technology. Corporates have a client base, know-how, distribution and are efficient in running a business at scale. This is where I believe we should meet, innovate and scale to solve the big problems we face in current times. And don't get me wrong, collaboration can come in many shapes and forms: ranging from sharing expertise, becoming a client or investor, to full-blown partnerships.
3. You guys are running a FinTech Accelerator (as a collaboration between Techstars & ABN AMRO). What's your goal? What kind of startups are you looking to attract?
Today, FinTech means so much more than transferring money or investing savings – it's a technology stack that operates as a fundamental backbone of our economies, touching all areas of our lives. There is a new economy being unleashed by the information technology revolution, along with the obvious challenges of climate change, cybercrime and financial inclusion, that needs new and enduring financial solutions to power this era. We want to partner with entrepreneurs who share and believe in our ambition that financial services have a critical role to play in creating the world's desired future.
Specifically, we are interested in entrepreneurs addressing innovations and solutions in digital assets, data privacy, cybercrime and digital safety, financial health and inclusion, reinventing the customer experience for convenience and supporting the client journey in life and business, and financial products and services that facilitate progress towards a circular economy and energy transition away from a carbon-based economy.
Above all, we want to engage with exceptional entrepreneurs across all areas of FinTech. We welcome applications from founders around the world, of all races, ethnicities, genders and cultures. At Techstars, our vision is to create equitable access to innovation and entrepreneurship through a commitment to diversity, equity and inclusion.
4. You currently have applications open until mid-December. You're recruiting startups for next year's program. What's your advice for startup founders looking to apply?
Take time and consideration to apply because this will potentially be a life-changing experience for you and your team. It helps to be very specific on why you apply for the accelerator and why we should pick your team to work together on building the future of finance. And if you have specific questions on the program come and meet us during office hours or visit the recruiting events. There will be team members and alumni, that can tell you about what value they got from the program, present.
5. Could you share the top 3 learnings founders get by joining The Future of Finance Accelerator?

Founders will learn how to do more faster – in 90 days they will experience how to achieve things that would have otherwise taken up to a year. This learning gives founders the confidence to execute more challenging activities

They will learn communication skills – founders have to communicate with employees, media, investors, regulators, the market, etc. They will learn how to communicate effectively, improve their written communication and become professionals at pitching to large audiences

They will learn the art and skill of fundraising – many founders will be able to successfully close funding rounds during or right after the program, based on the skills we'll teach them
Besides the learnings, what excites founders the most is the power of our network. And it doesn't stop after the accelerator finishes. Techstars and ABN AMRO continue to support the journey of their founding teams.
Thanks a lot for the chat. We wish you the best of luck with The Future of Finance Accelerator & your future endeavours.
Join our network of startups & investors!