A few months ago we had a chance to speak to Bert-Jan Woertman about the Startup Weekend Eindhoven, High Tech Campus and everything Eindhoven has to offer to startups. This time we will change the focus to investors and everything Eindhoven has in store for you.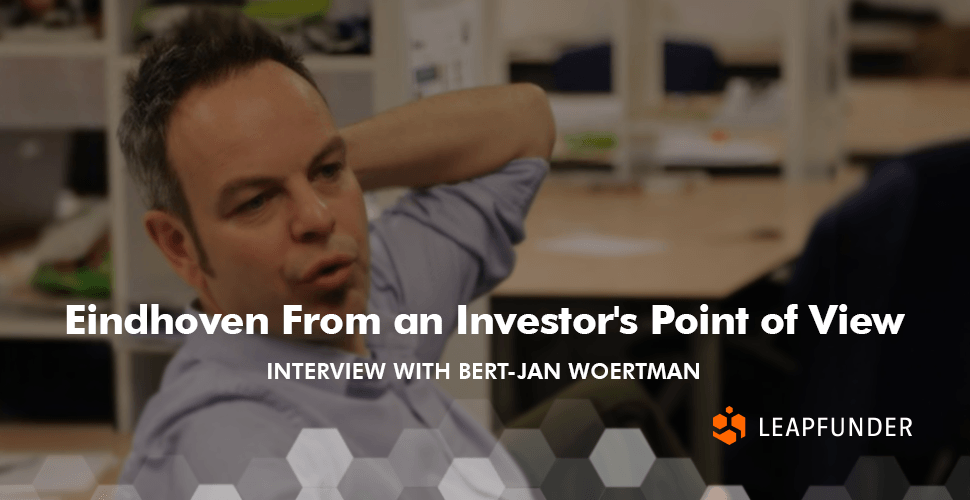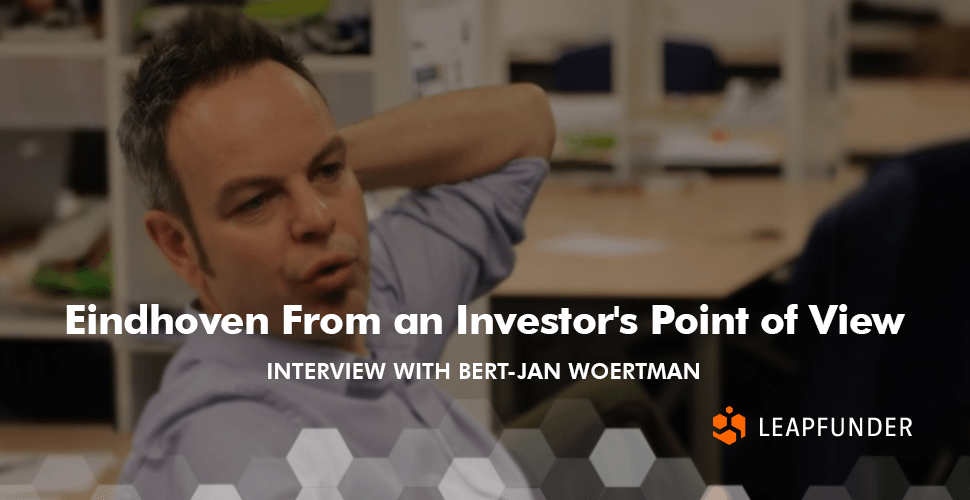 Interview with Bert-Jan Woertman
1.  Everybody talks about startups these days. What is all the fuss about?
Disruptive startups are important because only these new companies generate really new market sectors and therefore jobs. Times are changing faster than many anticipated. In some European countries, up to 60 percent of all the new jobs are created by young disruptive companies, including startups. Read the works by Clayton M. Christensen or Zero to One by Peter Thiel. They are saying the same thing. Ideas from startups and young high-tech companies have been very important to this region – and now we're starting to see the benefits. I believe spin-outs and startups like Effect Photonics, Sapiens DBS, Avular or Manus Machina have quickly become leaders in their own fields – and have now got funded for the next stage in their development.
2. Why is the startup ecosystem important for Eindhoven and why should High Tech Campus employees bother? What can they do to get involved?
This first week of February on High Tech Campus Eindhoven was simply extraordinary. It included visits to the Strip by Dutch King Willem-Alexander, Minister Kamp and StartupDelta Envoy Neelie Kroes within the space of 24 hours. I believe the startup scene in Eindhoven got the national and international attention it deserves. We were able to share ideas about why and what we're doing, and discuss ways in which we can act as a catalyst for young companies right across the "West Coast"of Europe.
Many High Tech Campus employees are involved with helping start-ups, either in a professional or private capacity. Sometimes it is just giving back expertise from their own field of interest. Quite often it's practical mentoring or opening up their global network of contacts. This is unique and gives this whole area a huge advantage because ecosystems cannot be copied. I have also been amazed at how many of the 130 companies on the High Tech Campus have been willing to share. And open collaboration means a win-win for everyone.
3. What motivates you to be involved in the startup community and personally invest in startups?
I get a kick out of being able to make powerful, useful connections. And, increasingly, startups are learning how to use the networks being offered to them and take full advantage of the opportunity. I think the culture of start-ups is changing in Europe – we realise this is a global market and just having an idea is not sufficient. You need to validate the idea in order to build a sustainable business.
4. One of your first investments was in Leapfunder. What made you decide to invest in this company?
That's very easy, it's the team. The first reason, second and third reason; has to be the strength of the team. I have known Tienko and Matthias for a long time, and I just believe in those guys. They combine their brilliance with proven entrepreneurship, that I don't have myself but I know it when I see it. So I am  the team, it's the combination of people working on Leapfunder and secondly it's because I love the idea.
Leapfunder makes it possible for people who are not a VC, for people who are not a millionaire to be part of the success of startups. I work a lot with startups, but I don't work for them, I do not invest in them as a VC or an angel. Leapfunder makes it possible for me to invest smaller amounts and nevertheless feel like I'm really involved then, active and contributing to the success of a startup. I think Leapfunder is definitely here to stay and contribute in a new way to the success of startups.
5. Startupbootcamp HighTechXL Demo Day, one of the most important startup events in Eindhoven, took place on the 6th of February. What were your impressions?
I thought Demo Day this time was very well prepared. All the teams had a clear, engaging story and explained why their idea was worth investing in. Quite often, companies are good at explaining what they do, but not the reason to invest. I saw Ray Quintana in the audience talking to several startups. He is General Partner for the Cottonwood Technology Fund, the top performing early venture US capital fund in the USA for the last five years. He was impressed that the startups had a global vision from day one which is essential if you're serious about conquering a global marketplace.
Nobody can emulate Silicon Valley. We should not even even try. They invested US$29 billion last year, and that's just a tip of the iceberg. So, by all means, understand what works in the Valley, but translate and adapt that into our local ecosystem in Eindhoven to make maximum use of what we have available.
I think the key to our success is that we're looking to build networks from everywhere – not just staring across the Atlantic. Startupbootcamp HighTechXL CEO Guus Frericks made 6 trips to China last year, resulting in a strong alliance with both Chinese startups and investors. If you can scale in that market, you can scale anywhere. Likewise, Chinese startups are looking to tap into our technology as well as understand Western markets. And that network of trust has started to pay off in a spectacular fashion.
In fact it was a Chinese investor, Yu Ming Fang, who really surprised an audience of a thousand people who came to Eindhoven for Startupbootcamp's Demo Day. He signed a €450.000 funding contract for Avular on stage. This startup designs and makes industrial drones for inspection and maintenance. A few minutes later he decided to invest another €600.000 in Manus Machina which makes robotic gloves to turn your hand into a controller and gestures into speech. Perhaps he was inspired by the presentation of Manus Machina including a video clip in which a drone was controlled by their technology.
Having three of the 11 hardware startups fully funded with such significant amounts on demo day is unheard of in the start-up world.
6. Manus & Ulu, two startups who rocked the Demo Day stage, were both doing a Leapfunder round. Being high tech startups, do you think it would be beneficial for their businesses to look for investors within the High Tech Campus?
There are several local investors who are important to the startup scene in this region. They often act a catalyst to trigger some of the more traditional and more conservative funds.  But it is also important that we attract foreign investment to this region. The word is out – and we're starting to see the arrival of investors who understand the life cycle of a startup – and especially that it takes longer in hardware to make something that disrupts the world. But if that idea is accelerated at the right time, then the scale up to a global company is exponential.
7. Leapfunder organises an investor gathering in Eindhoven this April. Some Eindhoven based startups will pitch their business. The event is open to everyone with experience or who considers investing in startups. Why should  High Tech campus employees and investors from Eindhoven make sure to attend it?
Never miss an opportunity to see what could be next. I think the standard of startups is rapidly improving. And I'm proud to be part of this success story. Onward!
Join us at the upcoming investor gathering in Eindhoven! For all the event details, please contact us: