We had a chance to talk to Alex from EY Finance Navigator, a financial planning software for startups, which makes it easy to build a financial plan in no time, without the need of hiring a financial advisor. With EY Finance Navigator, there is no finance background required! Its innovative algorithm will provide you with explanations of important metrics, challenge you on your numbers and provide you with benchmarking data of your industry to help you improve and understand your financial plan. Find out how it works exactly and why it's a product-market fit.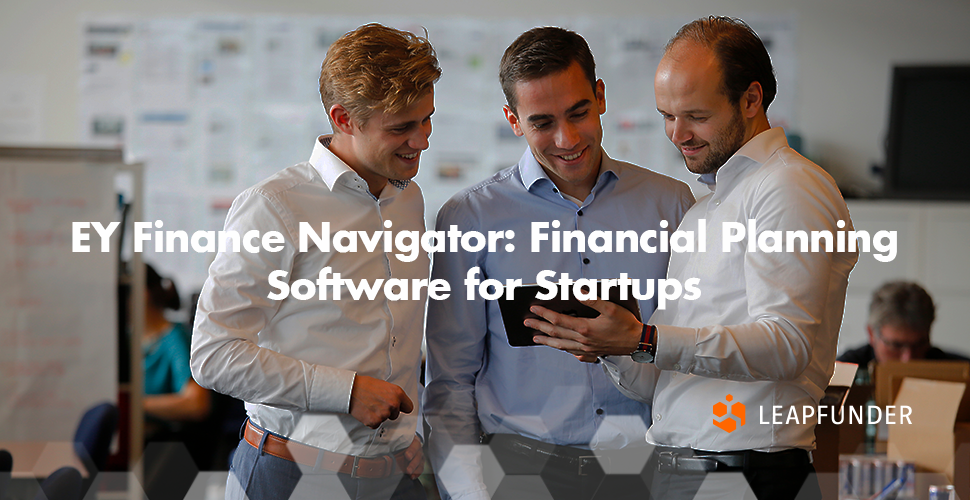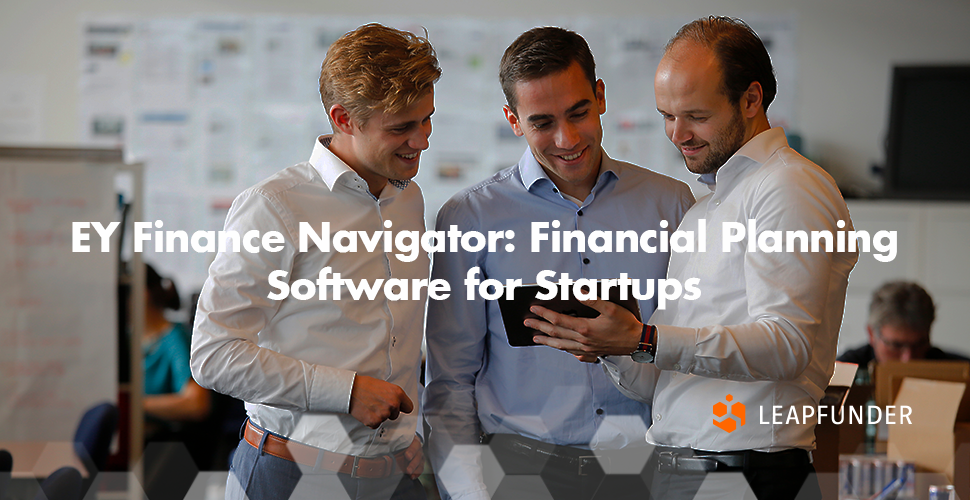 An interview with Alexandros Matthiessen
1. Hi Alex, thank you for agreeing to do the interview. EY's very first corporate innovation program has resulted in EY's first corporate startup ever: the Finance Navigator. Tell us about your background and the idea behind the Finance Navigator.
Thank you for the opportunity to share a bit more about our story. Indeed, Finance Navigator is an alumnus of EY's first corporate innovation program that started a couple of years ago. At the time my colleagues Wout and Lars and I were all working for EY in the Financial Accounting Advisory Services department, mainly on management accounting and control projects for larger organisations.
We were also part of EYnovation, an initiative within EY that focuses on supporting startups and scaleups with legal, tax, accounting and finance matters as well as with scaling their business. Our involvement in EYnovation gave us the opportunity to provide workshops on financial forecasting/modelling and investor readiness and to support a number of startups in different accelerators and incubators across the Netherlands.
This experience made us realise that because startups focus on their customers and product development they often lack the time, resources and knowledge needed to build and understand a financial plan which is crucial when it comes to fundraising and to managing cash. Startups would use excel templates that contain errors, are either over complicated or too simplistic and do not provide stakeholders with the necessary information to understand the potential of the business.
We wanted to change this! Why not provide startups with a platform that enables them to build a financial forecast in an easy and standardised way that they can use to steer their business, determine funding needs and share this with investors and stakeholders? That is how the idea of Finance Navigator was born!
2. What problems are you trying to solve? What are the benefits of your product, why is it a product-market fit and how much growth potential do you see?
According to a CB Insights study, 29% of all startups fail because they ran out of cash. Startups either fail to raise investment or they struggle with managing cash and their spending gets out of control. Finance Navigator is a fully automated online platform that addresses this problem!
Whether you're a newbie in finance or the best of the best, EY Finance Navigator makes it easy to build a financial plan for your startup in no time.
Some of the benefits are:
The Finance Navigator algorithm that helps you improve and understand your financial plan by sharing financial planning best practices and benchmarking information.

Interactive and easy to read dashboard, that shows some key metrics about your business that both you and your investors want to know.

Financial statements, calculated automatically based on your 5-year input in the customisable financial model.
Finance Navigator is designed and built specifically for startups and throughout both the validation and the software development phase we have been testing with startups and implementing changes based on their feedback.
Our vision is to become the standard platform for startups' financials and our ambition is to reach 40.000 users by 2022! To achieve this we will be doing a lot more testing and validating with our customers, startups and scaleups, to make sure we build a platform our clients value!
3. Why is a rock-solid financial plan crucial for the success of a startup? How do you help startups build a financial plan without hiring a financial advisor and get the confidence to pitch to investors?
A financial plan serves a number of purposes when it comes to startups. It includes:
The complete picture, with all the elements that comprise a startup's business (revenue, costs, investments and financial statements)

The assumptions behind the numbers: How did a startup determine their Customer Acquisition Costs? What marketing and advertisements costs are included? How many people are required to grow?

A validation of different business models, by determining which options require fewer investments/costs or are more viable for the business

Pricing of goods/services that the startup is offering

Funding need, that is required to realise the growth and ambition of the startup

Performance measurement, based on a roadmap and the funding milestones

Cash flow management, to make sure there is enough cash on hand to meet payments

Reporting, both internally to the management of the startup, but also to the shareholders and investors on a monthly or quarterly basis

Decision making for the management
So for all of these reasons having a good financial plan can be crucial for a startup's success! EY Finance Navigator is designed in a way that it gamifies the experience of filling out a financial model and with its innovative algorithm it guides the user towards a professional forecast using tips and benchmarks. The platform will trigger messages that will challenge the user's numbers, help understand their metrics, improve the financial plan and show benchmarks from their industry.
4. What are the metrics investors find most important in a financial plan and how do you help startups interpret these metrics?
Depending on the industry, investors will look at different metrics in a financial plan, however, there are certain KPI's that we consistently come across when we talk about startups. Some of these metrics are:
Burnrate

Runway

Customer Acquisition Costs (CAC)

Customer Lifetime Value (CLV)

Churn Rate

Gross margin

Revenue growth rate

% of different opex categories on revenue
Finance Navigator has predefined a number of KPIs that the user sees in the dashboard, which you can think of as the "cheat sheet" for the startup's financials. For every widget, we have included info buttons that explain in an easy way what the widget/KPI is about. Furthermore, every time a user unlocks a widget Finance Navigator will generate a message with information about the widget itself and once the data has been filled out by the user, the algorithm will also generate messages based on benchmarking. For example: How does your startup's average revenue per FTE compare to the average revenue per FTE of companies in your industry? You can think of these messages as sanity checks that can help a user understand more on his/her metrics.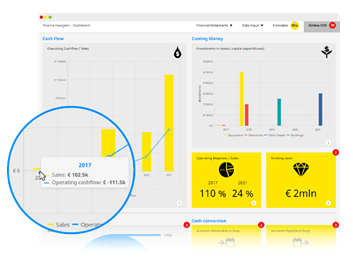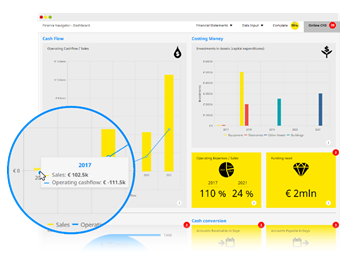 5. You're involved in accelerators, incubators and other startup initiatives in the Netherlands. Tell us about assisting startups with legal, tax and financial matters through workshops.
We are involved with a number of accelerators and incubators in the Netherlands where we support startups by providing workshops, by mentoring them and also by providing services tailored to the needs of the startup. Personally, I feel extremely energised and motivated when I work with young entrepreneurs that have the ambition to grow and to make an impact!
The workshops are specifically designed for startups and our colleagues from the EYnovation initiative (colleagues mainly working with startups/scaleups) share their knowledge on tax, legal, VAT, IP matters and of course financials. With EY Finance Navigator we focus on the financial planning workshops where we usually do an introduction to financial statements, accounting, budgeting and forecasting and then we go into a hands-on workshop where a test case is presented and the participants need to create a financial plan using Finance Navigator. In this way, at the end of the workshop each startup has identified what input is needed to build their own financial plan, what still needs to be figured out and how to do that and last but not least the participants have a clear understanding of how their financial model works. The end goal is for the participants to develop a financial plan that they can use to drive performance of their startup and to determine their funding needs.
Our team (Wout, Lars and myself) have also participated in an accelerator as a startup and it was an amazing learning experience for us! During the 3-month accelerator program, we applied "lean" by building a prototype, measuring the results, learning from our customers and then starting the same cycle all over again. Through this constant interaction with our customers (startups), we built the first release and we are now busy developing the 2nd release, which will include features like monthly/quarterly financial breakdowns, scenario analysis and, of course, a smarter and better version of our innovative algorithm ;-). Stay tuned by signing up on our website!
Thank you very much for sharing your story with us! We wish Finance Navigator the best of luck!