Richard Groß is the Community Manager & Sales Agent at betahaus, which offers co-working spaces, private offices, and event spaces in Europe since 2009. He contributes to the startup ecosystem in Berlin by trying to introduce the right people and spot opportunities where others may not see them. Find out which advice for founders he shared with us and what he predicts for the ecosystem in the near future.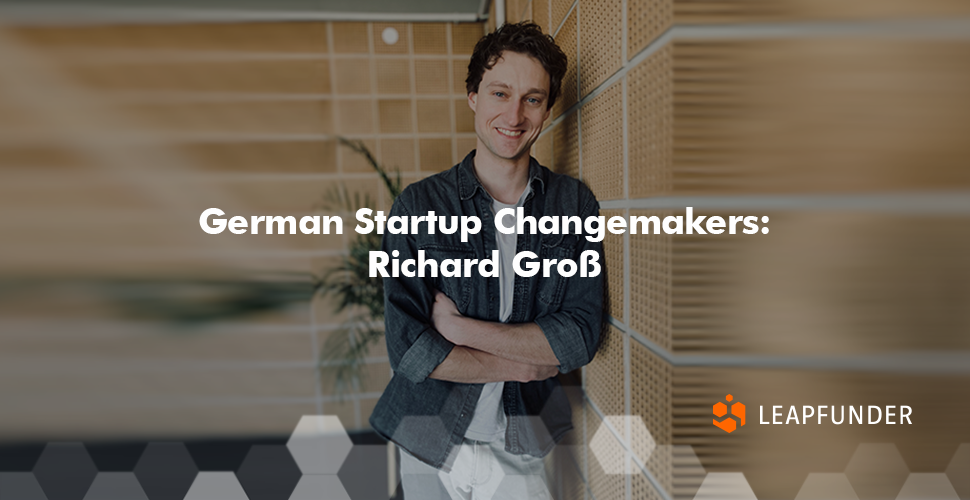 1. Hi Richard, thank you for agreeing to do the interview. Could you tell us a bit about your background and how you're connected to the startup world?
Thank you for having me. I finished my Masters in International Management and Intercultural Studies in Scotland and wrote my thesis on entrepreneurship. So I interviewed eight different founders regarding what they took from their universities into their later businesses. I was curious to find out how their universities affected their entrepreneurial spirit. This really got me hooked on the whole startup scene and the people who create something from scratch. 
Even though I was born in Mainz and grew up in the south of Germany, this pulled me to Berlin because the startup scene here is quite unique. I wanted to dive into the Berlin startup atmosphere.
2. You're the Community Manager & Sales Agent at betahaus, which offers coworking spaces, private offices, and event spaces in Europe since 2009. Tell us more about your mission.
If you want to sum up the mission of betahaus in two words it would be: facilitate entrepreneurship. What we do is anything that supports founders in their mission. We try to create the perfect infrastructure so that individuals can come here and focus completely on their businesses. betahaus is one of the first co-working spaces in Europe. When the founders started with their mission they weren't understood but it worked out beautifully in the long run.
3. What would you say are the pros and the cons of the startup ecosystem in Berlin? How do you feel you're contributing to it?
What drew me to the ecosystem in Berlin is the 360 approach. I looked into other ecosystems, especially within Europe, such as Dublin and Barcelona. But what I always liked about the Berlin startup scene is that it doesn't seem to have a niche. There isn't a focus on one certain industry, there are companies from all over the scheme.
How do I contribute to the ecosystem? As a Community Manager, I try to create opportunities. I don't see myself as an entertainer, but more as a facilitator. I'd rather provide stages for other people to meet, interact and exchange ideas. I feel I'm contributing by introducing the right people to each other through networking events and doing my best to spot opportunities where others may not see them.
If you're interested in joining a networking event, we have our betabreakfast every Thursday. That's been around for the past ten years and it's a good opportunity to meet someone. I also have a good overview of the teams we have in-house. So I do my best to support and complement companies that should work together.
4. What do you think are the top lessons entrepreneurs should keep in mind?
Currently, I'm doing a bit of entrepreneurship myself. They say some are born and some are made entrepreneurs. I'm definitely made. I have a Networking Agency that's still in a very much beta phase. I started a one-man agency where I try to network as best as I can on a donation base. Even though it's still in an early stage, my heart and soul are in it, and it makes me happy.
My first advice for entrepreneurs would be to start as early as they can. I was once told to start when you're not ready. At the time I didn't quite understand it, but now I really do. Start with executing the craft you want to excel in as early as you can.

The second piece of advice would be to have a look at how you can make money. I know it sounds very basic but once you create a cash flow you'll have liberty and a lot of problems will dissolve quite quickly.
The last piece of advice would be to know yourself as best as you can. It's good to know your strengths and weaknesses. Can you do marketing, sales, and coding? What are you great at and what do you struggle with? Figure out your profile and you'll have a greater chance of becoming a great entrepreneur.
5. What do you predict for the ecosystem in Berlin and in Germany in the near future?
It's hard to make predictions these days due to all the uncertainty that's going on in the world. However, I see the future as very optimistic when it comes to the startup ecosystem. There's work that needs to be done in Berlin and in Germany especially, in terms of digitalisation or megatrends such as climate change. But what the ecosystem represents is an alternative to the way we think and operate, as well as the opportunity to do things differently. This is what's always drawn me to it. There are a lot of companies here at betahaus that are trying to shape the future.
betahus' name comes from the fact that we're always in beta, meaning we never see ourselves as a finished entity in whatever shape or form. We always question our standards, try to evolve and get better at what we do. We should all keep in mind that the only constant is change.
Thanks a lot for sharing your story, Richard. We wish you the best of luck in your future endeavours.
Join our network of startups & investors!