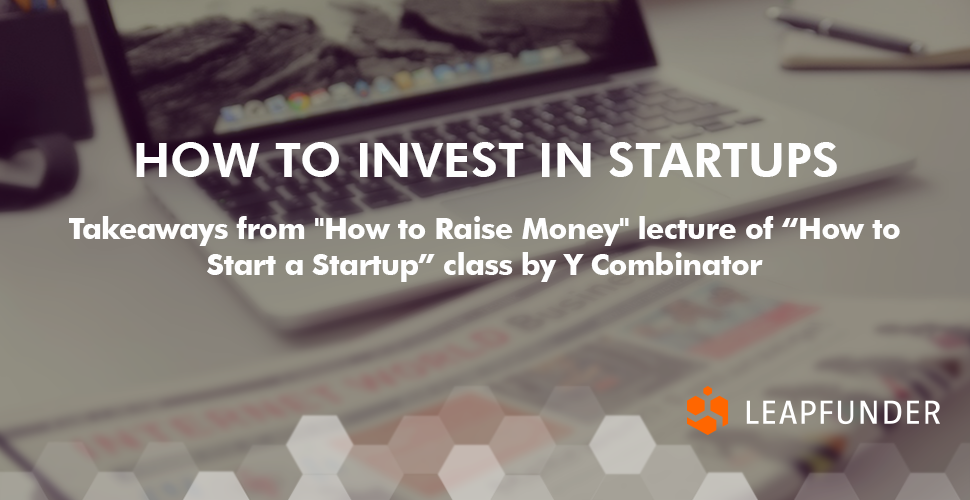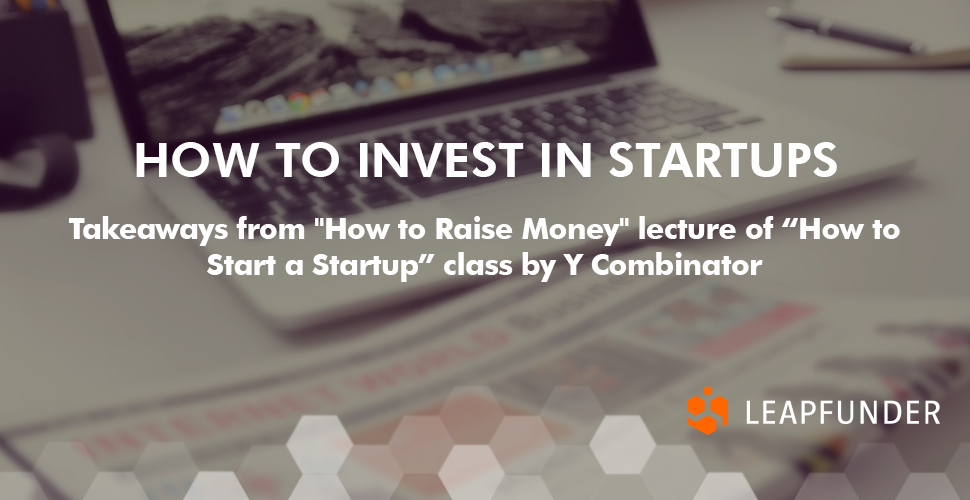 Most of the startups around the world are familiar and addicted to the incredibly valuable "How to Start a Startup" class by Sam Altman of Y Combinator, taught at Stanford. In the class they share everything they know about how to start a startup, for free, together with some of the world experts.
We highly recommend you to watch all of the lectures, as you will learn there, for free, more about business than you would in three MBAs together, but in this blog post we decided to cover just "How to Raise Money" lecture by Marc Andreessen (VC) and Ron Conway (Angel Investor). We also changed the focus from "How to Raise Money" to "How to Invest in Startups" in order to provide the angel investors in Leapfunder's user base with tips from the greatest experts. Here it goes:
What makes you invest in a startup?
Ron Conway has been investing in startups since 1994, SV Angel and it's entities have invested in over 700 companies which means they had to physically talk to thousands of entrepreneurs. Here are the questions that go through Ron's head when he meets an entrepreneur:
Is this person a leader?
Is this person focussed and obsessed by the product?
Usually the first question Ron asks is: "What inspired you to invent this product?" hoping it's based on a personal problem that this founder had and that his product is the solution to this problem.
Does the founder have good communicational skills? If the founder is going to be a leader and hire a team, he's got to be a really good communicator, a born leader.
Marc Andreessen explains the venture capital business is a 100% game of outliers- it's extreme exceptions. Here is a general concept they focus on when investing in startups:
Invest in strength vs lack of weakness – instead of checking the boxes (great idea, great founder, etc.), they aspire to invest in the startups that have really really extreme strength in a long and important dimension and are willing to tolerate some of the weaknesses.

"One of the cautionary lessons of VC is, if you don't invest on the basis of serious flaws, you don't invest in most of the big winners."
To learn more how extremely experienced VCs & Angles think and which tips do they give startups looking for funding, check out the complete lecture here: How to Raise Money
Where do you discover potential startups to invest in?
Both Ron's & Marc's companies have a huge network through which they learn about potential startups they would be interested investing in, which may not be as aplicable to the ones new to angel investing for which we are writing this blog post. Therefore we would like to share a more aplicable advice on where to discover potential startups to invest in around Europe:
"I see the highest quality startups around the accelerators or among second/third time entrepreneurs. Keeping up-to-date on what's going on is one of the reasons for mentoring at the accelerators." Wouter Kneepkens, Dutch Angel Investor
We also recommend you check out startups currently raising funding on Leapfunder.com, all star teams are waiting for you to fuel the improvement they're creating.