We interviewed Sylvie & Jody, the co-founders on a quest to give babies the best possible start in life! Hugsy is a smart blanket that makes the positive effects of kangaroo care last longer. Find out more about this amazing startup, the problem they're trying to solve, their growth potential and plan to acquire customers.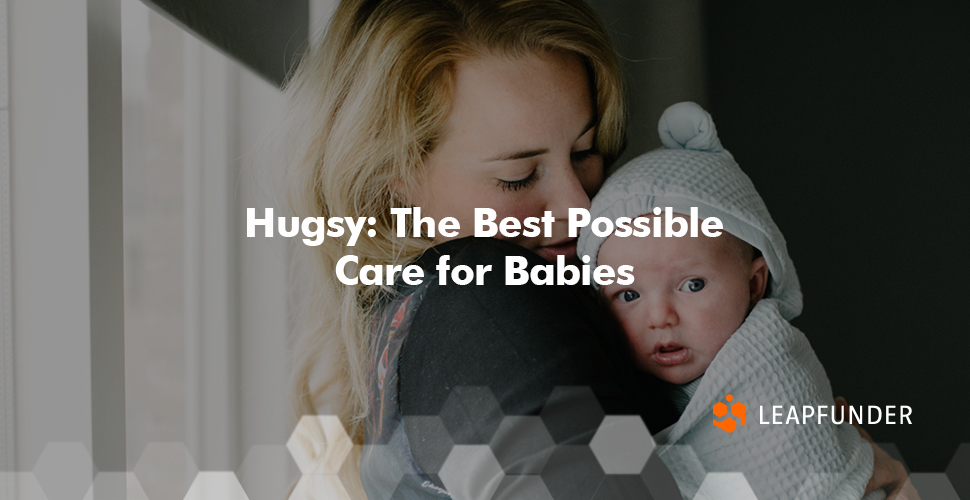 Interview with Co-Founders of Hugsy
1. Hi Sylvie/Jody, thank you for agreeing to do the interview! Tell us about Hugsy, how you came up with the idea and your amazing team who helps you rock it.
Hugsy started when 4 Industrial Design students from the Technical University in Eindhoven started a student project in collaboration with the Maxima Medical Center in Veldhoven. They designed a product for babies born too early, that could simulate a parent's embrace and make the positive effects of kangaroo care last longer inside the incubator. Sylvie Claes, one of the students, saw the positive feedback in the first clinical trial and decided to turn Hugsy into a startup so it wouldn't end up somewhere on a dusty shelf, never to be looked at again. She joined the HighTechXL accelerator program in November 2016 and co-founded the company together with Jody van den Tillaart, a marketing professional and mom of 4 kids, who quit her job to work on the Hugsy mission.
2. What problem you are looking to solve with Hugsy? Please explain how Hugsy works & it's unique benefits in as few words as possible.
The best possible care for all babies, both premature and healthy born, is being placed skin-to-skin on their parents' chest. This is known as kangaroo care and its benefits have been extensively studied and proven over the last 4 decades. Parents, however, have more demanding work and family lives, so they can't be with their little ones 24/7. Hugsy was designed to prolong the positive stimuli a baby gets from kangaroo care, by providing the baby with a parent's scent, touch, and heartbeat, all combined in the Hugsy blanket. Hugsy is used during kangaroo care as a cover that keeps the parent and the baby warm and snug. This is when the textile picks up a parent's scent and the unique heartbeat is recorded. After the kangaroo care session has ended, Hugsy continues to provide the feeling of a parent's comforting presence, even when parents cannot be nearby. Hugsy recreates the feeling of a parent's embrace, surrounds the baby with their smell, and plays their unique heartbeat.
3. You're planning to launch a pre-order campaign and sell 99 Hugsies to fulfill the current demand. How much growth potential do you see for Hugsy and what type of investors are you hoping to attract?
We see huge scaling possibilities for Hugsy. Each year, in the EU and US alone, around 9 million babies are born. 1 million of these babies are born too early. 15% of all babies are perceived as cry babies by their parents. All of them can benefit from kangaroo care. We already have great traction with parents and nurses around the Netherlands who tested our product. They basically do our marketing for us. Just imagine what we can establish with the right investors! Hugsy wants to get the product out there fast. The money we are now raising is mainly used to get Hugsy production ready and CE-marked. We are looking for investors who want to contribute to a better world with happier and healthier babies and parents. It would be really great if they have the knowledge and the network to help us scale quickly so we can increase our market share.
4. You chose Leapfunder as your online funding platform. What makes it the right tool for your startup and what do you expect from the round?
We're currently raising our first investment round. What we really like about Leapfunder, is that it takes a lot of the administration and logistics off our plate. It's inspiring and exciting to engage with different angel investors in our network, we feel, but we like to outsource the more practical side of the investments in this stage. This gives us more time to work on the product and the business case itself.  
5. What's next for Hugsy? Tell us about your go-to-market strategy; what is your plan to acquire customers?
Our plan is to start selling Hugsies to parents of healthy babies at home while continuing clinical trials with 4 dutch hospitals to build up solid scientific evidence of Hugsy's effects. The consumer market is bigger and moves faster so we can start selling and making revenue quicker, while clinical trials in the hospitals bring trust and reliance around our brand. Almost all parents buy their baby products online, so that is where Hugsy will be marketed and sold. Since our 'test parents' became our brand ambassadors, we are definitely taking that approach marketing wise: being present in the right parent groups, blogs, and associations, generating testimonials, recommendations and word-of-mouth marketing.
Thanks a lot for the interview and all your insights! If Hugsy got you interested check out their Leapfunder active round: