The taxis in the Netherlands are very expensive compared to other countries. One of the main causes is the inefficiency due to the high number of kilometres that taxis drive without any paying customer in the car. Hurm is a new development in transportation, it connects supply and demand in the taxi industry. Consumers can use those taxi rides which are otherwise driven empty (on the return leg). Consumers pay a lower fare and the taxi company gets paid for otherwise empty rides. For a Hurm ride, the consumer pays less than 50% of the "normal" fare. Find out why Hurm is a product-market fit, what type of investors they're looking to attract and why they chose Leapfunder as their online funding platform.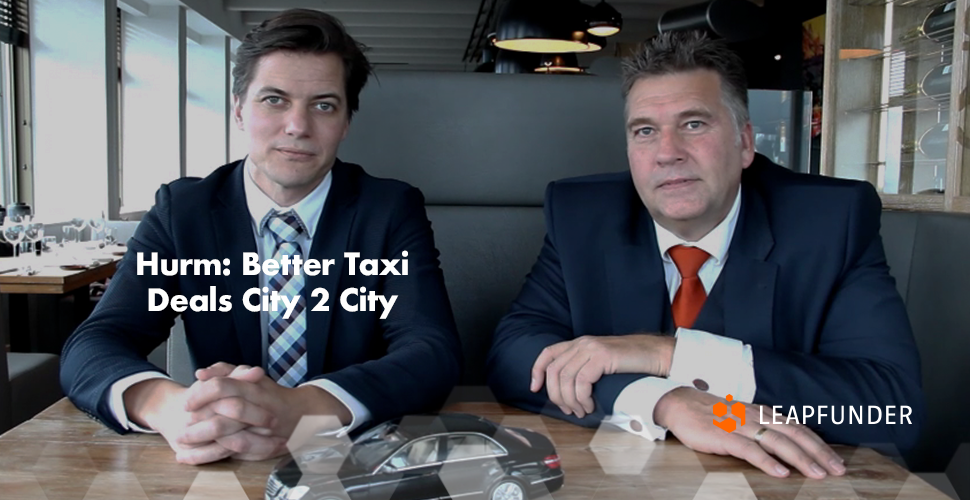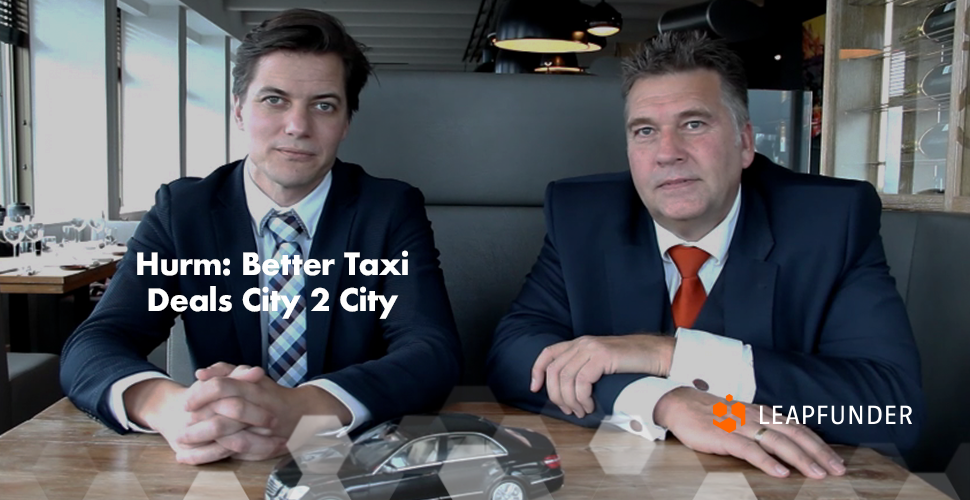 An Interview with Hurm
1. Hi Quint, thank you for agreeing to do the interview. Tell us about Hurm, the idea that got it all started and the amazing team behind it.
The idea came from Rudy de Haan, an executive car service driver, who was frustrated about the number of kilometres that he had to drive with an empty car. He approached a colleague, Herman Mandjes, who shared this frustration and started working on a solution. That solution was Hurm, a taxi platform that uses the kilometres that taxis drive with an empty car to offer the taxi for half of the normal taxi price. This is a solution that everyone benefits from, the taxi company benefits from higher efficiency, the consumer benefits from a lower taxi price and the society benefits from lower CO2 emissions.

Herman previously worked as a taxi driver himself and later on started his own executive car service company. He knows everything about the taxi business and has a large network. Herman asked me for help because of my background in IT. I have worked as a developer and project manager for a consulting company for several years. I successfully completed several international projects for big clients before I became an entrepreneur as co-founder of Hurm.
We form a great team because we complement each other. Herman knows everything there is to know about the taxi business and I know everything about how to make a scalable solution using IT.  
2. What problems are you trying to solve? What are the benefits of your product and why is it a product-market fit?
The price per kilometre of a taxi in the Netherlands is way too high. It is the second highest in Europe, after Switzerland. One of the reasons for the high price is the inefficiency because 42% of the kilometres that taxis drive are without a paying customer. So the customer currently pays too much because they also pay for those empty kilometres.
Hurm uses these empty kilometres to make taxis more affordable. Hurm has a network of more than 2.700 taxi's and has coverage everywhere in the Netherlands. Hurm only uses certified companies and drivers and delivers a good quality experience to the customer. This is very well received by the customers, as proven by the rating of 8.9 out of 10 on TrustPilot.
The taxi market is a highly competitive market and with Hurm, we focus on the longer distance rides, for example from one city to another. This approach has resulted in a Customer Acquisition Cost of as low as €15, which is low enough to make Hurm ready to scale up.
3. How much growth potential do you see and what type of investors are you looking to attract?

With Hurm, we want to become the leading taxi app in the Netherlands and from that position expand to other countries. The taxi market in the Netherlands has a size of €1.2 billion, so there is plenty of opportunity for growth in the years to come.
We are looking for investors that want to help us make a difference, innovate the taxi market and change it in a positive way. Investors with experience in B2C solutions or marketing could add additional value.
4. You chose Leapfunder as your online funding platform. What makes it the right tool for your startup and what do you expect from the round?
We have good experiences with angel investors who invested a total of €215.000 to get us to where we are today. We have now proven that our platform works and are ready to scale up. It is too early for the VC's and with our previous experience with angel investors, Leapfunder is the best fit for us. We expect to raise at least €100.000 so that we can speed up our growth in the coming year.
5. What are your plans for the upcoming months? Tell us about your go-to-market strategy and the plan to acquire customers.

We already have paying customers on a daily basis and we are ready to scale up. We will, on one hand, increase our online marketing efforts on Adwords and Facebook. On the other hand, we will start an offline marketing campaign in a specific region (The Hague or Rotterdam) to become better known in that region and to keep the cost under control. Once we have established a name for ourselves in that region, we will extend that approach to other regions and scale up as quickly as possible.
We are currently talking with the party that is managing the Media for Equity fund of Talpa about a possible investment by Talpa that will help us a lot in our marketing efforts.
Thank you for sharing your story with us, Quint. We wish Hurm the best of luck!