CROWDY HOUSE, the platform and marketplace for the world's best designers and makers, has had an impressive year. We met them at the very beginning when they raised their first round of funding via Leapfunder, and today we've asked Mark Studholme, CEO of CROWDY HOUSE, to share all about their path to success.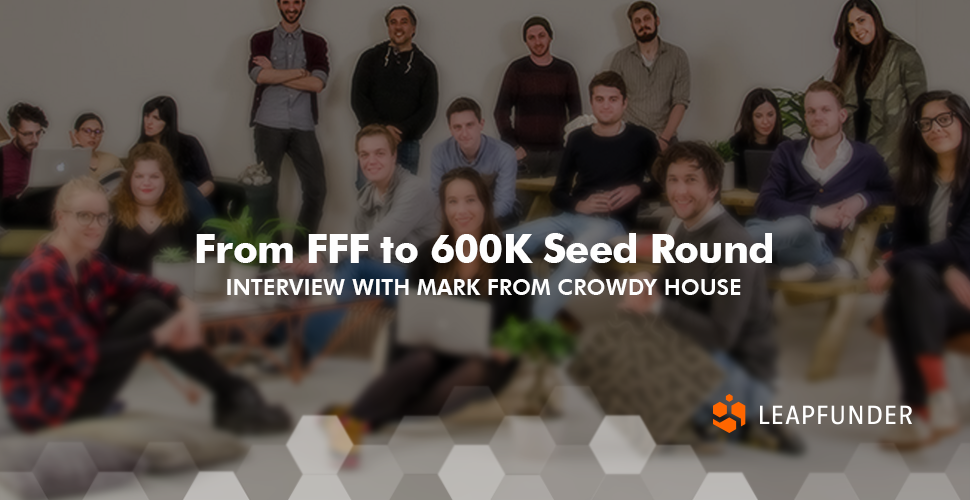 Interview with Mark Studholme from Crowdy House
In one year, you've come a long way. From Rockstart to a successful FFF round via Leapfunder, to being awarded The Accenture Innovation Award last November and lastly, raising $600k in seed investment from a group of international angel marketplace investors this month. Tell us about the amazing team who pulled it off and share one piece of advice that you've learned along the way.
The co-founder team who leads the way includes Suzan Claesen, a furniture maker and a designer with a great deal of experience in the design industry, Anca Stefan, our technical co-founder who rocks at building e-commerce platforms and social networks and myself. Before CROWDY HOUSE I started various businesses, such as Archello which I managed and grew into one of one of the largest social networks for architects and designers worldwide, and acting as an Editor-in-Chief, I helped start up a magazine for architects called Think Trespa.
Then came CROWDY HOUSE – the marketplace for the world's furniture, fashion and product designers. We really understand our market, I don't think we would startup in any other sector.
My advice is, don't jump into hiring people. The first people you hire are the most important for the success of your startup, so take your time and make sure you hire the right people.
You raised your first round of funding via Leapfunder, what would you say were the greatest benefits of raising early investment via Leapfunder? How was investing via Leapfunder perceived by your investors?
Raising funding via Leapfunder allows you to, very easily, get money/investment from friends and family, without any extra legal implications of doing an equity round. It's just a very easy process; it's formalised so all the contracts are done and there's no need to talk about valuation.
The concept of a convertible note was new to our FFF round investors, but they trusted us that we chose the best solution. We explained what to do and how to do it and there was no problem.
When you look back, how is your recent seed round different from your Leapfunder round, in terms of negotiation process, duration and complexity?
It was more work, but of course that comes with raising more money. The negotiation process wasn't much different, but the legal costs were higher.
In your recent blog post you mentioned you are lucky enough to have the support of visionary investors that share the same core values as yourselves. How important is that for a startup? What are you looking for from an investor?
We're looking for real e-commerce marketplace people, so investors that really love marketplaces. It's very important that they can understand how to grow a marketplace and what that involves.
The most important thing is that they share our belief in marketplaces.
This week CROWDY HOUSE will be the exclusive online shop during Ventura Lambrate at Milan Design Week. Congrats! Tell us about it as well as what's next in your roadmap.
We've partnered with Ventura Lambrate to provide the first exclusive online shop and offline retail point in Milan during the event. For the first time at Milan Design Week there will be one place where all the visitors can buy the design in one place, on CROWDY HOUSE.
Visitors can also come to our retail point, make an order and the products will await them when they arrive home one week after.
Our future plans are expanding into more countries in Europe and adding more great features for designers, such as means better promotion tools. We're also looking to raise a series A round this year which will allow us to start selling in China.
Best of luck to Mark and his team at CROWDY HOUSE! Be in the right place to early discover promising startups such as CROWDY HOUSE: