"I believe in you. I believe in the risk, I believe in Favoroute". When you find investors who truly believe in your startup like that, the entrepreneurial route gets a bit easier, but it is still reserved only for the resilient. We had a chance to interview Frederieke Wolter, the founder of Favoroute – the final travel guidebook. Read about their route to success!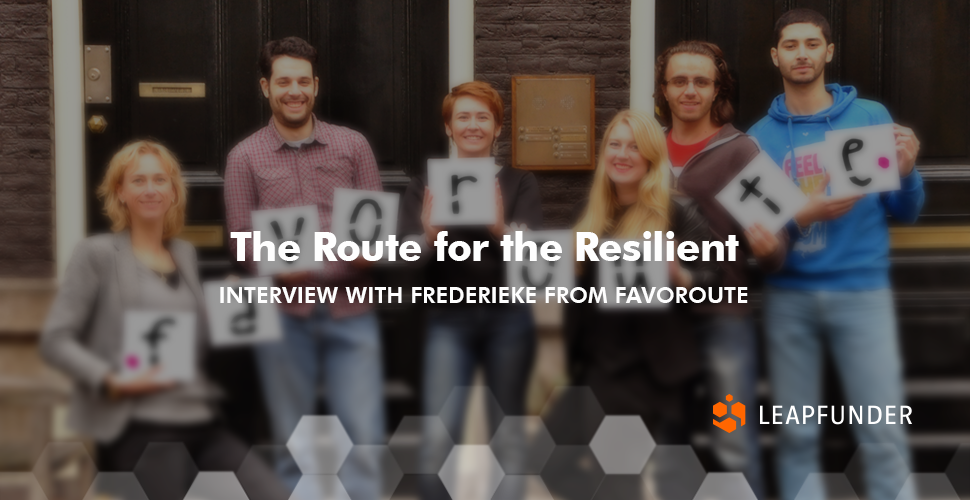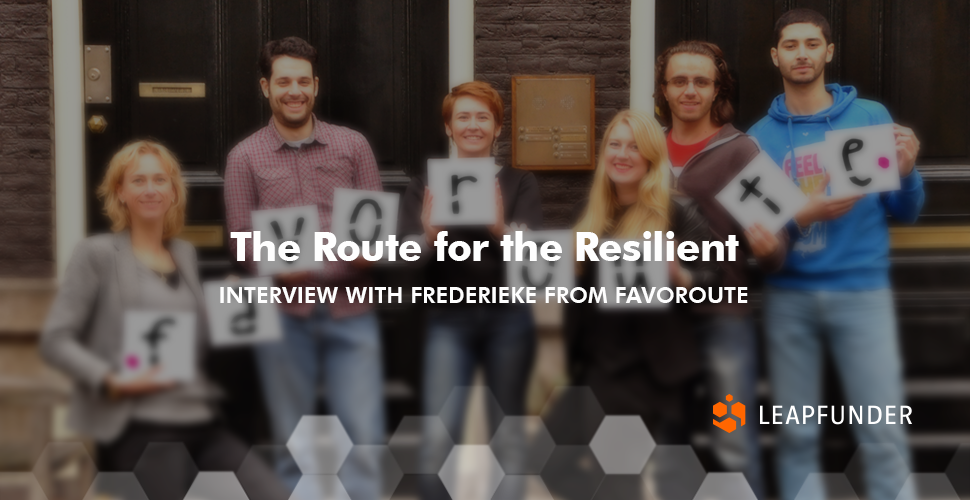 Interview with Frederieke Wolter from Favoroute
Hi Frederieke, congrats on all your achievements so far and on having what it takes to survive from an idea to a promising startup. Tell us about your entrepreneurial route, the idea behind Favoroute and your amazing team who helps you rock it!
Thanks, yes it is really an amazing route we are on. I started myself, officially 4 years ago, and I am really happy I found my team that loves it as much as I do. I am not only happy, but also very proud that we achieved so much together. It all began with having a passion for making my own routes prior to my travels. My first travel route was one in the middle of Portugal; I planned it on a printed old map in 1986 when I was 14…. Afterwards I started creating my routes in little notebooks, and later sharing them in spreadsheets with the friends I traveled with. It surprised me that there were no good ways of sharing and combining routes of several people. After working for a year in the Silicon Valley I realized anything is possible, so in 2010 I decided to take a leap of faith and start favoroute.com.
We are now a dedicated team of 6 and 2 people working remotely. I am really proud of what we have achieved. The most important part until now was building the platform and in parallel recruiting and motivating really good writers. They are experts in writing guidebooks, most of them professional journalists which gave us a lot of feedback on how to build Favoroute. Our travel designers are very enthusiastic about the platform and they see how to monetize their content with it thanks to our revenue share model. Although the ride to find a suitable business model was sometimes hard, I've learnt that every little step you take gets you a bit closer to the solution. Now I understand those 'real' entrepreneurs who told me not to worry too much about the business model in the beginning. They told me "you will find it along the road, first solve the problem".
The idea has never been easy nor simple. It was one big difficult puzzle, but I like to solve puzzles and I am sure we will solve it. It feels like we are getting close to it now.
After successfully raising your first round of funding via Leapfunder, you wrote a great blog post about your experience and shared an insightful infographic with funding statistics. Please share with us the most valuable lessons you learned along the way and what you perceived as the greatest benefit of raising funding via Leapfunder.
The most interesting part of using Leapfunder is that it gives you a platform; which makes it easy for friends, family and your network to fuel your dream and turn it into a success. By investing a lot of small amounts of money, it turns into a big amount. So you give your network an opportunity to help you, and they give you an opportunity to make your dream come true. Besides that, you won't believe how happy we were at the office every time we got an email confirmation that somebody I used to work with or an old student connection for example, invested 500 euro!
Favoroute just recently closed the second funding round via Leapfunder. How was it, why did you do it and what is the advantage of doing a second round via Leapfunder?
After the first round we thought we could make revenue and prove to bigger investors that the business model we chose at that point would work. But unfortunately we needed more time. We decided to do another round with fewer investors and a higher minimum investment (starting from 5.000 euro, instead of 500), so we could raise more money faster. For this round we needed to raise just enough money for the upcoming months to prove our business model. And we are proving it now. We still can not announce our first customers, but we are about to deliver a great number of guidebooks to one of our big clients. We're talking to many possible partners at the moment.
In our interview with Pieter ter Kuile, ex-Vice Chairman at Dutch investment bank Kempen & Co and one of the early investors in Leapfunder as well as in Favoroute, Pieter singled out your startup for the key strength a management needs to have in order to succeed. Your Leapfunder Page is full of investors' comments which mention your commitment and perseverance. How did you do it? Please share your top 3 To Dos to manage a successful relationship with investors.
When I look back (and we are not still there) and recall quotes of successful entrepreneurs, I can say they are true. They all say that you need to go on and on and on, and in the end you will find the solution. If the solution was simple it would have been out there already… It is about perseverance. When I have to solve a problem I always share it with my team, and the good thing is that we really like to solve problems. If you are not really passionate about finding the solution for a problem that you are building from scratch, then you can end up with a breakdown from all the stress. Now it's fun to do it, of course still living on the edge, but this work gives you a lot of good energy.
The biggest and most active investors in Favoroute didn't have a lot of detailed questions, didn't try to reduce the risk; they loved the solution, they believed that we as a team would obtain it. They invested in a company which is still at the beginning of the route and flexible enough to pivot during the process. Most importantly, our investors wanted to be a part of this journey – they have fun and help us.
Which route will Favoroute follow over the next 6 months? Which markets do you plan to explore and what will be your next milestone?
The next 6 months are important for us to prove our business model. To become less dependent of investors and get our first income. We are really close to our first very nice contract. If we get that one, others will follow fast.
Last year we focussed on recruiting 150 travel designers to work with us and publish the first 180 guidebooks on Favoroute. This year we are focusing more on commercial organizations that want to improve travel experience for their customers. We've built a travel guidebook platform for any company to publish really cool printed or online guidebooks. These companies can be brands, travel organizations, car rentals, tourist boards promoting a region, airlines, and also travel insurance companies and credit card companies.
We can deliver guidebooks in look & feel of these companies, written by famous Travel Designers. Nice company don't you think?
Nice company indeed! Thank you Frederieke for an amazing interview. Best of luck to you and Favoroute in rocking the B2B side of your business!
Be in the right place to early discover promising startups such as Favoroute: