This week we interviewed Pieter ter Kuile, ex-Vice Chairman at Dutch investment bank Kempen & Co and one of the early investors in Leapfunder. Pieter studied law in Amsterdam and obtained an MBA at Harvard. He started his career at McKinsey & Co, after which he founded his own company in financial fraud investigation. This job led him to Kempen & Co, where he stayed on for 20 years, financially advising companies mostly in the energy field. Pieter was also the founder of the biotechnology specialisation of Kempen & Co.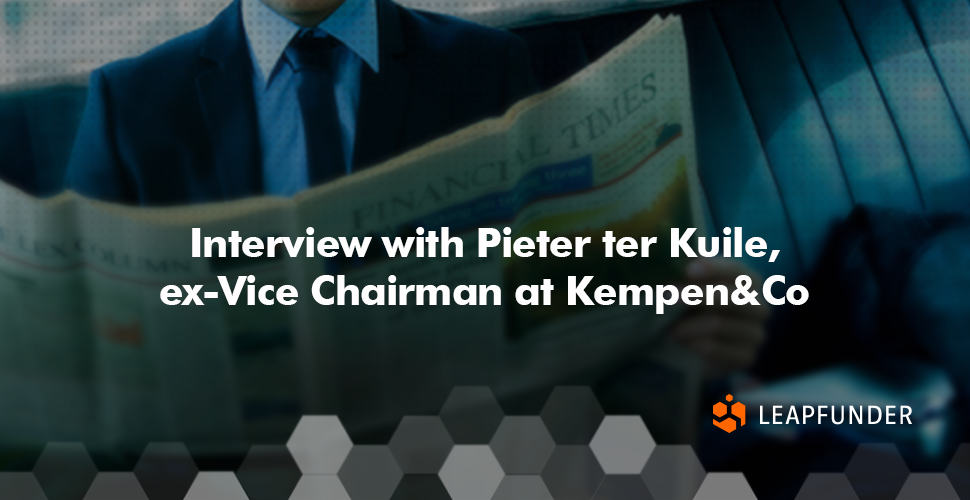 Interview with Pieter ter Kuile
1. Could you tell us a bit about your time at Kempen and the major deals you're most proud of?
When I worked at Kempen we advised Galapagos, a genomics company. I find working with biotech companies rewarding because you can really add value by helping them get their drug to the market. I'm therefore very proud of raising money for Galapagos NV. Kempen & Co supported them in their IPO, which managed to raise EUR20 million. Since then Kempen has advised Galapagos in several transactions supporting Galapagos' growth into a leading biotech company in Europe.
2. Investing in public companies is very different from investing in private companies. What are the benefits of large companies and what are the benefits of investing in smaller companies?
When investing in listed companies, the share price often has as much to do with the company as with the people who invested. With a listed company you might think it is very successful, but if everyone else thinks the same, it might already be too expensive to invest in to make a return. Therefore the analysis of the company alone is not sufficient. When investing in a startup, however, you have to analyze the company and decide for yourself: What do I think will happen?
What I like about investing in startups is that you get to be a part of a growing company. With Leapfunder I was involved from very early on and I enjoy it because I see the company growing more and more successful. For me, that is the key benefit of being an investor in startups.
3. You have advised many businesses over the years. Do you see commonalities between businesses that are successful?
In my opinion, the most common factor between successful businesses is the team. The key characteristic of all great companies is a good management team providing outstanding execution of reasonable strategy. Execution means doing the right things at the right time. Very often management needs to pivot, fail, and then approach the issue differently.
A good example is Favoroute, a startup I invested in via Leapfunder. Favoroute changed their strategy 3 times in the last 2 years. For me, that is a sign of strength. Every time they decided that to succeed things needed to be done differently. That's the key strength a management needs to have, being flexible and being able to adjust the strategy as the company matures.
4. Tell us something about your current portfolio? How do you screen companies you come across?
My portfolio is quite broad, I have over 10 startups in it now. I have invested in green energy, life science, and internet companies. I mostly invest in companies in fields in which I have expertise. Also, as an investor, I want to have an impact on making something possible. If I believe in the company, by investing early on I hope to encourage others to invest too. That is important as more investments improve the chances of success for the startup.
One of the key difficulties for investors like myself is how do I decide? It is a very intuitive process. I like to discuss with other investors to help me evaluate the company. Leapfunder can provide that platform for investors to consult each other, to group together and help each other decide whether to invest in a startup or not.
5. What can a starting Angel investor do to have a positive experience from the beginning?
I find it very difficult to be a good investor. So what do I do, I diversify; I invest up to 50K in a company, and I invest in different companies. Over time I might have to increase the initial investment to enable the startup to get to the next phase.
The Leapfunder Note is a very sensible way to place capital in start-ups. It is a convertible note, which means it enables you to acquire equity it the company and is easily executed. Thanks to the standardisation it allows investors to invest 1K, 10K or more in startups with very low transaction costs. This enables me to diversify my portfolio at a low cost.

See the latest Leapfunder Events here!