2016 was a bad year for unicorns and it wasn't great for Dutch startups either. Funding went down around the world, but for us, 2016 is the year when we became a stable market leader. Not only are we the largest Angel network in the Netherlands, we're consistently the platform with the most live deals. Let's take a look back at some of the achievements in 2016 that made us an established force, that is here to stay.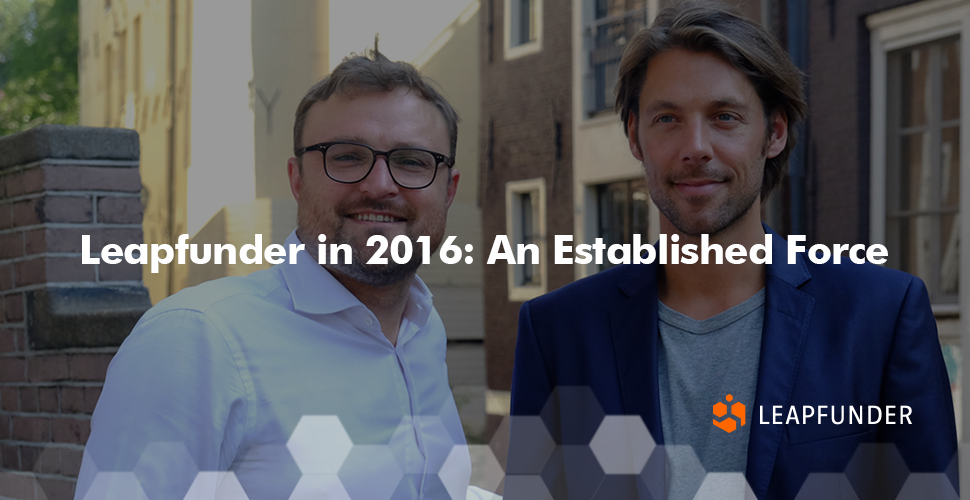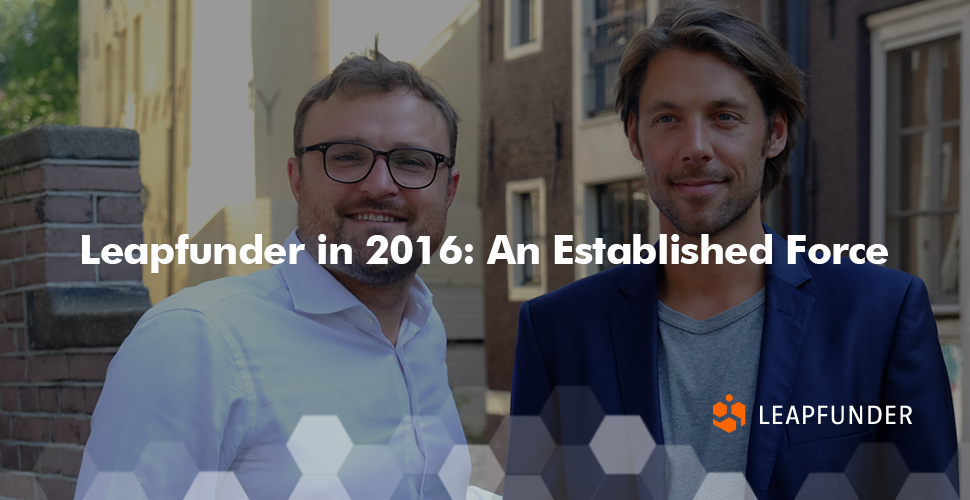 Leapfunder Achievements 2016
Product Innovations: Leapfunder in Action
SBC horizontal deal: first deal
We're now able to supply a fund structure so that you can raise funding, say for an accelerator, in one go. Not only we Leapfunder was the first one to offer this, but we still are the only ones who do. Learn more about Startupbootcamp's Horizontal Deal here.
Leapfunder straight equity: first deal
2016 marked the year of the first straight equity deal. It's very limited, we only do a straight equity deal if you have a large, €100,000 investor in the round because we need to make sure the share prices are fair. This means it's safe to invest in any deal on Leapfunder for a novice investor or an investor that has very little time.
We've rounded off our dutch founders' club with an equity investment
This is the end of the beginning. After a number of convertible rounds, we triggered our conversion with our last straight equity round. The result is a stable set of shareholders, our founders' club consists of around 60+ highly skilled and highly motivated angels who want to change the way early stage investment is done in the Netherlands.
We provide a full functionality
2017 is the year to perfect our website's features. In 2016, we've succeeded in completing our minimum viable product and over the next year our software development is going to be all about streamlining processes and making Leapfunder more user-friendly.  added new features in order to improve your experience, while using our online investing platform, now it's time to make them better.
Highlights that Marked 2016
Visit from the Finance Minister
We strive to gather investors and top-notch startups in the same place at the same time, this is how we create the perfect ecosystem for great things to happen. This resulted in the visit of the Dutch Minister of Finance, Jeroen Dijsselbloem, to our office to discuss the developments in the financial technology, together with Holland FinTech, CashOrCard and others. We had a fruitful exchange of thoughts about the importance of Angel investing, and a good regulatory framework for it. It was an inspiring session, and it was clear the minister is up to date and keeps track of the important issues.
Largest investor round table during Amsterdam Capital Week
Leapfunder Round Table XXL Session during Amsterdam Capital Week turned out to be our biggest event ever. 40 startups, 40 investors, face-to-face in one place. With all-stars investors and some returning investors, it was proven that our Round Table Sessions are a well established and valuable event in the Dutch Startup Community.
Consistently the website with the most live deals
What set us apart is our offer to investors and startups. Leapfunder consistently has between 10-15 deals live, offering a broad choice for investors and the perfect place to be in touch with the best startups out there.
And there's more coming up in 2017
Stay tuned, 2017 will be a record breaking year. Here are a few things to keep an eye on!
First round that has been matched by a VC
Second 'big round' that will bring us into competition with the VCs
First international expansion
Significant enhancement of the offline events component
Sign up to Leapfunder to discover promising new startups: