Movacar crowdsources drivers by marketing vehicle transfers as one-way rentals for 1€ to users, saving fleet operators up to 50% in logistic costs. Their win-win proposition delivers significant savings to fleet operators by monetizing unused capacities of their vehicle logistics (empty seats) and creating unbeatable travel options from city to city for their users. We had a chat with Karl Markiewicz, the Founder & Managing Partner, about what they've been up to recently. Find out who they partnered up with and which role Leapfunder played in their startup journey.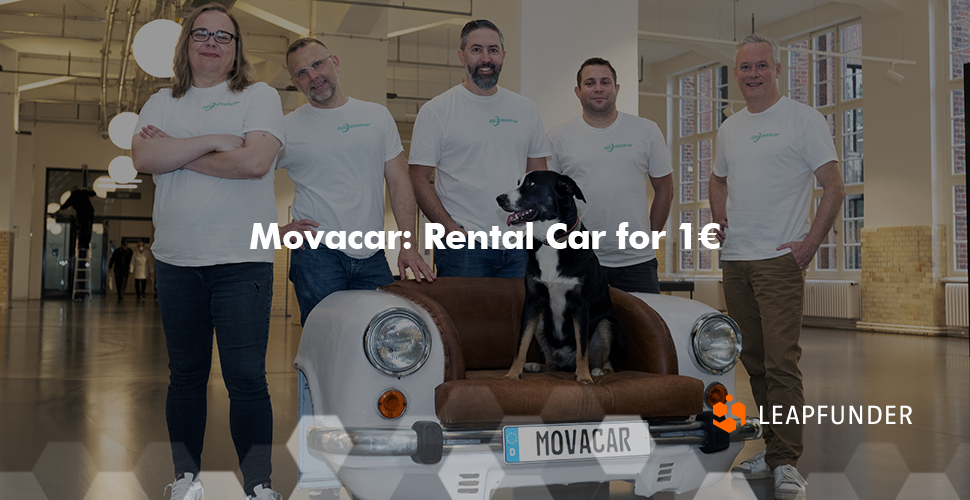 1. Hi Karl, thank you for agreeing to another interview. Tell us what's new with Movacar. What were you up to since our last chat in 2021?

2022 was a breakout year for Movacar, followed by many pandemic-related disruptions and restrictions that affected so many companies across the globe. We increased revenues 7x and completed two successful fundraising rounds to fuel our future growth. With rising logistic costs due to increases in the minimum wage and a weak overall economy projected for this year, we believe the stage is set to amplify our value-add for fleet operating partners across the industry as we look to expand into new markets in the near future.
2. You partnered up with roadsurfer and Indie Campers. Tell us about these collaborations.
Last spring, we introduced a new segment transferring camper vans across Europe. Logistic costs for these pan-European moves are exponentially higher than transfers within one country, so the savings we're able to generate for our partner camper van providers, such as roadsurfer and Indie Campers, by deploying our users to move the camper vans instead of professional drivers is quite substantial. 
These partnerships were initially somewhat of an experiment to see if our proposition also worked internationally, and it turned out to be quite a success story. Camper vans are now a standalone segment for us that contributes nicely to both our growth and our bottom line.
3. How is your business evolving post-covid? Which challenges did you face during the pandemic, and how did you overcome them?
One of the biggest challenges was the disruption of new car production due to the supply chain issues impacting the OEMs. This led to a shortage of rental cars in the market as vendors struggled to re-fleet after drastically cutting their fleets at the beginning of the pandemic. Most consumers saw evidence of this shortage in skyrocketing prices for rental cars as rental companies sought to bring supply in line with demand. 
Developing our B2B portal with additional functionality enabled our rental partners to rebalance vehicles to important demand hotspots despite an overall fleet shortage. Also, the addition of the camper van segment more than compensated for these difficulties. The supply chain issues did not affect these vendors as much as the big rental car companies.
4. Which role did Leapfunder play in Movacar's journey? Would you recommend our platform to other startups looking to raise funding? How did our network benefit Movacar?

Leapfunder played an important role because it enabled us to meet new investors, expand our network, and bucket "smaller tickets" to reach our funding goals. This flexibility in fundraising enhanced our ability to source investment, and the many network events proved invaluable. 
In fact, we met our very first business angel at a Leapfunder event back in 2019. In retrospect, we recommend Leapfunder to any startup looking to build a solid investor base. It's a great stepping stone for every startup journey!
5. What are your plans for the upcoming months?
This year's primary focus is on expanding our core tech team to prepare our platform for internationalization. And, of course, to continue growing in Germany and other European markets where fleet repositioning is becoming an ever larger cost factor for fleet operators.
Thank you very much for the update about Movacar, Karl. We wish you guys the best of luck in your future endeavors.
Join our network of startups & investors!