Imagine a magic glove that could protect you from anything. Literally anything. Wouldn't that be an amazing superhero accessory? Well, ProGauntlet have taken one step further and wanted to make anyone a superhero. We've had the opportunity to interview them & find out all behind their incredible story.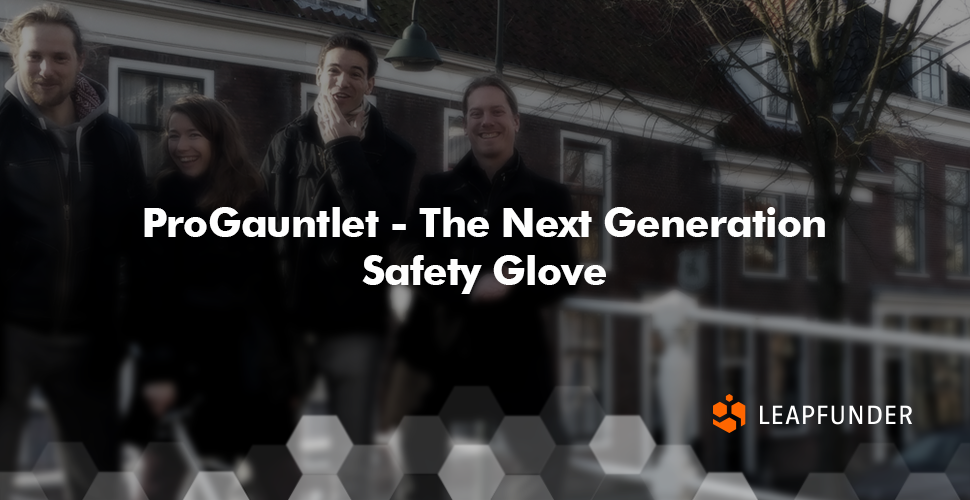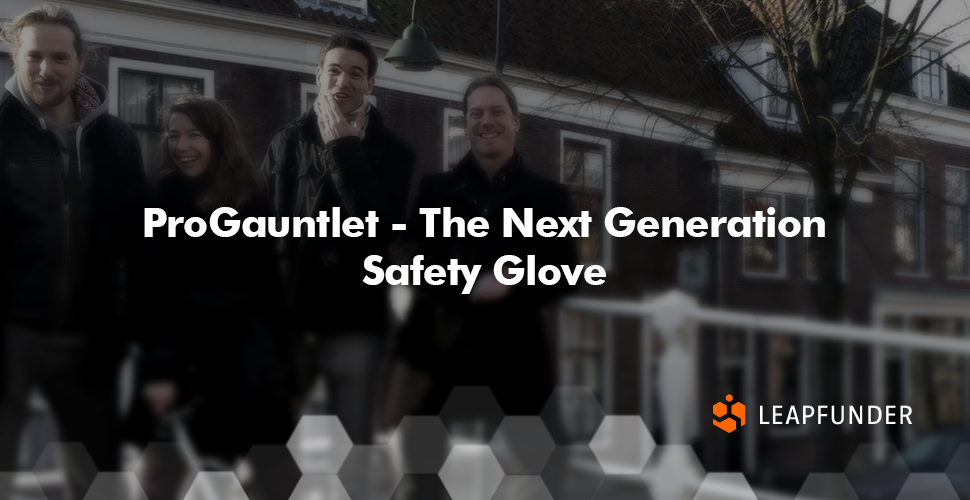 Interview with ProGauntlet
Hi Youval, congratulations on successfully launching your Leapfunder round! Tell us about ProGauntlet and the amazing team behind it.
Thanks! I can tell you, but I can also show you:
Imagine, I put my hand on the table, wearing a sleek glove that could have come straight out of Batman's hi-tech glove compartment. Maarten (co-founder) walks over holding a blunt steel sword and confidently strikes my hand repeatedly with a force that would turn bones to dust. Jaline (PR captain) is taking pictures of the crowd as they cry out and turn their heads away in shock. Without flinching, I take the hits and then proceed to wave my fingers around like a master piano player. Behind the table, Govert (ergonomics expert) and Raoul (assistant designer) are grinning, knowing exactly what to expect. That's the ProGauntlet and the amazing team behind it.The sword could be anything. A hammer, a hockey stick, a whipping steel cable, etc… Our motto is:
Once you can protect your hand against a steel sword, the rest is a walk in the park.
How did you come up with the idea of a revolutionizing fencing glove?
It's a story of passion. Maarten and I are both avid practitioners of an emerging sport called European swordsmanship (a.k.a. H.E.M.A). In 2011, Maarten graduated with flying colours at the faculty of Industrial Design with his design for a safe tournament longsword (how amazing is that?). Shortly after, we asked ourselves: "what is the one product that could be a true game changer for the H.E.M.A. community?" The answer was simple, the solution not so much. In training and competition, the easiest target to hit is the hand. It is also the most vulnerable. Throughout H.E.M.A.'s short history, practitioners worldwide have meticulously searched the market for a glove that could protect the hand from sword strikes. There was nothing out there, save from some models that completely restrict the hand's range of motion. For H.E.M.A., that's a big problem, since it makes highly valued fine technique impossible to perform. So we started from scratch with an engineer's approach. We defined our design parameters from the perspective of biomechanics, impact physics and material science, rather than trying to improve something which was already on the market.
We initiated the project with a graduation student (Joanne Kuo) and then launched a Crowdfunding campaign at Indiegogo, aimed primarily at the H.E.M.A. community, to kick off development. The response was solid and encouraging. Hundreds of backers were eagerly waiting for our solution to become reality. Ever since our campaign success, we've been receiving x-rays of broken fingers from wounded H.E.M.A. practitioners, urging us to hurry up. It's almost like a bizarre kind of blackmail! But the message is clear. This is the moment to step into the market. Through the extreme conditions set by the H.E.M.A. case, we're forced to create something that's never been made before. And we find that our solution connects with many other fields. Annually there are 250.000 reported hand or finger injuries in the Netherlands alone! The thought that we're going to make a difference for a lot of people in H.E.M.A. and beyond is extremely motivating.
Investors always want to know the unique benefits and potential for return when investing. How much growth potential do you see for ProGauntlet and when do you predict it will start generating income?
In The art of the start, Guy Kawasaki marks "Know thyself and Niche thyself" as one of the keys of building a successful startup. H.E.M.A. is our perfect niche. It's a market we know inside out and where customers are waiting for our product. Since there's no certification required, we can access the market as soon as our product is ready. Coming spring, we will start selling limited test series in incremental numbers, generating our first cashflow. We will gradually scale up production and perfect the ProGauntlet as we go. We will take larger pre-orders by the end of the year, when we're on the verge of full market introduction. This will be on top of the 300 backers(individuals and clubs) of our successful Indiegogo campaign, who received a product discount for their early donations. Once we have established a strong financial base, we will expand to other markets. We're already partnering up with representatives from heavy industry and sport sectors, who have seen the great potential of our technology. If you'd have to stick a number to it, within five years time we'd be accessing markets sizing in the hundreds of thousands, if not millions.
We have seen several promising startups being associated with Yes!Delft the incubator of the technical university of Delft. How did you get acquainted with the incubator and what have your experiences been?
The both of us being TUDelft alumni, we'd visited Yes!Delft before with a different product idea, but at the time, we decided to take our own path. We learned from that. Having your own workshop in an old industrial complex has a certain charm to it, but working under freezing temperatures in the middle of winter has its drawbacks. ProGauntlet was suited for YD and we were ready to shift gears. It's frankly one of the best decisions we ever made. YD turned us from engineers into entrepreneurs. We learned to think big, see beyond the H.E.M.A. market. Questions of "why" and "how?" turned into "when?". Being in the same space as other entrepreneurs who walked the path before you is a total game changer. It's like a backpacker's hostel, really, where the veterans pass on their knowledge to those who just arrive; things about where to find the most beautiful tourist-free hikes, which restaurant in town is likely to give you food poisoning and which neighborhood to avoid if you're attached to the contents of your wallet. The kind of knowledge you don't usually find in the travel guide, or in our case, the TUDelft coursebooks.
Please share with us why you chose Leapfunder as your funding platform & what are your expectations?
We'd been working with small budgets for some time and though we'd make some progress, the project never really took off. Our rent was paid by doing other work. We hadn't found a suitable investor yet for the full budget we needed and it was looking to become a long process. Daan Domhof (YD's growth manager), who has a talent for pushing the troops forward, urged us to try Leapfunder and build a lasting momentum. The possibility to gather many smaller investors into one pool under the same terms was very appealing. At first, we had a relatively small round in mind, but then we decided to raise the stakes. We gathered a few investors and people in our friend circle and went for it. Now we're almost halfway, with almost four weeks to go. Given the many positive developments since the start of the campaign, and the potential investors who are at the table now, we're confident that we will meet our requirements of 200k by the end of our round on the 21st of February.
After you reach your investment goal and successfully close the Leapfunder round, what's next for ProGauntlet? Which markets do you plan to explore and what will be your next milestone?
Now that our patent application is nearly done, we're well on the way to finish the first complete prototype for the ProGauntlet. The next big milestone will be the launch of our test series coming spring. This is where our customers will get to see and handle our product for the first time and put it to the most rigorous tests. This is going to give us a great deal of information on how far we've actually come and how much we have yet to accomplish.
In the meantime, we'll be setting up separate research and feasibility tracks, paving the road for our technology to expand to other markets. Our connection with Vandeputte (one of Europe's biggest exporters and producers of industrial safety equipment) and our partnership with railroad and construction company Strukton play a big role in this. Coincidentally, we're going to search for consumer markets related to H.E.M.A. and sports where the ProGauntlet can easily connect to. We're working on a production method, that will allow us to quickly and cost-effectively adapt to different hand sizes and market-specific requirements. But that's our 'secret sauce', so this is all you will ever read about it! For now, though, our objective is to stay focused and get that glove on the market.
Sound interesting? You can get introduced to their team here: