Being a startup CEO, you're working 24/7 on planning and developing your ideas, trying to make everything so perfect that it's impossible for an investor to say no. Every investor has his own unique approach, they can focus on the product, market, team, or on the numbers and future assumption. Being aware of how difficult this process is for startups, Leapfunder created Round Table Sessions which offer a chance for founders to meet future investors in a casual, informal setting. During the Round Table Sessions, startups meet investors in our office: any startup can simply apply by sending us an email, and we will schedule you.
The Round Table Sessions have quickly become a well-known part of the startup scene. On multiple occasions, we have seen that investors actually invested in the startup after the Round Table Session, or that they introduced the startup to future investors from their network. We have also seen meetings which ended in a handshake and a "thanks for your time". Even then, the session is very valuable and the startups will learn from the experience.
The greatest benefit from attending the Round Table Session came from talking with an investor from the Leapfunder network and having him invest enough later that night to help us achieve our minimum of 15,000 Euros before the first cutoff date. Other benefits would be the constructive criticism that the attendees provided. It was good to hear that we knew how to answer all their questions and that we had a very well thought out plan from their perspective. – Tim Gauldin, Nestegg Biotech CEO
In order for everything to go smoothly, we have prepared 6 tips for startups on how to make the most out of the Round Table Session.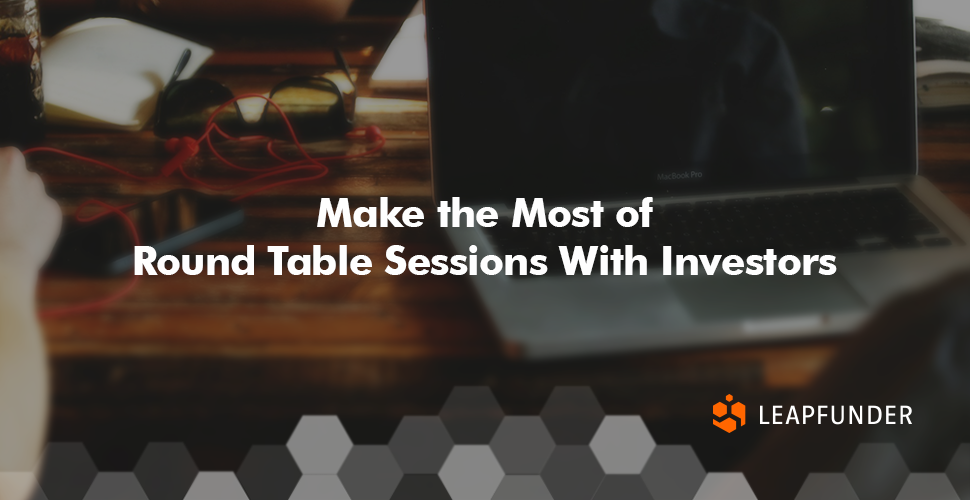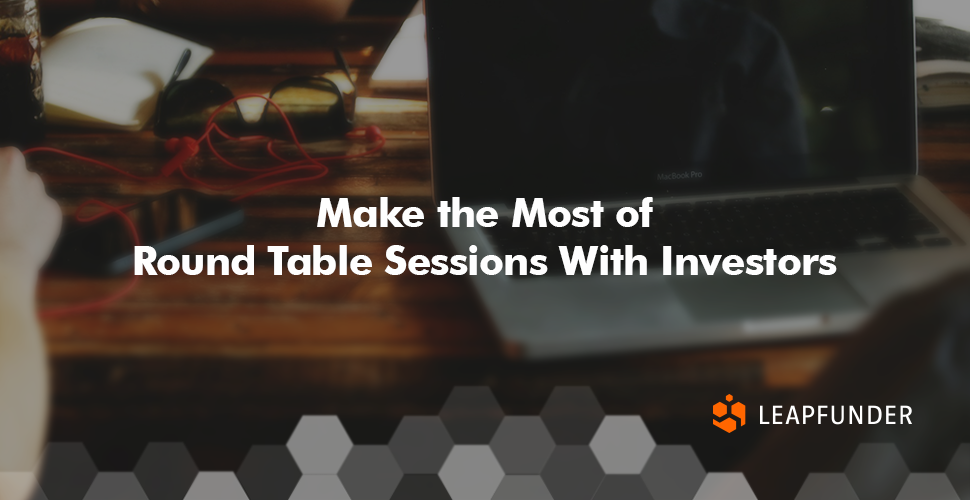 Tips for making the most out of the Round Table Sessions
Prepare your pitch.
Be able to explain what you do and how you do it in less than a minute. The famous elevator pitch also is applicable in an informal session.
Think beforehand.
Think about what you want to get out of the meeting. If you want feedback, ask for it. If you want to know if an investor would invest in your startup, ask them. Don't be too shy.
Remember why investors are there.
Investors are there because they love to listen to your story and because they potentially want to invest. Every investor has its own style, some are more direct than others, but this doesn't mean they are unfriendly.
Think about what you want to bring.
If you have a working prototype, it can be valuable to bring it. However, if it will distract too much from your story, you might consider leaving it home.
Be able to answer five important questions.
There are some basic questions we have seen being asked at many Round Table Sessions by various investors. From our experience we have formalised 5 questions the startup should be able to answer:
1) What is your business idea?
2) Who are the key team members that will make this possible?
3) How large do you think this business can grow?
4) How do you hope to make money, eventually?
5) What makes your business approach unique?
Be prepared for these and other questions.
Write it all down!
After the session, write down your experience. During the session, you will receive valuable feedback, and if you don't write it down right after the session, the information could get lost.
Because this concept has proven to be successful, we are going to organise Round Table Sessions in other cities in the Netherlands and Germany. If you want to be present at our Round Table Sessions as a startup or investor, please contact events@leapfunder.com to review the available time slots.