Skytree is part of the growing 'Direct Air Capture' (DAC) industry. Their first of a kind process removes CO2 and H2O from car cabins by harnessing life-support technology originally developed at the European Space Agency. By removing dangerous CO2 & humidity build-up, a Skytree air purifier enables the full recirculation of internal cabin air which in turn leads to a significant reduction in energy drawn by the vehicle air-conditioning system. Recently, they were mentioned in De Telegraaf, while their Chief Commercial Officer, Shubham Sandeep, got on the Forbes 30 under 30 list! Find out what their upcoming plans are, what kind of investors they're looking to attract and why they chose Leapfunder as their online funding platform.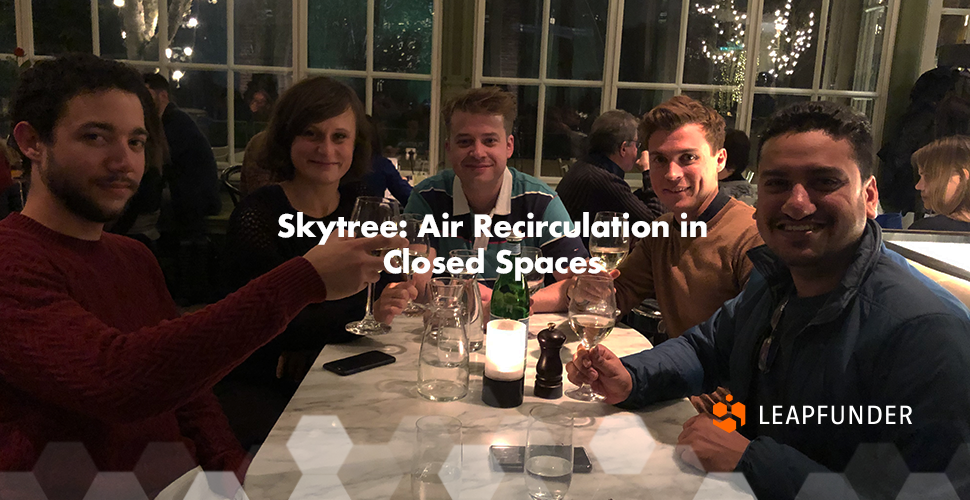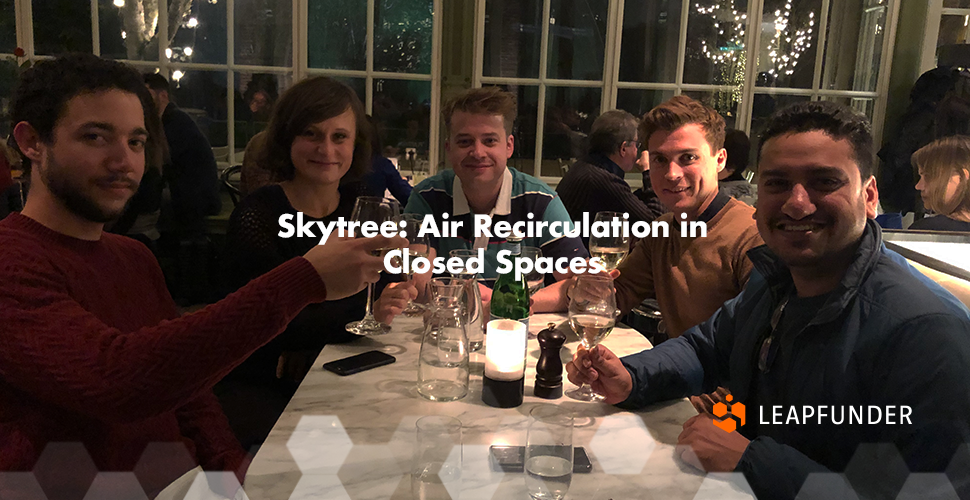 1. Hi Max, thank you for agreeing to do the interview. Tell us about Skytree, the idea that got it all started and the fantastic team behind it.
Skytree is a hi-tech, hardware company that develops CO2 extraction solutions for low-concentration gas streams. The idea originated from applying the European Space Agency's life-support technology to remove CO2 from the atmosphere and to combat global warming. Today we still have the same purpose that is to accelerate climate change mitigation technology. Having a compelling business case, we have identified CO2 extraction from electric vehicles (EVs), as our first application around which we can build a company. As we become financially sustainable, we will continue focusing on our purpose and transfer know-how to explore atmospheric CO2-supply products.
2. What problems are you trying to solve? What are the benefits of your product, and why is it a product-market fit?
The benefits of Skytree technology inside of electric vehicles are a significant increase in vehicle range and improved air quality. Most OEMs (Car manufacturers) are interested in the first, given the large discrepancy between advertised EV range and the reality, especially on very hot or cold days. The range can decrease by as much as 40% depending on conditions outside. Skytree's new filter makes the HVAC system inside cars much more efficient by reducing the amount of air they need to process and thereby reduces the effect of outdoor climate on HVAC energy usage.
The second benefit will be most interesting to the driver who will never know how a vehicle's range is actually achieved. The users do care, however, about the air they breathe, especially in highly polluted urban areas as well as large swathes of land in Asia. A Sunday Telegraph article last year revealed how the external air-filters of cars are wildly unreliable, ranging in performance of between 5 to 90% of pollution removed, depending on the car model. Skytree eliminates the need to filter pollution in the first place by recirculating the internal air, creating a kind of 'clean air bubble'. Essentially by not drawing in outside air nearly as much (or indeed at all) the amount of pollution brought inside the vehicle is immediately cut by 80% (compared to normal HVAC modes) before it even reaches the filters. On top of that, recirculation allows the same air to be filtered over and over again rather than in a single pass as is normally the case, thereby greatly reducing the required size of any filters.
3. How much growth potential do you see for Skytree and what type of investors are you looking for to attract?
Skytree is developing a technology platform. As such, the car industry is only the first area of application. Soon after (and perhaps in simultaneously) the technology will be developed for other means of transport (e.g. trains, planes) as well as for the building sector. The last one represents a huge market, especially with the growing concern around the considerable power draw of air-conditioners and how combined they will significantly contribute to global warming as sales to middle-class India and China skyrocket.
Transport and the building sector do not even include future applications in which Skytree units could use atmospheric CO2 as a feedstock for fuels, plastic & cement production, to boost plant growth, or to treat salt water also.
We are looking for investors who are impact-driven and open to long-term returns. We always welcome relevant sector knowledge and contacts.
4. You chose Leapfunder as your online funding platform. What makes it the right tool for your startup, and what do you expect from the round?
We've already had experience with the Leapfunder platform, having used it to raise our first ever angel rounds back in 2014-15. Now we are looking for further external investments, and Leapfunder was our natural choice. What attracts us is the ability to secure many small investments over a short time frame and in an orderly manner while having a platform to manage the investment group. We also like how easy it is for investors to place their money with us without having to go through typical, extended due diligence procedure. We know all our past Leapfunder investors well, having met almost all of them on multiple occasions, and having been generated business leads from them as well.
5. What are your plans for the upcoming months? Tell us about your go-to-market strategy and the plan to acquire customers.
Proving an automated, close to the manufacturable design of our automotive system under lab conditions, inside of the vehicle and using vehicle testing chambers. Once we have shown we can reach performance targets demanded by the industry using a reasonable amount of energy and volume, we will open up discussions of being accepted into what is known as 'vehicle programs'. Sogefi, our manufacturing partner, and Skytree will be guaranteed a large number of sales of the system once it is on such a programme. We aim to develop the technology and the business before then as quickly as possible. We expect to be accepted onto our first vehicle program towards the end of next year or in 2021 at the latest.
Acquiring further OEMs for our technology will be much easier once we are selling production units on the market. In the meantime, we will harness the introductions that can be made through the sales channels of AVL (our simulation partner) and Sogefi as well as by pushing the technology to the sector independently. We have already been contracted by two OEMs to develop the technology, and these contacts will be most likely to be where first sales are made.
Thank you very much for sharing your story with us! We wish you the best of luck in your future endeavours!
Join our network of startups & investors!