The internet changed the way we live today. It's all quick & easy to use online services and perform business purchases, but do our suppliers really care about our precious time after we've subscribed to their services? Collecting and managing invoices for online services and purchases can be endless and nerve-wracking. This is where Storecove came in with an idea to make it all a much simpler process. Read more about it.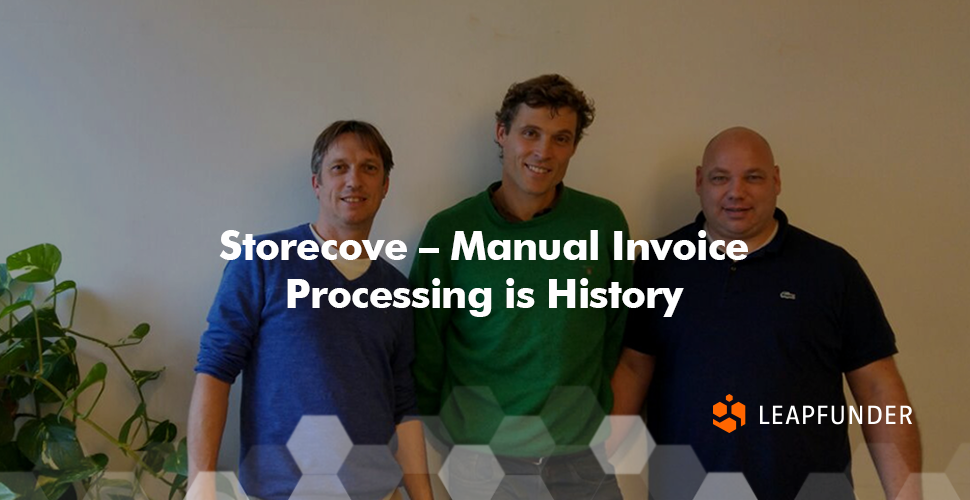 Interview with Storecove
1. Hi Dolf, congratulations on successfully launching your Leapfunder round! Tell us more about Storecove and how you came up with this incredible solution to form the ideal setting for an internationally scalable product?
Thank you so much. We came up with this invoice retrieval solution after interviewing more than 30 companies. We asked them for their experience with online purchases and almost all of them came up with the same answer. At the end of each month, they have a hassle of signing in to the portals of their suppliers to collect their invoices and then send these invoices to the accountant or accountancy software. Our customers request the supplier portals they want to connect and we automate these connections for them – this is a part of our growth model.
2. You were the winners of Amsterdam Get in the Ring! How was your overall experience?
This is the first year we joined this competition. What was great about it is the fact that during the day we were trained by a pitch-coach and subsequently had to pitch for a jury. Once the evening final round started, we were as ready as we could be. Storecove had an advantage due to the experienced team and the track record of having already founded and sold two other companies. The jury recognized the problem that we are trying to solve and agreed on our chosen distribution methods.
3. What do you expect to achieve from this Leapfunder round & how does it fit in with your overall strategy?
Leapfunder brings us the possibility to do a funding round with convertible notes without a direct contact with the investors. This indirect construction allows it to not feel awkward to approach family members or close friends. It is the same as bringing your car to a dealer instead of selling it directly to a relative. Furthermore, Leapfunder name brings professionality & marketing power to this round. We expect about 40% to come from existing Leapfunder investors; the rest will come from our own informal, angel and seed VC contacts.
4. Do you feel that in this type of industry there are additional challenges when seeking funding? What unique benefits for investors can you bring to the table?
In the meantime, we've learned that we have a proposition which really helps the whole accounting sector, it saves time and reduces annoyance. Within 1,5 years we've achieved a number 2 position in the Exact Appstore, we embedded our software in several large systems like Reeleezee and Yuki and connected every other accountancy software package in the Netherlands. Storecove is seen as a serious player in the market with a real potential to become the access point for a large part of the supplier/ invoice / accounting software connectability.  We feel we entered a market that is just in the first phase of its transformation, which is really exciting.
The Dutch market and government are focused on standardization of a special invoice format called UBL, promotion of  e-invoicing and saving time within this whole process. Listen to the radio today and you will hear different accounting systems stumbling over each other to tell the market that they are the best cloud solution. Exact UK, Twinfield, Yuki, Minox; they all started with radio commercials. With only 20% of this market in the cloud, the potential is huge. Exact UK has already agreed on taking us up in their app-store and Exact Germany will be a great entrance to the German market. Once we set everything up properly with these markets we will start approaching other large foreign accountancy packages.
Larger VC's want to see traction, international scalability and an interesting vision. We have all three, but they still don't move as fast as high potential startup demands. With Leapfunder, we are sure we can reach a lot of smaller investors that recognise the problem we solve.
5. That's all amazing news! What is the main challenge you are looking to overcome & where do you see Storecove in the future?
We have already connected 53 suppliers and the goal is to connect many more; for this we need more programming power and that will be our core activity in the Netherlands & every other country we go to. Our main challenge now is to be able to build connections with financial systems and suppliers (APIs). Having API's in place means that we will do these connections even faster . We  also want to be able  to build all the features that our customers, accountancy firms, request within reasonable time. These are the three main reasons for this funding round. Part of the money we will then use for the best distribution method available. At the moment, we are using three methods : Direct (Facebook campaigns and direct sales), Accountants and Integration within Accountancy Software. We expect this last one to prove to be the best one
6. You have already a couple of successful companies behind you, do you have any lessons you would like to share with other entrepreneurs?
As a Dutch entrepreneur I like to give three tips:
Never focus only on the Netherlands. It is a great market to start in, but have your plans in place for international expansion. With our last company Videostrip we often heard: 'It's great that you are market leader in the Netherlands but what is your market share in Germany, England and France?'
Start working on funding from day one. If you are lucky enough to have a good product in the right market, competition will arise. The only way to stay ahead is to have enough money to innovate and expand faster than others do. If you don't, you will only have two options left: consolidate or sell.
Start with an online proposition, build a scalable SaaS product, measure everything and be in constant contact with your customers. You are the entrepreneur that brings ideas to life, your customers are the ones who bring ideas to you.
Sound interesting? You can get introduced to their team here: