Trivoly is a tiny disc that fits under your own watch delivers app notifications, messages, calls and alerts to the watch you love via Bluetooth. We had a chance to talk to Roger Willemsen, the co-founder, who told us about the idea that got it all started and the amazing team behind it. Find out what problems is Trivoly trying to solve, why they chose Leapfunder as their online funding platform and what are their plans for the upcoming months.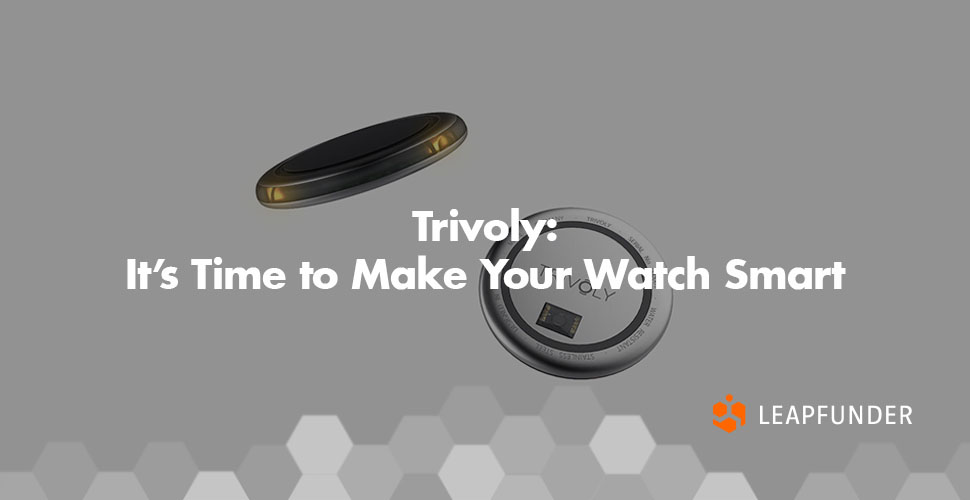 An Interview with Trivoly
1. Hi Roger, thank you for agreeing to do the interview. Tell us about Trivoly, the idea that got it all started and the amazing team behind it.
Thank you! Trivoly is the result of our interest in watches and our love for technology. Every year 1.2 billion watches are sold, all with great designs for personal taste. We invented a way to make any watch smarter. Thanks to our team and partners we were able to bring the Trivoly disc to the market. Next month, Trivoly 3 is being launched in both Europe and the US. For the US we are working with Tim Roper, who was the MD for TOMTOM US and responsible for the distribution at Pebble. This helps us accelerate growth in the US market.
2. What problems are you trying to solve? What are the benefits of your product and why is it a product-market fit?
Trivoly started out as a consumer product. In 2018 we expect to sell around 200.000 discs. We are already recognised by a large watch and gadget group, and we are in negotiation with Bestbuy and Target in the US. Our product solves the need for a smartwatch and any other fitness tracker.
We were also approached by E-health companies. We are currently finalizing a solution for hearing impairment, which will be launched in early 2018. This segment shouldn't be exposed with a large and ugly solution, so a discrete tiny disc is great. If the doorbell rings, the hearing impaired person will receive a buzz on his wrist and a blue led that indicates someone is at the door. These LOI's are in place and Trivoly products will be reimbursed by insurance companies. A few more are coming up which demonstrates that we created a solid and reliable technology.
3. You chose Leapfunder as your online funding platform. What makes it the right tool for your startup and what do you expect from the round?
From the moment we spoke to Leapfunder we realised that was the right platform for us. It's efficient, with very clear templates that helped us define a clear offer with limited legal costs. The network itself exist of entrepreneurs and investors and has already proven to be useful. We highly recommend it.
4. How much growth potential do you see for Trivoly and what type of investors are you looking to attract?
As of next year, we expect to accelerate our growth even more. We are now in our third year and we are leaving the flaws we noticed in the first two years behind. Now that we have developed our latest model, we will start producing at Neways in a fully automated process and our distribution network in place. We are aiming for €10M revenue. Our investors will understand our business and can help us accelerate growth in both the e-health market and retail.
5. What are your plans for the upcoming months? Tell us about your go-to-market strategy and the plan to acquire customers.
In Q2 our sales for Trivoly 3 starts in both Europe and the US. Our samples are ready and are currently being shipped to buyers of large retailers and our distributors. We are also finalizing the product development for e-health. And as stated in the LOI's, we expect to ship about 30.000 products, both for personal use and the hearing impairment. We have a lot of work to do, but we are confident to execute our strategy.
Thank you for your insights, Roger. We wish Trivoly the best of luck!
Discover promising startups!