Have you ever looked outside on a lovely summer day and thought, "Geez! This would just be a perfect day to take the boat out!". Thanks to Tubbber you can. Tubbber enables charterers and boat owners to let boats, both technically and financially secured. It acts as a back office and provides a safe way to let your boat or to rent a boat, any time, anywhere, any place. We had a chance to talk to the founder, Anne de Vries, who shared his story with us. Find out why Tubbber is a product-market fit, what problems they're trying to solve, their go-to-market strategy and the plan to acquire customers.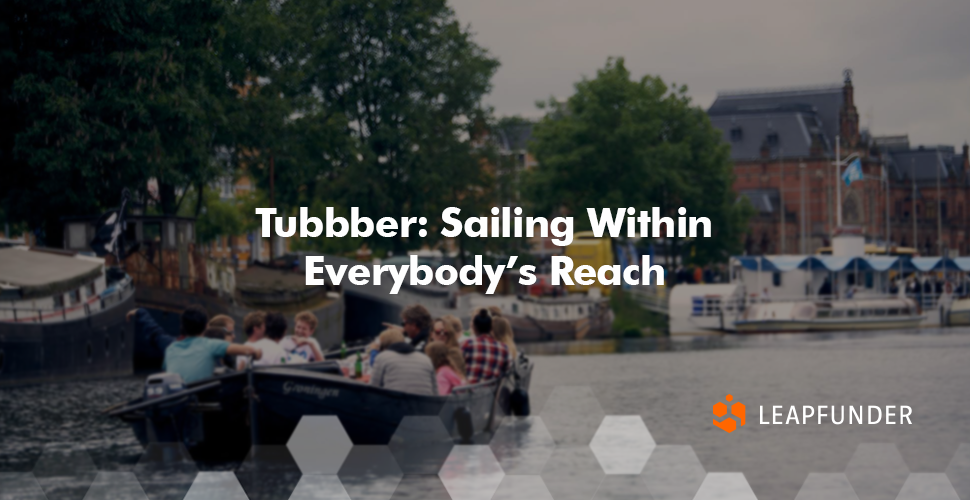 Interview with Founder of Tubbber: Anne de Vries
1. Hi  Anne, thank you for agreeing to do the interview! Can you tell us a bit about your background and entrepreneurial life?
Yes sure. I studied international marketing and sales at the Hanze University of Applied Sciences in Groningen, the Netherlands. In 1999, a Groningen entrepreneur asked me to help start a new vacancy platform/database, the 'Nationale Vacaturebank'. After a number of years, this company was sold to VNU media with great success. A few years later VNU chose to buy me out and with this money, I started the Holidot.com website with Jan-Peter Cruiming. For me, this was the biggest lesson ever! After the great 'Nationale Vacaturebank' success, you think that everything you touch turns to gold. However, a year and a half and 1.5 million euros later, the website still didn't work. After this setback, I asked myself: What do I really like? I came up with an idea of starting a company with Ron Spoelstra that allows us to sail for free! We founded Zeiljachthuren.nl and started small with guerilla marketing. Euroboatcharter.com and our newest label: Tubbber were added later on. The main lesson I've learned during the past years is to stay close to the market, and to know what and how to sell!
2. Tell us about Tubbber, what problems are you trying to solve? How does Tubbber exactly work and why is it a product-market fit?
During our own boating holidays, we noticed that the best boats are the privately owned ones. Talking to the private owners we learned  they'd like to let their yachts but had no secure way to get to the market. So we decided to be our own market disruptor. The problem is that many private boats are underused. They do, however, represent the most interesting part of the boating industry. The solution is to rent out boats, but private yacht owners find this hard due to lack of security, which includes payment, renter responsibility, and insurance. Prospect renters face equal problems. Both the renter and the private or professional owner look for a reliable way to do business. According to us, the solution is in the transparent communication, a safe payment system and in insured boats. We provide an open communication platform with both owner and renter reviews. Every rented boat is automatically insured. Payments go safely via Adyen and our booking system provides real-time availability of over 12,000 boats. Since more and more people want to charter a yacht instead of buying one, we believe that we're penetrating the market at the perfect moment. With the present growth in the recreational boat market, Tubbber is, in our opinion, a product-market fit.
3. Tell us about your transformation from an unscalable to a scalable business. How much growth potential do you see for Tubbber and what type of investors are you looking to attract?
Tubbber has been established with the intention to be a 'self-service' platform. The boat charter market has long relied on the semi-aged model of having direct contact, through phone or email, with a potential client in order to complete a transaction (full-service). We wanted to move on from this aged model and have therefore developed Tubbber. The communication goes on between the boat owner and the renter which means the concept is very scalable, and new to the boat charter market. We see an endless growth potential for Tubbber because of its aforementioned scalability. We believe that the platform can operate as the perfect matchmaker between the boat owner and the renter and that the business can go smoothly both online and on the water. We are looking for investors that are interested and/or engaged in the tourist and leisure sector. It would be even better if they're interested in boats and watersports in particular.
4. Why did you choose Leapfunder as your online funding platform and what do you expect from the round?
We chose Leapfunder because we think the platform provides easy access and contact with investors. Moreover,  the platform is easy to use, transparent and safe for investors to invest. And it's a lot of fun to compete, to meet and learn from other entities that strive for
the same goal as you.
5. What are your plans for the upcoming months? Tell us about your go-to-market strategy and the plan to acquire customers.
In the following months, we'll migrate the Tubbber platform with Euroboatcharter and Zeiljachthuren, and create the biggest Benelux boat booking platform. Performing marketing campaigns and increasing the customer base (boat owners) is also important at the moment. Furthermore, the development team is adjusting and fine-tuning the website in order for it to operate as the ultimate self-service platform. The customer feedback has been integrated and the website is under constant testing by the whole Tubbber team. Releasing the optimized site, advertising partnerships and expanding Tubbber's activities in Europe is aimed to start by the end of 2017. Our plan, based on historical data from the past two years, is to double the number of bookings in 2018 as well as the number of users. It is very ambitious, but we did it before. Due to scalability, we can have 10 times more bookings with almost the same fte.
Thank you for the interview Anne. We wish the Tubbber team the best of luck, keep on rocking it!
Find out more about Tubbber and discover promising startups: