Unicorn investing can be extremely rewarding, not only does it give investors the opportunity to experience huge returns, it also gives a front-row seat on the thrilling roller-coaster of the growth trajectory. Sequoia Capital, the New York City-based hedge fund Tiger Global Management and SV Angel are the most active unicorn investors. All three of them have 23 unicorns currently in their portfolio. Whether you're an entrepreneur or an investor here's what you can learn from these unicorn hunters: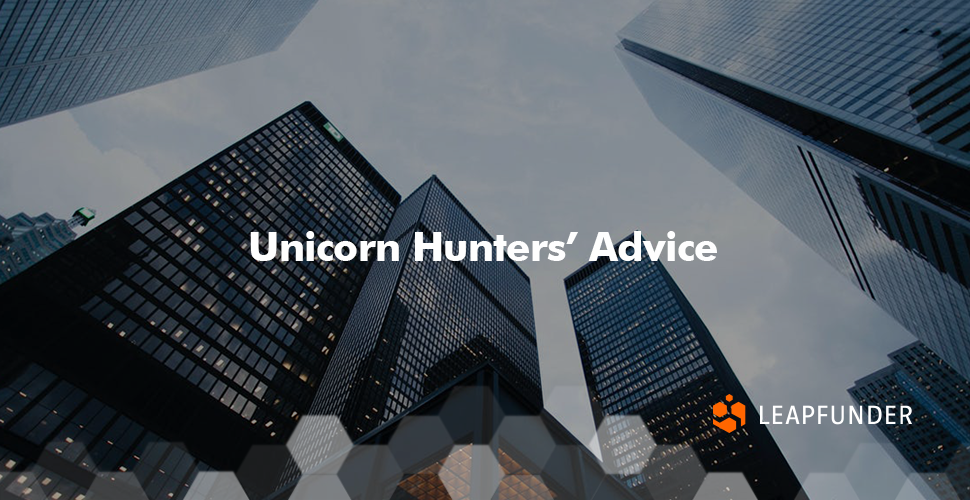 Advice from Unicorn Hunters
SV Angel – Ron Conway:
"Well, we invest in people. I've been doing this for 21 years, and I have talked to thousands of entrepreneurs. I'm not looking at their idea. I'm looking at: Are they a leader? Are they focused on their product? Can they attract the team? What are the co-founders like? I can tell within three minutes."
Sequoia Capital – Don Valentine:
"The art of storytelling is incredibly important.  Learning to tell a story is critically important because that's how the money works. The money flows as a function of the story."
"What is important is to have the ability and willingness to be different. Great companies are built with different products by different people."
"We don't spend a lot of time wondering about where people went to school, how smart they are and all the rest of that. We're interested in their idea about the market they're after, the magnitude of the problem they're solving, and what can happen if the combination of Sequoia and the individuals are correct."
DST Global – Yuri Milner:
"It's not about revenues: The fundamental economics in digital business is scale and margins. The top line has become the bottom line."
"It's not how much something's worth today. It's what it's worth in five or ten years."
Andreessen Horowitz – Marc Andreessen:
"The way we think about it is that there are products that become startups, and then there are startups that try to build a product. Products that become startups tend to do much better overall –  there's a founder that has built something, often in an academic setting or on nights and weekends, that is now working, and needs to be turned into a company to continue. Examples of this include Facebook, Google, eBay, Yahoo, and Netscape. Startups that don't start with a product but instead try to build one from scratch often, but not always, lack the passion. They can work; particularly if the founder is good enough… but when they fail they will often feel sterile and contrived the entire way."
"Contrary to mythology, the truly great founders tend to be highly trained in their field before they start their companies. Even the prototypical Mark Zuckerberg type who starts a company straight out of college has often been programming at a professional level for 10+ years by the time they start their first companies. And VCs like us genuinely look for professional training and achievement in their backgrounds of our founders. So my general advice is always 'go get relevant experience' for what you think you want to do –for at least 5-10 years before striking out on your own."
Andreessen Horowitz – Ben Horowitz:
"There is always a move. Play long enough and you might get lucky. In the technology game, tomorrow looks nothing like today. If you survive long enough to see tomorrow, it may bring you the answer that seems so impossible today."
"People always ask me, "What's the secret to being a successful CEO?" Sadly, there is no secret, but if there is one skill that stands out, it's the ability to focus and make the best move when there are no good moves. It's the moments where you feel most like hiding or dying that you can make the biggest difference as a CEO[…]to make it through the struggle without quitting or offering up too much."
"Tip to aspiring entrepreneurs: if you don't like choosing between horrible and cataclysmic, don't become CEO."
"Whenever I meet a successful CEO, I ask them how they did it. Mediocre CEOs point to their brilliant strategic moves or their intuitive business sense or a variety of other self-congratulatory explanations. The great CEOs tend to be markedly consistent in their answers. They all say, 'I didn't quit'."
KPCB – Eugene Kleiner:
"Invest in people, not just products."
"It's easier to get a piece of an existing market than to create a new one."  "Two companies fighting over a niche market are like two bald men fighting over a comb."
"Risk up front, out early."
Hopefully, the unicorn hunters' experiences and advice were a useful read. What was the best advice you ever got from an investor?