Unpluq's team is on a mission to solve smartphone distraction. On average, people spend 4 hours a day on their phone, out of which 2 on social media. 88% of all millennials say they are addicted to their smartphone, and 58% say they want to change that. Jorn Rigter and Tim Smits wanted to do something about this problem and decided to create their own solution. Later on, Harrison Burch joined them as the third co-founder. Find out why Unpluq is a product-market fit, what kind of investors they're looking to attract and why they chose Leapfunder as their online funding platform.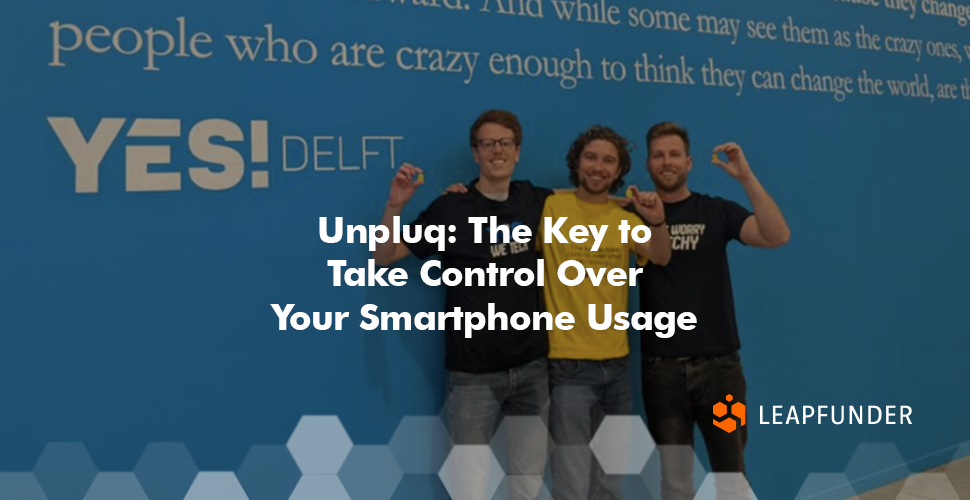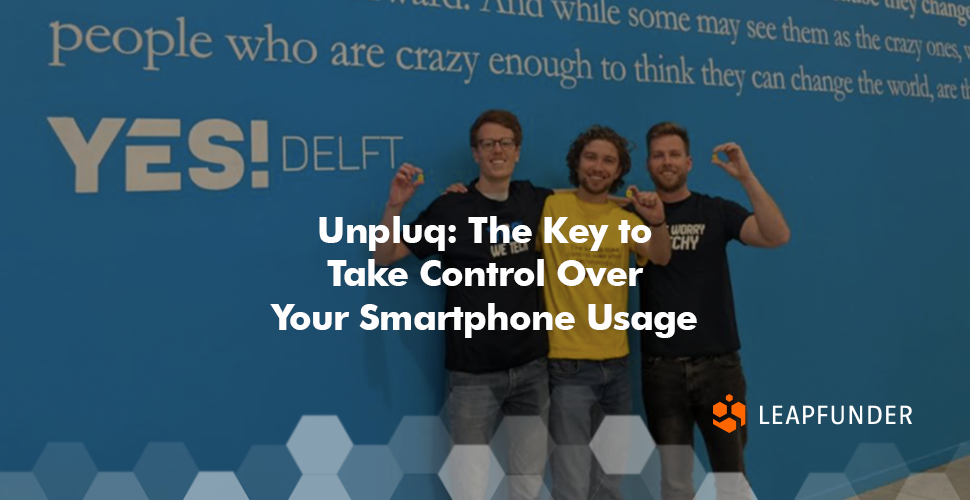 1. Hi Jorn, thank you for agreeing to do the interview. Tell us about Unpluq, the idea that got it all started, and the amazing team behind it.
Smartphone distraction is a huge societal problem. Social media apps, dating apps and games are made to keep you on-screen, causing a lot of harm to your mental health and wellbeing. Through over 50 interviews, we found that the current software solutions to this problem are not working for most millennials – they're too easy to circumvent and turn off, or are too restrictive.
That's when we started looking for our own solution. We created Unpluq to help people regain control over their smartphone usage. Unpluq is the combination of a yellow USB key and Android software. It blocks distracting apps of your choice when the key is not plugged into the phone.
It all started at the Delft University of Technology. During our studies, Tim Smits (my co-founder) and I were often so distracted by our smartphones that we couldn't get half the work done. We saw this problem all around us and saw the effects it has on society. We both meditate, so we know the benefits of having peace of mind. After a 10-day meditation retreat, the stark difference between peace of mind and being bombarded with information showed the severity of the problem.
So far, we sold over 900 Unpluq Keys (350 during our Kickstarter in February 2020, and the rest since our webshop launch in September 2020). We also found an amazing third co-founder, Harrison Burch, who has 7 years of working experience in e-commerce product electronics marketing at Lenovo, and one year as a Marketing Lead at MessageBird. Harrison has been our Head of Growth since February this year. 
2. What problems are you trying to solve? What are the benefits of Unpluq, and why is it a product-market fit?
From over 50 interviews, we found that the real problem of smartphone distraction is that people start using apps like social media without realizing it – it's very unconscious behaviour. People would tell us they would take out their phone to check the weather and realize after 20 minutes that they had been scrolling on Instagram for the past 20 minutes.
Unpluq prevents this, by making this unconscious behaviour conscious. People have to consciously decide to plug in the Unpluq key and start using distracting apps. This goes into habit change. A habit loop starts with a cue (e.g. a notification or seeing a distracting app on your home screen), but Unpluq removes this cue, effectively removing the introduction of the habit loop. This is the reason it's working so well. Unpluq is changing people's behaviour (and saving 69 minutes of smartphone screen time daily).
3. How much growth potential do you see for Unpluq and what type of investors are you looking to attract?
In 2025, we want to be the world's leading digital wellbeing brand. We're currently looking for investors that can help with the branding of Unpluq and its internationalization. We're looking to attract investors with experience in financing, subscription models and/or business development, or investors with a network in telecom or relevant companies for our B2B sales. 
Next to selling Unpluq to millennials (in the US and Europe alone, there are 126M millennials that want to reduce their smartphone usage), we see huge potential in the B2B and parental control market. 
For the B2B market, it could work well for knowledge workers, to reduce stress and therefore burnout. A big problem in companies nowadays is that work gets into people's private lives (for example emails or Slack messages in the evening). Many employees feel obligated to answer, causing stress, which could lead to burnouts. Another use case is during meetings – everyone plugs in the Unpluq key during a meeting, so everyone focuses on the meeting without digital distractions.
For the parental control market, it could be a very nice tool for parents: no distractions for a kid when the key is with the parent, but the kid can always still call and use Google Maps. 
4. You chose Leapfunder as your online funding platform. What makes it the right tool for your startup, and what do you expect from the round?
Leapfunder has shown to have a lot of experience with investment rounds of around €100.000 – €500.000 through convertible notes, which is perfect for our stage. Next to that, the current angel/business investor network from Leapfunder is amazing and has already proven to be very valuable for us, both in investments and help with current challenges.
We expect to raise around €100.000 during this round. In the end, we need €250.000, but we want to split this up into two rounds. With this smaller round, we would finally spend some money on marketing, so that we can raise a new round with more traction. The next round would be used for the development of the iOS version and building Unpluq Premium, our subscription model.
5. What are your plans for the upcoming months? Tell us about your go-to-market strategy and the plan to acquire customers.
Recently, we successfully tested a new marketing channel. We were reviewed by Jose Briones, a YouTuber that's into digital wellbeing from the US. We're now in contact with bigger influencers on YouTube, and sent three keys to YouTubers with 20.000 to 100.000 subscribers, for a review video with a discount code. We're very excited to see the results!
Next to that, with this investment, we will finally be able to spend money on paid advertising. We did some tests with Facebook/Instagram ads, and we seem to get the Cost Per Acquisition down to around €20. This means we would also start selling lots of products through this channel.
In the end, we want to partner up with telecom companies, to offer users Unpluq next to a phone plan. This would however require us to have the iOS version introduced already.
Thank you very much for sharing your story, Jorn. We wish Unpluq the best of luck.
Join our network of startups & investors!