2018 was about becoming a recognised infrastructure player in the Berlin startup scene. Also, we have consolidated our position in the Netherlands with a consistent flow of deals. We have made our platform more sophisticated. It's now mobile adaptive and easily adapts to every legal jurisdiction on our roadmap. We now have four to five years of history, and the first cash income from our equity positions has been realised. Overall we've seen a remarkable low failure rate of our startups, with the majority of all companies remaining in business. We can't expect that all our companies are going to be unicorns, but we can see that a lot of them have entrepreneurs that are making a real effort and generating value for their customers and investors.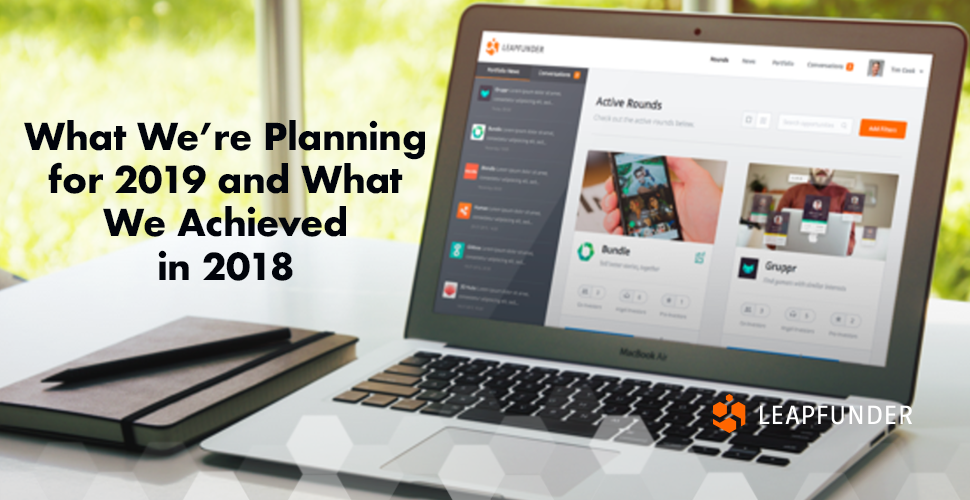 Coming up in 2019

1. Extending our business in Germany and taking up the market leader role
We can use our position as a first mover with the latest financial technology in the market to build a strong commercial position. Investors from Berlin, but also the rest of Germany, will have to be involved. The value creation potential in Germany depends a lot on bringing investors and startups from different regions together.
2. First commercial activities in the Nordic region
Everything is in place for us to start building our business there. We have entered conversations with local partners that can help us get established in these markets.
2018 Product Innovation
1. Legal adaptability to all our roadmap jurisdictions
Even though it hasn't been easy to achieve, our contracts are now usable in all our roadmap jurisdictions. Of course, the Leapfunder philosophy is that we only ever use one contract. Once in your life, you may have to read it, but after that, it will remain the same. Any Leapfunder round you invested in, in any country, has materially the same contract underlying.

2. Our platform is adaptive for all key screens
We're continually improving the platform and building everything in response to our users' demands. We have made our platform more sophisticated by making all key screens mobile adaptive. That means they are easier to use on the iPad or phone.

3. Additional content such as event booking and the Leapfunder academy
If you're interested in our Round Table or Investor Readiness Sessions, you can easily join an event through our Events page. If you'd like to learn more about early-stage finance, we're happy to share knowledge with you through our Academy page.
2018 Highlights
1. Growth in the number of deals and active angels in the Netherlands
By lowering the boundaries between investors and entrepreneurs, and providing access to tools you need to invest online, we have quickly become the largest Angel investment platform in continental Europe. The number of deals and active angel investors in the Netherlands has consistently been growing throughout the past five years.
2. First deals in Berlin and recognition as an infrastructure player
Leapfunder now offers a trust network in Berlin which helps startups raise funding and investors to invest in startups. We have gone from being entirely unknown to a recognised part of the ecosystem. Everyone knows who we are and is enthusiastic about it. We regularly organise the Investor Readiness Sessions and the Finance Academy. Our monthly Investor Round Table Sessions have become a highly appreciated part of the Berlin startup ecosystem, and the first German deals are live.
3. We developed the final regulatory stance for the Nordic region
Besides consolidating our position in the Netherlands and getting recognised as an infrastructure player in Germany, we will start building our business in the Nordic region. This project has been on our stove for quite a while, and we are proud we developed the final regulatory stance.
4. We made our first cash from warrants
In 2018, we made our first cash from a warrant. When it happened, we thought it was very exciting, and then it happened two more times the same month. So we expect this to become a regular source of income from now on.