Soulskill assists consumer platforms to deepen engagement within their users, by helping them publish curated short-form video content from their influencers. The content sourced by Soulskill stays in line with the brand's identity and meets the user's interests. Recently, they launched their first podcast series named 'The Future of Content' where they share their knowledge about content in digital media. Learn why they are a product-market fit, what type of investors they're looking to attract and why they chose Leapfunder as their online funding platform.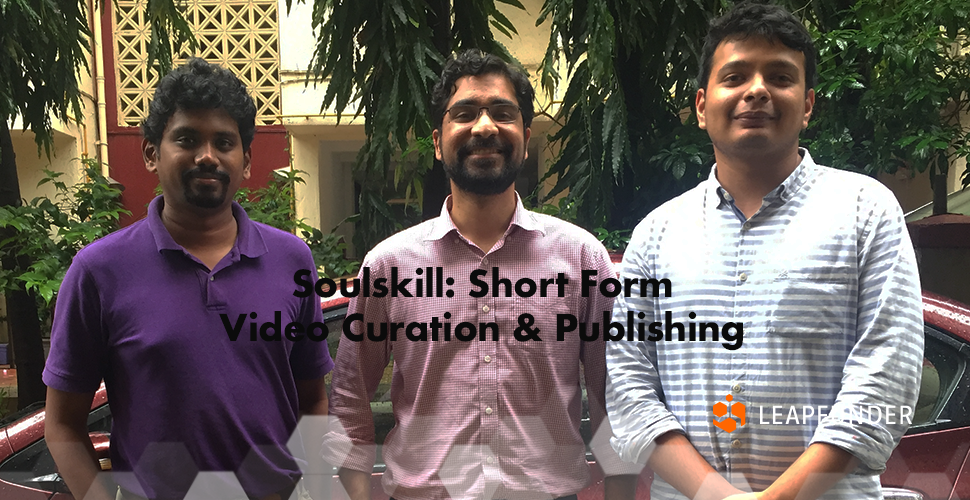 1. Hi Hatim, thank you for agreeing to do the interview. Tell us about Soulskill, the idea that got it all started and the amazing team behind it.
Thanks for having me here! The story of Soulskill began many years ago:  after successfully exiting my first startup 'IDfy.com', I was working on building 'Trussbot' along with my co-founder Varun, which was meant to be a marketplace for recruiting the right freelancers. We had seen some traction, but we were finding it hard to scale the business. 
Along the way, we started targeting media companies given Varun's connections there and started a conversation with Hotstar – which is one of the largest video streaming platforms in India. They told us that rather than sourcing freelancers, they would instead prefer directly sourcing content from us. We thought it through and felt this was a better business to be in. And so we changed the company and launched Soulskill.
As a business, we were shifting from being a B2C marketplace to becoming a B2B marketplace instead. Given my own experience in Sales & Product Development with IDfy, we had that base covered. Meanwhile, Varun had multiple years of media experience and could help with connections there. Raghuv, who was our first employee at Trussbot, had been working with us for three years and was enthusiastic about taking over as the CTO. We only had to find someone to handle design, for which we brought in Saurabh – and consequently felt that we now have all bases covered!
2. What problems are you trying to solve? What are the benefits of your product, and why is it a product-market fit?
We are living in a world where consumer attention spans are continually declining – and as a result, platforms are always looking at newer means to keep their users engaged, and build deeper connections with them. We find that video content, especially influencer content, is an excellent way for these platforms to keep users engaged. Our mission at Soulskill is to provide a friction-free marketplace for these consumer platforms to discover & source influencer content, based on the needs of their audience.
We have already seen excellent traction with consumer platforms in India – where we're successfully working with industry-leading platforms such Hotstar, MXPlayer & Dream11; helping them source influencer content around sports, entertainment, travel, etc. We are now leveraging our relationships in the Netherlands to launch the platform in Europe and have seen a good deal pipeline here.
3. How much growth potential do you see for Soulskill and what type of investors are you looking to attract?
Online video is currently booming, and based on the geography you look at, year on year growth rates in online video consumption are sometimes higher than 200-300%. By our estimate, our addressable market is higher than €20 billion globally, and what's even more attractive is that given the nascent stage of space we are targeting, there is little or no competition that we are seeing. We believe that there will only be 3-4 large marketplaces globally, who will capture a significant market share, and we think we're well placed to be one of them.
We would love to bring onboard investors with experience in media – especially in the video – and B2B marketplaces. Apart from investors with industry experience, we find it more comfortable to connect with past or current entrepreneurs – having been through the startup cycle ourselves a couple of times.
4. You chose Leapfunder as your online funding platform. What makes it the right tool for your startup, and what do you expect from the round?
Angel funding is crucial for startups at an early stage such as ourselves, at the same time working with multiple angels and procuring investment from each of them adds a considerable transaction cost – which if not managed well, can make angel investments almost unviable. Therefore, we see a lot of value in the Leapfunder transaction engine – it allows us to reduce the friction of receiving investments significantly. 
Apart from being a great platform to receive investments, we also value the exposure we receive to newer investors, and of course, articles like these also help get the word out about us!
5. What are your plans for the upcoming months? Tell us about your go-to-market strategy and the plan to acquire customers.

While we have already built a good base of clients in India, we think that it is best for us to scale our solution in Europe. We believe that there is a lot of innovation and growth in India, but there is more money to be made here. Therefore, we are focusing on building our network in the EU – using our connections in the Netherlands as a base. Apart from this, we are also targeting a couple of accelerator programmes that we feel could be an excellent fit for us. Things have moved forward well on both fronts.
To make our marketplace an attractive proposition to content platforms and creators, we have started launching a couple of free tools that could be used by potential clients; we want to use them as an anchor to start a conversation (e.g. we built a free toolset that can allow any online platform to make a curated feed of short videos. Here is an example of we produced on top of Product Hunt).
Another great way of receiving leads is through our podcast. The last episode we launched was about the changes in content marketing for big brands such as Phillips.
Thank you very much for sharing your story, Hatim. We wish Soulskill the best of luck!
Join our network of startups & investors!