We had a chat with Joris, the Co-Founder of BASH, a social network based on events. The platform attracts active users by enabling them to easily host and share invites for private events such as birthdays, dinners, weddings, and more. Find out why BASH is a product-market fit, what type of investors they're looking to attract and why they chose Leapfunder as their online funding platform.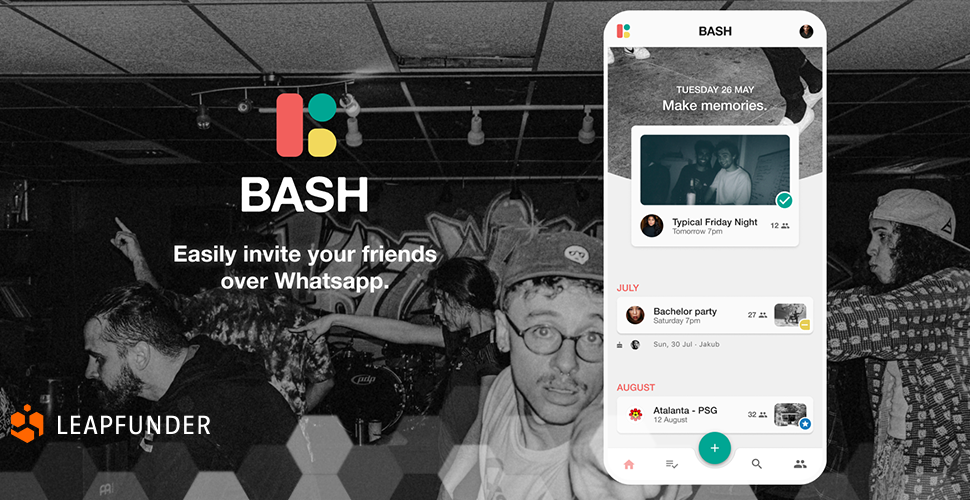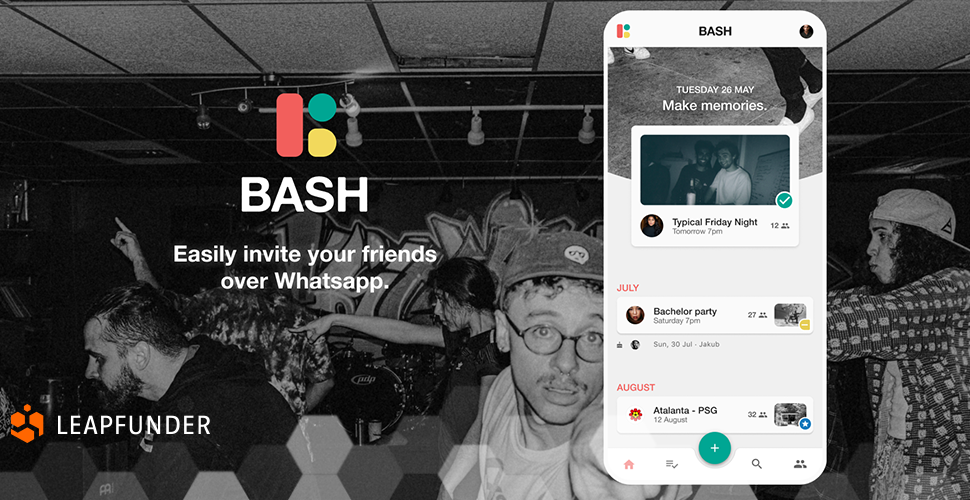 1. Hi Joris, thank you for agreeing to do the interview. Tell us about BASH, the idea that got it all started and the amazing team behind it.
Thank you. Two years ago already, we were hosting a goodbye dinner for one of us who went to study abroad for a year. We did not want to use Facebook Events, the go-to for these kinds of events at the time. For one, because it's Facebook, and on a more practical level because we wanted to invite people personally and know whether they could make it or not. So we opted for personally inviting everyone, orally, over Whatsapp or via email. This, however, resulted in a fulltime job of keeping track of who would be there, updating everyone on changes and reminding people of the dinner.
At the time, we were four coding entrepreneurs with some spare time next to our just-started MSc programmes. We immediately started working on an open alternative to Facebook Events that would be fully based on sharing links over personal messaging services. We recognised that the last reason people often hesitate to delete their Facebook accounts is their use of Facebook Events. So we asked ourselves, what if we could take the only good part of social media, enabling people to come together in real life, and decouple it from the endless scrolling, privacy infringements, propaganda and intrusive advertising?
The following 1.5 years, we balanced challenging AI and CS programmes in Amsterdam, London, Oxford and Zurich with building the BASH product: design – develop – user test – repeat. After we all graduated, the belief in our mission combined with fast-growing usage statistics made us decide to pursue BASH full time starting July 2020. Since then, we've extended the team and now have everything an early-stage tech startup needs:
Joris, a serial tech entrepreneur with a proclivity for product management

Shane, a senior developer to focus on our back-end systems

Max, another senior developer to focus on our mobile apps

Elise, a data scientist, specialised in AI and data visualisation

Joost, an entrepreneur in the events business and natural relations builder

Eva, a digital marketer and strategist with social media expertise

And several amazing interns
2. What problems are you trying to solve? What are the benefits of BASH, and why is it a product-market fit?
For regular users, we are removing the hassle of hosting social events. No more keeping notes of responses or manually communicating event updates. Only the organiser needs to download the app and create an account, while guests respond in the browser (similar to Tikkie). Plus, you can even easily invite your grandma.
For businesses, BASH aims to fill the gap left behind by Facebook Events. BASH inherent link-based structure solves many of the problems businesses that host events are currently facing. Closed member clubs, newsletters, a website and other channels have chaotic communication and low engagement. BASH links can be used in all current communication channels to make sure everyone lands on the same place. Moreover, a BASH profile holding interactive event pages with details, attendees and messages increases the engagement of the members.
For open businesses attempting to connect with new customers, current channels cannot provide the same network effects Facebook Events used to. Sharing and re-sharing BASH links results in a sort of 'structured word-of-mouth' that enables businesses to leverage the network of their attendees.
3. How much growth potential do you see for BASH and what type of investors are you looking to attract?
Globally, 700M Facebook users use Facebook Events, and most people host or attend social or public events, so the market is practically infinite. In times of lower coronavirus activity (summer '20), we have seen a week-on-week growth in our key metric, the number of RSVPs given, of 34%. We are convinced this growth trajectory will continue if cases go down again, and even greatly improve now that our business proposition starts to take root.
Any investor that believes in us and our mission is welcome. Plus points would be if they are well-connected in the event or social media scenes.
4. You chose Leapfunder as your online funding platform. What makes it the right tool for your startup, and what do you expect from the round?
After many conversations with VCs, angel investors and mentors, we decided that a convertible loan would best suit our needs in this stage. Leapfunder's convertible note is a perfect fit for us and greatly accelerated the process of getting it off the ground. 
Furthermore, the Leapfunder page with all its features, most notably the investment progress and automated transactions, is an easy asset to send out to potential investors and lower the threshold to invest.
We reached our minimum investment of €60.000 in two weeks and will use the upcoming 2.5 months to at least reach our target of €120.000. That will enable us to kickstart our revenue streams and hold a seed round in April.
5. What are your plans for the upcoming months? Tell us about your go-to-market strategy and the plan to acquire customers.
Instead of facing the up-hill battle of growing social events during a coronavirus wave, we are focusing on increasing the number of business profiles on BASH and validating our business model. These businesses face the challenge of keeping their regulars engaged within the limits of the coronavirus crisis, and BASH poses solutions in this situation as well. We are currently piloting with several event hosts, both closed member clubs and open businesses, and we're continuously expanding this pool. Our goal is to start our first revenue stream on January 1st, and exponentially grow from there.
Thank you very much for sharing your story Joris, we wish BASH the best of luck.
Join our network of startups & investors!