Movacar provides users with access to one-way travel options starting at 1€ per trip. The idea originates from the founders' operational experience and is based on monetizing inefficiencies in car logistics within the rental industry. Find out what the benefits of Movacar are, what type of investors they're hoping to attract and why they chose Leapfunder as their online funding platform.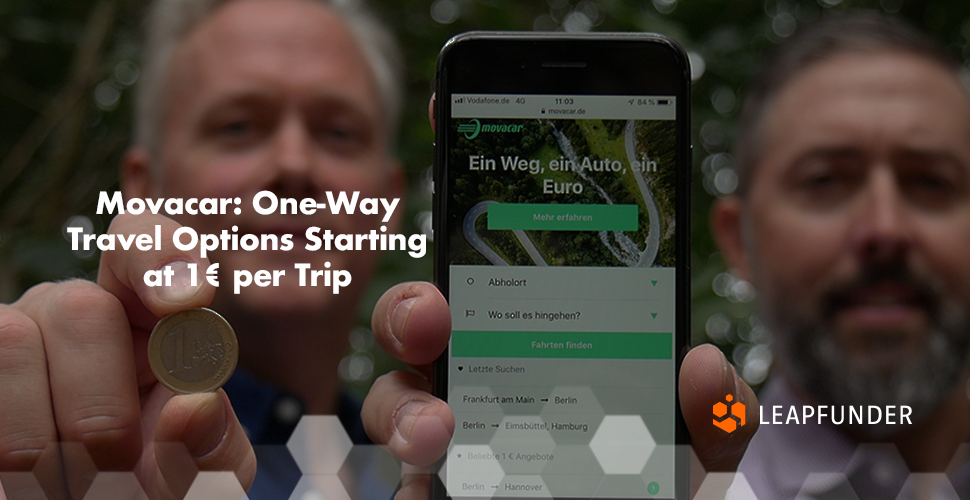 1. Hi Eustach, thank you for agreeing to do the interview. Tell us about Movacar, the idea that got it all started and the amazing team behind it.
My partner Karl and I have nearly 40 years of combined experience in building rental operations from the ground up, for the global leader in car rental, Enterprise Holdings. After we left Enterprise, we decided to start our own business to take advantage of the great opportunities offered by the fundamental transformation of the mobility space in the years ahead. The idea for Movacar originates from our operational experience and is based on monetizing inefficiencies in car logistics within the rental industry. I guess you could say it's our humble contribution to making the economy, as a whole, a bit more sustainable.
2. What problems are you trying to solve? What are the benefits of Movacar and why is it a product-market fit? 
In the marketplace for one-way car rentals for 1€, we deliver solutions in two directions. For fleet operators, we significantly reduce logistics cost, provide access to a new tier of economy-minded customer base and provide ancillary sale opportunities. For users of our platform, people we like to describe as having more time than money, we offer the rental car experience at a price point traditionally reserved for busses, trains or ridesharing. Some of the one-way rentals we provide for 1€ even include a tank of gas. That is an unbeatable offer, no matter the competition.
3. How much growth potential do you see for Movacar and what type of investors are you looking to attract?
While we are taking our first steps in Germany, our focus is definitely on the European market and beyond. More than 10M rental cars are transported at a cost in Europe every year. A healthy chunk of those transports is directly applicable to our business model, representing a total annual revenue potential well over 300M€. We are currently concentrating on strategic business angel investors with a network and know-how in online marketing and/or the travel industry.
4. You chose Leapfunder as your online funding platform. What makes it the right tool for your startup, and what do you expect from the round?
We think Leapfunder is a great way to fundraise because it standardizes a lot of the complex processes involved and makes it easier for us to concentrate on finding the right investors. Aside from the obvious financing, we expect to engage with professional business angels for potential feedback and advice.
5. What are your plans for the upcoming months? Tell us about your go-to-market strategy and the plan to acquire customers.
We are in the midst of our launch with four fleet operators signed up so far and first revenues on the books. Negotiations with three more major car rental companies are in the final stages, so we are optimistic on the supply side. On the user side, we have a multi-prong approach, focussing on partner syndication and affiliates next to traditional online and offline marketing channels. We are lucky to have a professional partner on board for PR who is helping us spread the word about Movacar. After all, attention and reach are key elements of our marketing strategy.
Thank you for telling us about Movacar, Eustach. We wish you the best of luck in your future endeavours!
Join our network of startups & investors!