Grow-ID is a SaaS platform that enables businesses and organisations to build and manage projects for problems, opportunities or tasks where they need external solutions. This startup is building a digital bridge for companies facing personnel shortages. Find out more about the benefits of Grow-ID, their plans for the upcoming months and their live round on Leapfunder.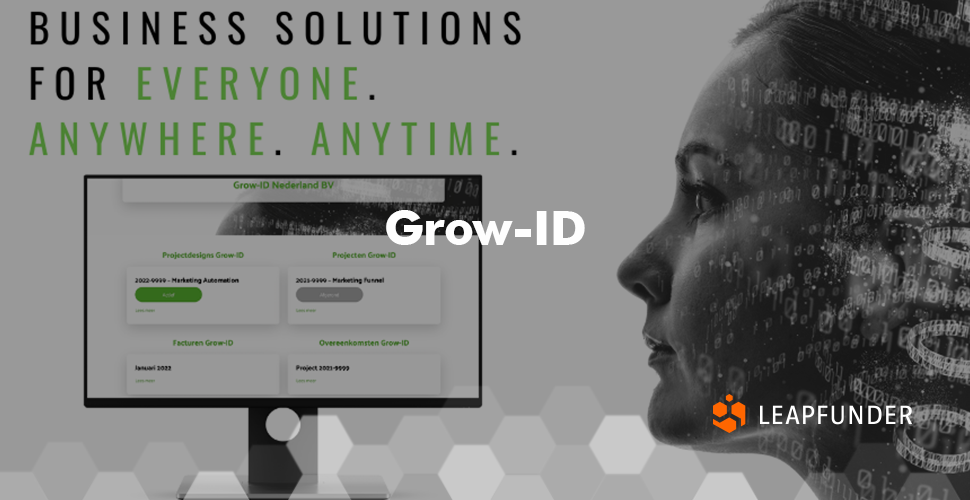 1. Hi Jens, thank you for agreeing to do the interview. Tell us about Grow-ID, the idea that got it all started, and the amazing team behind it.
Ron and I started working together as freelancers five years ago. During our studies, we consulted small SMEs on Business Strategy, Digitization and Online Marketing. We saw that many companies face challenges due to a lack of time, knowledge and skills within their organisation. 
When we sought solutions for these issues outside of their organisation a lot of our clients were not following up immediately or not even at all. During an intense learning process, we figured out that our recommendations were not wrong but that a major barrier was faced due to the same lack of time, knowledge or skills. 
As a solution to this problem within our own business model, we started to offer project management/outsourcing services as well. Within a few weeks, we became aware of the whole marketplace and matchmaking ecosystem and saw no existing solutions for the more complex projects we were running. This was due to other platforms focusing on finding the right supplier as fast as possible (focus on matchmaking), while we wanted to focus on the content of the project (focus on management). 
We started working on this idea in January 2021 and decided to build a SaaS platform that would enable companies to set up and manage projects where they need external solutions. In Q1 2022, Stevan Beuving joined us as a CTO.



2. What problems are you trying to solve? What are the benefits of Grow-ID, and why is your startup a product-market fit?
During the launch of our prototype and running pilot projects, we discovered that the lack of time, knowledge and skills is mainly due to a rapidly changing labour market, where especially SMEs struggle with personnel shortages. Grow-ID is offering these companies alternative solutions by enabling them to integrate their external solutions on a project basis. 
Grow-ID operates in a market which is very conservative. When companies start to work with our platform they will experience the following benefits:

More transparency and objectivity. Companies can build a project around the solution they need, and not the service a supplier can offer

Solving problems faster. We automated preparing, designing and selecting your partner for the projects you want to start

More structure and a clear overview. There are many things to consider when starting a project with external partners

Knowing up front how the project will be carried out. When you can organise everything internally the project has a higher chance of succeeding

Managing projects in a dynamic way by creating several projects, sub-projects and follow-up projects. 
The 5 benefits mentioned above will result in less mismatch between clients and suppliers. It will also result in more successful projects. 
*A detailed analysis of the problems can be found in our newest Pitch Deck in the "updates" section of our Leapfunder profile.
3. You have a live round on Leapfunder. What makes it the right tool for your startup, and what do you expect from the round?
We see Leapfunder as a digital partner in our journey of fundraising as an early-stage startup. Ron, Stefan and I have some entrepreneurial experience but we experienced that building a startup is something else. Leapfunder assisted us, especially by giving us access to the network, helping with assisting materials like our pitch deck and business plan, and with the legal part of our funding round. 
Leapfunder prepared us for opening our round step by step. Since this is our first time fundraising, joining the "Round Table Session" was a great opportunity. 
The technology that Leapfunders uses is of great benefit to us as well. It makes converting, onboarding and working with investors much easier. We are currently in the last phase with some angels with whom we connected through Leapfunder.
4. How much growth potential do you see for Grow-ID, and what type of investors are you looking to attract in this round?
Our management team and advisors have developed a funding strategy where we aim to onboard four – eight business angels as strategic investors. The amount that will be required to finalise our round will be raised through a private high-net-worth individual, venture capital or a family investment fund. 
We are eager to work with strategic investors since they can have a significant influence on the development of our startup with their network, knowledge and experience. Since we are a sector agnostic business, we are able to help almost every company that wants to set up a project with external service providers. 
Grow-ID tries to use an existing solution (outsourcing) to solve increasing problems (personnel shortage) in a new and innovative way. With our platform, we try to build an online bridge between the internal and external aspects of companies regarding projects. We want to integrate them with our platform so external solutions get used more often. Because of that, our growth potential has increased significantly.
5. What are your plans for the upcoming months? Tell us about your go-to-market strategy and the plan to acquire customers.
For the next four quarters, these milestones will be our main priority:
Q3 2022:
Development and launch of the MVP of our SaaS platform

Creating an advisory board with current strategic investors 

Building partnerships where we integrate our platform into their businesses

Exploring and working on PR opportunities to create nationwide awareness
Q4 2022: 
Generating feedback from the MVP for the development of the product-market fit version of the platform. The development will start in Q4 as well

Building a solid foundation in the operations department in order to get ready to scale when the product-market fit version gets launched

Building a subscription model together with the current stakeholders

Setting up an employee participation plan for first employees at Grow-ID
2023: 
Launching the product-market fit version of the SaaS platform

Setting up a go-to-market campaign to create nationwide coverage

Scaling up the marketing & sales department to acquire new customers 

Orientation and research on international expansion

Preparing a new funding round for Q3 or Q4 to increase growth and potentially launch in foreign markets
Currently, we're focusing on creating personal relationships with our clients so we can navigate them towards a digital way of working step by step.
Thanks a lot for sharing your story and plans, Jens. We wish Grow-ID the best of luck.
Join our network of startups & investors!