Beazy is a rental marketplace for audiovisual equipment and spaces. It can be described as the Airbnb for photographers and filmmakers. Customers get easy and cheap access to the equipment and locations they need, while providers make an extra income from their equipment and/or studios. Find out why they're a product-market fit, what type of investors they're looking to attract and why they chose Leapfunder as their online funding platform.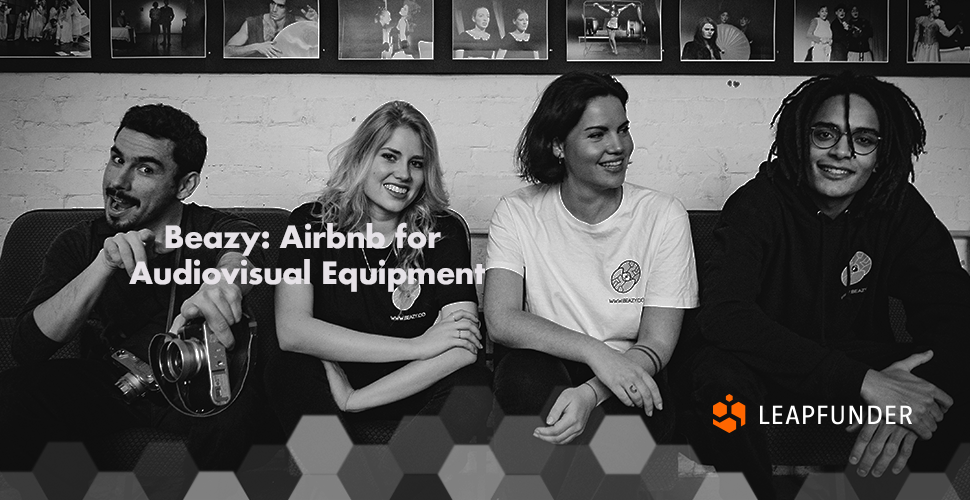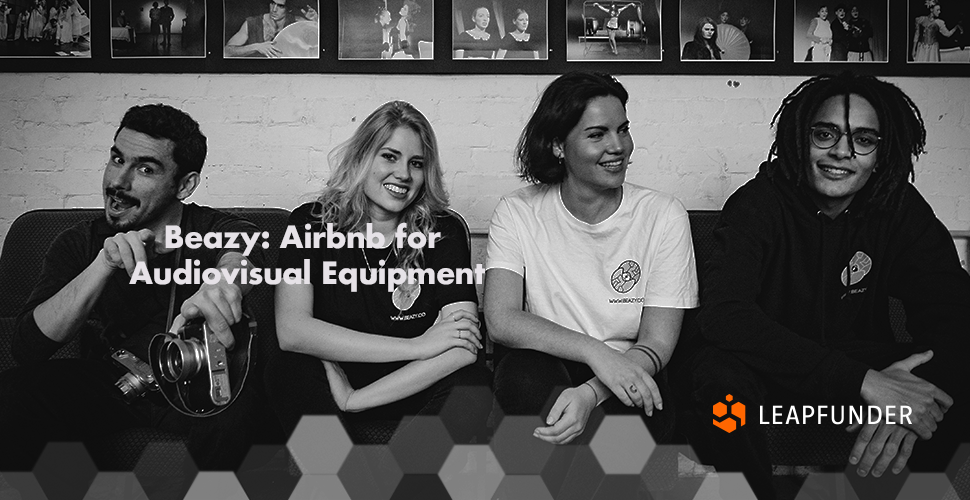 1. Hi Jonas, thank you for agreeing to do the interview. Tell us about Beazy, the idea that got it all started and the amazing team behind it.
Simply put we were two students passionate about photography. We met during a shoot and realized that we were both facing the same problem – photography equipment remains extremely expensive even though it's unused a lot of the time.
Buying a €2,000 lens every time we wanted to try something new couldn't be the only way, right? Well, we quickly realized that there was no convenient or safe option on the market for gear sharing and we felt like it was time to do something about it.

We built our business plan, applied to a few startup grants back in Switzerland, and a few months later there we were: winners of 2 grants, with an MVP and two one-way tickets to Berlin. The first thing we did after landing in Berlin was to host a photography event in order to meet our first users. The first event was a success so we kept going until we met our amazing team members Daniel and Elvira. We are now 4 people working on Beazy and we're all photographers solving our own problems!
2. What are the benefits of Beazy and why is it a product-market fit?
As we explained earlier, photography equipment is extremely expensive and completely unaffordable for most people (let's not even talk about filmmaking).

Beazy is a rental platform for photographers and filmmakers (you can think of it as Airbnb for photo and video equipment.) You can rent all the gear you need from local creatives, including cameras, lenses, drones, lights, stabilizers and even pro & home studios. You can also earn an extra income by sharing your equipment or space with others, every item is insured up to €30K by our partner, AXA XL.
What makes us believe we've found the product-market fit is the feedback and enthusiasm we get from users on both sides of the marketplace. The challenges we face as a marketplace revolve around solving the 'chicken and egg problem' (the task is done in Berlin & playbook has been created) and creating liquidity (in progress).
3. How much growth potential do you see for Beazy and what type of investors are you looking to attract?

We believe that Beazy will grow into a beautiful unicorn with millions of active users. The global photography services market is estimated to be worth $200B and there are close to 30M photographers in Germany alone. Thanks to our growing community of 3000+ members we've been able to identify numerous opportunities around our current activities. The creative industries, in general, are extremely fragmented, which creates enormous opportunities in connecting all these different players and creating trust.
Just a few examples of processes we could easily make 10x easier: finding a good photographer (i.e. for your wedding), collaborations involving models, casting actors, etc. Although there are a lot of exciting possibilities in this space, we think these opportunities could help generate more revenue, grow faster and bring more value to our current customers but this is not the direction we're looking to go into in the long-term.
From the beginning, our plan has always been to start with audiovisual equipment with the goal of expanding in adjacent categories until Beazy truly becomes a marketplace where you can share any goods or services! We believe that marketplaces have the power to disrupt entire industries and thanks to the 'winner takes all' effect also become a global player in multiple categories.
We've started with audiovisual equipment, we then added studios & spaces, the next adjacent categories we could expand into are musical instruments (€30.5B/year worldwide), music production equipment (€10B in 2021), equipment & spaces for events (event industry is projected to reach $2,330 billion by 2026), and many more. We can imagine keeping on adding categories until (almost) any good or service can be shared on Beazy.
4. You chose Leapfunder as your online funding platform. What makes it the right tool for your startup, and what do you expect from the round?
The reason we chose to work with Leapfunder is because of how fast and easy everything is. We've also been super impressed with how reactive and available the team has been across all stages!
5. What are your plans for the upcoming months? Tell us about your go-to-market strategy and the plan to acquire customers.
Our main customer acquisition strategy is through events, online marketing as well as bots and automation. We currently make use of a lot of automation scripts to reach out to new potential customers every day.

Since we already built a community of 3000+ photographers and filmmakers in Berlin thanks to our events, we aim to apply the same strategy when launching in other German cities. We also use the power of automation to efficiently spread the word about Beazy to hundreds of people per day on different social media platforms and marketplaces in order to redirect them to Beazy. It allows us to quickly and efficiently acquire users at almost zero costs.

At the moment, we are focused on building the provider side of our marketplace and growing our community. Our community is the reason people get to know us, but also trust us. And once they trust us, they start trusting other users on Beazy. That's why we're currently onboarding local leaders all over Germany and Europe: working with local photographers, filmmakers and influencers in the cities we're planning to launch will be one of the major tools to build and sustain local communities.
We're also working on building a substantial online presence through social media platforms like Instagram, Youtube and podcasts. We have the advantage that our events generate huge quantities of content that we can use for free. The last step of the market entry would be partnering up with big players in the audiovisual industry including creative agencies, rental shops, photography and filmmaking schools, freelancing platforms and camera brands.
Thank you for sharing your story with us. We wish Beazy the best of luck!